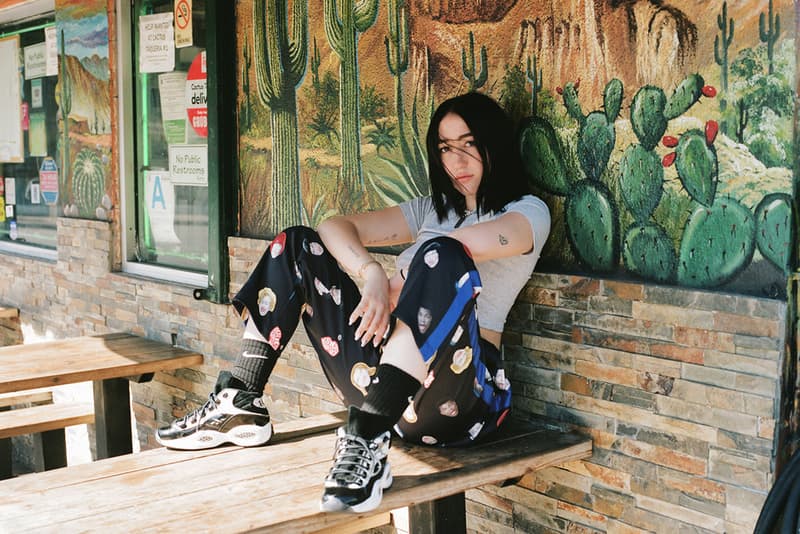 Music
All the Best New Songs You Should Be Listening to Right Now
Featuring picks from Noah Cyrus, AlunaGeorge and more.
All the Best New Songs You Should Be Listening to Right Now
Featuring picks from Noah Cyrus, AlunaGeorge and more.
This week we're taking a look at some of the hottest singles which have released recently. With the dramatic shift of weather, we hate to admit that cuffing season is right around the corner. This means that it's time to start creating a playlist filled with soft, chill vibes. With that being said, Noname's latest album Room 25 is filled with relaxing tracks ideal for kicking back and relaxing. If you're looking for another easygoing track, look to Wafia's latest single, "I'm Good." Don't sleep on Kelela's "LMK(What's Really Good)," the remix to her hit single "LMK" from her critically acclaimed album, Take Me Apart.
For those who are into rap artists, Coi Leray offers up a new visual for her hit single "Huddy." Also in this week's rap lineup is BIA's latest single, "HOLLYWOOD," a track worthy of sharing with your friends.
Two additional releases we've got our eyes on include Ella Mai's video for "Trip" and Noah Cyrus' GOOD CRY EP.
Take a look at each song worth adding to your own personal playlist below.
Dinah Jane – "Bottled Up ft. Ty Dolla $ign & Marc E. Bassy"
Dinah Jane unveils her highly anticipated breakout single "Bottled Up." Looking to the future, the former Fifth Harmony member presents a track that will surely be played throughout the fall and winter seasons. Ty Dolla $ign adds a hint of edge to the release.
Noah Cyrus – "Good Cry"
On this track Noah Cyrus sings about sadness and needing a good cry. The low-tempo song is a part of her latest compilation titled GOOD CRY, an exploratory six-song collection shedding light on her vulnerability and relationships.
AlunaGeorge – "Superior Emotion Ft. Cautious Clay"
In this chill visual, the duo gets lensed through the eyes of a female director, Courtney Brookes. This makes for a pink-filled dream marked by the inclusion of satire. "Superior Emotion" is the first track from AlunaGeorge's forthcoming EP Champagne Eyes, out on October 5.
ABIR – "Young & Rude"
ABIR flexes her vocal prowess in this single. The newly released visual features the songstress running from the law while she simultaneously sings. Directed by industry favorite Shomi Patwary, the video takes the standout track to superior heights. Look out for the singer's upcoming EP which is set to drop on October 19.
Ella Mai – "Trip"
The sensual visual for Ella Mai's soft single "Trip" is perfect. It embodies her laid-back vibes and exemplifies her tomboy style and of course, her killer vocals. After the success of "Boo'd Up," we're looking forward to Mai's debut album which is set to arrive on October 12.
Noname – "Montego Bae ft. Ravyn Lenae"
This song is sticky, soulful and memorable. Thanks to the assistance of Ravyn Lenae, it is an intrinsically soft heavy hitter. Overall, the track is a definite standout from Noname's highly anticipated Room 25 album.
BIA – "Hollywood"
BIA's new single is the introduction to her forthcoming EP titled NICE GIRLS FINISH LAST: CUIDADO. The song paints a vivid picture of the woes which artists and creatives often experience on their rise to fame. Look out for her forthcoming EP on September 21.
Morgan Saint – "On Fire"
"On Fire" is the follow-up to Morgan Saint's debut EP, 17 Hero. The track is eccentric but also has a hint of classic pop hidden in the hook. It's a great listen and ideal for playing at a kickback or house party. If you're ready for more from this rising star-slash-songwriter, her sophomore EP ALIEN is out on October 5.
Ray BLK – "Empress"
Ray BLK's vocals won her the BBC Music Sound award last year. She was the only unsigned artist to ever win this prestigious award. Her unique sound is everpresent on "Empress," a beautiful song that focuses on young women's worth and also serves as an inspiring track filled with storytelling.
Kelela – "LMK (What's Really Good Remix) ft. Princess Nokia, Junglepussy, CupcakKe & Ms. Boogie"
This killer song gets a revamp with the assistance of an array of indie rappers. Kelela never dissapoints musically, and her present counterparts serve up equally energetic, catchy lyrics for this brand new cut.
KALLITECHNIS' flexes her vocal range of this relaxed R&B single. The chill beat paired with the lullaby-inspired hook is quite honestly what makes the song catchy. We'll be waiting to hear more from this emerging talent.
Amber Olivier – "One Unread"
"One Unread" produced by SONDER is the latest single from the North London songstress. Amber Olivier takes listeners on a blissful journey with her warm, neo-soul voice. The accompanying visual directed by Savannah Setten also takes viewers on a compelling ride.
We've all been here. The situationship status where you know someone wants to be more than friends but won't admit it. This emotional song is the fourth single from her forthcoming EP, Being Human in Public.
If you're in the mood for a breakup song, take "Jealousy" for a spin. Who can't relate to a song about breaking up and the jealous feelings that arise following one?
Coi Leray – "Huddy"
Coi Leray's "Huddy" is a heavy biting single. The track is memorable due to the bass heavy beat alongside her catchy lyrics. The visual is stunning, vibrant and filled with ice cream trucks. What's not to love about this emerging rapper?
Kodie Shane – Flex on Me ft. TK Kravitz
Atlanta's 19-year-old rising hip hop artist Kodie Shane takes listeners for a ride with her this track. It's a fiery, moving look into her critically acclaimed music style.
Wafia – "I'm Good"
Wafia's pop-centric track is a breath of fresh air. Produced by Rogét Chahayed and Grammy-nominated producer John Hill, the single is breezy and a perfect addition to your end of summer playlists.
Image Credit

Nhu Xuan Hua
Share this article