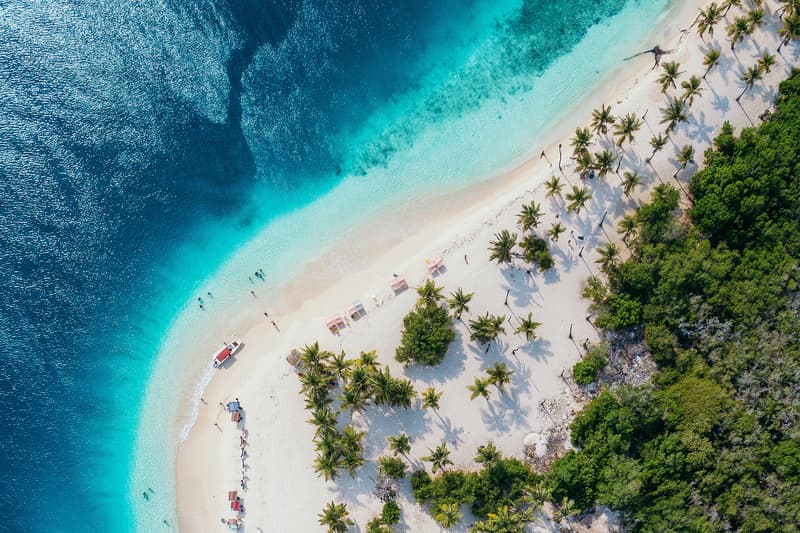 Travel
These Are the 10 Best Beaches in the World You Have to Visit
From the Philippines' El Nido to Australia's Turquoise Bay.
These Are the 10 Best Beaches in the World You Have to Visit
From the Philippines' El Nido to Australia's Turquoise Bay.
The beach is the perfect escape if you're looking to relax and unwind from your daily nine-to-five routine. If you're based in the city and you're in need of a change of scenery, we've gathered the best beaches in the world for you to visit on your next vacation.
From the Philippines' very own El Nido to the beautiful crystal clear blue waters of The Maldives, scroll through our list below and start planning your holiday itinerary. While you're here, be sure to check out the 15 best destinations for solo travelers.
El Nido, Palawan, Philippines
Known for its white sandy beaches, coral reefs and incredible steep karst cliffs, El Nido is home to around 50 beautiful beaches. The area has a selection of dive sites where you'll see a variety of sea life in the island's crystal clear blue waters.
Gouverneur, St. Barts, the Caribbean
Gouverneur is an outlying, pristine island located in the southernmost part of the Caribbean. Those who want access to the beach itself have to trek through a small, shady grove of trees where a number of tourists and locals have picnics at the eastern end of the beach.
Matira Beach, Bora Bora, French Polynesia
One of Tahiti's best beaches is Matira beach. This particular island stretches a mile-long and consists of a shallow emerald lagoon and features layers of vibrant tropical foliage. It is also the only public-access beach in Bora Bora.
Marathonisi, Zakynthos, Greece
Also known as Turtle Island, Marathonisi is the vital breeding ground for endangered loggerhead sea turtles. The Greek islet can be reached by boat from Keri beach and Laganas bay.
Maya Bay, Phi Phi Island, Thailand
Sheltered by 100 meter high cliffs, Maya Bay's main beach is 200 meters long and features silky soft white sand, colorful corals and some of the most exotic fish in Thailand. The best time to visit is between November and April when seas are calm and access to the bay is easy.
Pink Sand Beach, Bahamas
Located along the eastern Atlantic Ocean side of Harbour Island, the Pink Sand Beach is considered one of the best beaches in The Islands of The Bahamas. The pink hue originates from microscopic coral insects, known as Foraminifera, which have a bright pink or red shells.
Reethi Rah, North Malé Atoll, Maldives
It can be difficult to narrow down to just one beach in The Maldives. However, if you ever find yourself in this beautiful country on your next vacation, be sure to visit Reethi Rah. Immerse yourself in the luxe One&Only Reethi Rah and enjoy its beach club scene and island hopping excursions.
Sunset Beach, Oahu, Hawaii
Home to one of the most popular surfing competitions, Vans Triple Crown, Sunset Beach is one of the world's best places to watch big wave surfing. It's also the perfect spot for snorkeling during the colder months as the water becomes as still as a lake.
Seven Mile Beach, Grand Cayman, Cayman Islands
Seven Mile Beach is a picturesque coral-sand island best known for swimming and snorkeling. Enjoy a delicious meal at one of the ocean-side restaurants while watching the sunset.
Turquoise Bay, Exmouth, Australia
Step into the pristine waters of Australia's Turquoise Bay located near the town of Exmouth. Be sure to venture out and swim towards Ningaloo Reef – a World Heritage-listed site known for being one of the largest congregation of whale sharks on the planet.
Share this article