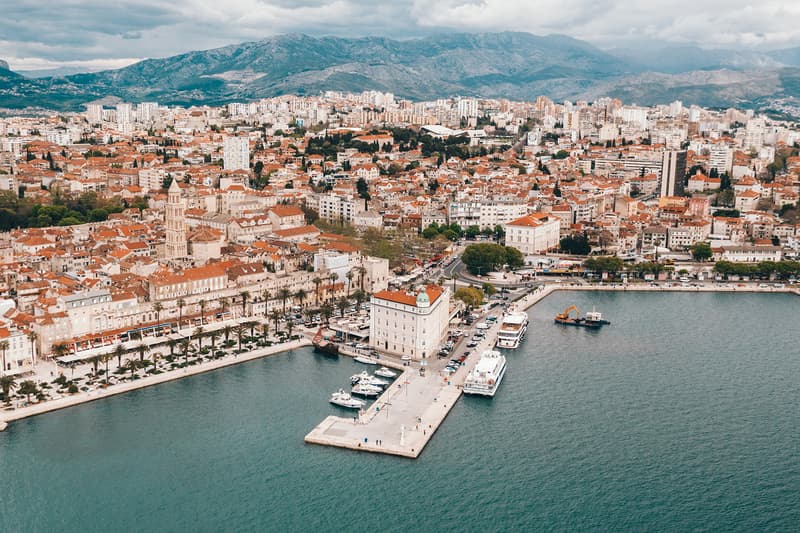 Travel
These Are the 20 Best Destinations for Solo Travelers
From the bustling streets of New York to Croatia's charming old towns.
These Are the 20 Best Destinations for Solo Travelers
From the bustling streets of New York to Croatia's charming old towns.
Before life starts getting busier and responsibilities start piling up, everyone should try to travel solo at least once in their lives. Going on trips by yourself allows you to discover what you're really like when you're alone and how you handle situations independently. You also get to expose yourself to different kinds of cultures and discover all types of cuisine you never thought you'd be able to try.
In this day and age, we rely heavily on our phones and other forms of technology that we forget to appreciate our natural surroundings. There's so much of this world we have yet to unravel, so why not start now? From the busy streets of New York City to Morocco's etherial Casa Blue City, we've rounded up the 20 best destinations for solo travelers. Scroll down below and discover our top picks.
While you're here, be sure to check out the 20 best travel destinations to add to your bucket list.
Croatia
For those who used to watch HBO's Game of Thrones, you may already know that the series mainly filmed its scenes in Dubrovnik. However, there's more to Croatia than just a filming location. This beautiful European country is home to the best beaches, charming old towns, incredible natural parks and wineries. Be sure to visit Rovinj and explore the walled city or the largest city of the region of Dalmatia, Split.
Machu Picchu
Located at the highest point on the Andes Mountains in Peru, Machu Picchu sits 2,430 meters above sea level and is a must-visit UNESCO World Heritage Site. One of the best ways to get to the top is by hiking the Inca Trail. Once there, you'll be greeted with a surreal view of intricate terraces, temples and water systems all built in the 13th century.
Malta
Malta is a quaint European island situated near Italy that is small enough to navigate on your own by rental car or through local transportation. Explore the island's authentic cobblestone towns or relax by the stunning Blue Lagoon located on the West coast of Comino, between the main island and Cominotto.
Bali
Bali is the best budget-friendly destination for solo travelers and is known for its forested volcanic mountains, iconic rice paddies, beaches and coral reefs. For those who want to enjoy the Indonesian nightlife, be sure to visit the lively bars of Kuta. If you're looking to relax and destress, Seminyak, Sanur and Nusa Dua are popular resort towns that offer yoga and meditation retreats.
South Korea
As one of the most convenient and modern places in Asia, South Korea is home to serene countryside views, century-old Buddhist temples, and of course, Seoul – one of the most advanced cities in the world. During your stay, don't forget to stop by Busan as well as the tranquil island of Jeju.
New York
Unofficially dubbed as the Big Apple or The City That Never Sleeps, New York City offers an array of things for you to do if you're traveling alone. Walk along the trails of Central Park, watch some of the best Broadway shows in the world and even discover hidden boutiques Williamsburg has to offer – you'll never run out of things to do.
Switzerland
Known for having some of the most breathtaking landscapes, Switzerland is the perfect place for you to just hop on a train and enjoy the scenic views while you jump from city to city. Take a break from the regular skyscrapers and visit Lake Blausee's crystal clear blue waters or head on up to the Jungfrau Region to witness the country's incredible Swiss Alps.
Italy
For you foodies out there, uncover the origins of pasta and pizza in the beautiful country of Italy. Take a trip down to the Amalfi Coast, go on a gondola tour along Venice's canals or immerse yourself in history by visiting the 1,949-year-old Colosseum in Rome.
New Orleans
Nicknamed the "Big Easy," New Orleans is known for its all-day-long nightlife, vibrant live-music and delicious French, African and American cuisine. If you happen to be in town around late winter, experience Mardi Gras – the city's famed carnival known for its bold costumed parades and street parties.
Copenhagen
Travel to the capital of Denmark – Copenhagen, one of the safest and most intimate places in Europe that offers some of the best nightlife, shopping and beautiful architecture. You also won't have to worry about navigation because just like Amsterdam, the city is fairly compact, making it easy to get around with a bicycle.
Spain
From Madrid's elegant boulevards to Antoni Gaudí's unique architecture in Barcelona, Spain is one of the most diverse European cities in the world. From its culture to its food, you'll find yourself in love with this country in no time.
Iceland
If you've been meaning to visit the famous Blue Lagoon or witness the Northern Lights for the longest time, start planning your trip to the scenic country of Iceland. Take a step further and channel your adventurous side by snorkelling between the Earth's Eurasian and North American tectonic plates.
Hong Kong
When it comes to both modernity and tradition, Hong Kong offers the best of both worlds. Find yourself walking along the traditional trails of Nan Lian Garden, then make your way to the top of the Peak at night and enjoy the city's incredible skyline.
Amsterdam
Getting around Amsterdam is a piece of cake, especially when locals rely solely on their bicycles or simply walk from point A to B. Enjoy the city's quaint canals and visit Anne Frank House – one of the most famous museums in the world.
New Zealand
For all you Lord of the Rings fans out there, venture out to New Zealand and track down the movie's famous location spots. Otherwise, enjoy the country's jaw-dropping scenery featuring lakes, craggy coastline, glaciers and mountains.
Morocco
As seen all over Instagram, Morocco's Casa Blue City has been a popular travel destination these past few years. With the entire city painted in blue, you won't be running out of photos to post anytime soon. Marrakech is also a traveler go-to in which the city offers some of the best hotels with the most remarkable interiors ever seen.
Australia
From Sydney's Darling Harbour to the Great Barrier Reef, Australia is a great solo trip destination because it offers a diverse amount of culture and places to see. Head on over to the Land Down Under and enjoy the city life or escape to the more rural areas to relax and unwind.
Thailand
You'll never feel like you're on your own in Thailand due to the number of solo travelers that come in every year. For a more serene experience, visit the mountainous region of Chiang Mai. If you're looking to let loose and meet new people, Bangkok's nightlife scene is like no other.
Japan
You'll never feel out of place if you visit Japan because the Japanese are known to be some of the most welcoming and kind people you'll ever meet. From the bustling streets of Shibuya in Tokyo to the incredible sight of Mount Fuji, this Asian country would be the ideal place for you if you're planning to travel on your own.
Singapore
Be a crazy rich Asian for the day and explore what Singapore has to offer. Take a dip at the famous Marina Bay Sands, diversify your palette at some of the city's Michelin-star hawkers or even tour around Changi Airport the moment you land.