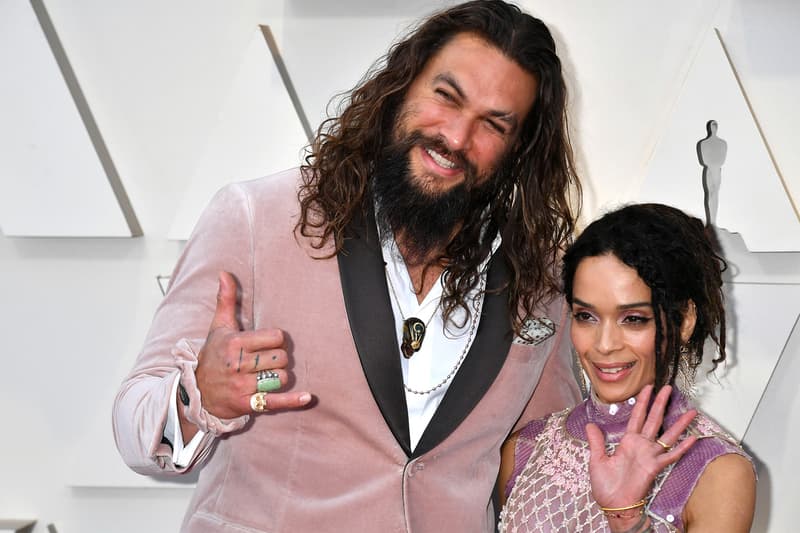 Culture
A Comprehensive History of Jason Momoa and His Pink Fendi Scrunchie
In honor of the real winner at the 2019 Oscars.
A Comprehensive History of Jason Momoa and His Pink Fendi Scrunchie
In honor of the real winner at the 2019 Oscars.
This year's 2019 Academy Awards included a stunning display of the best-dressed celebrities on the red carpet, including Constance Wu looking beautiful in a buttercup yellow Versace gown, Lady Gaga in a chic number by Alexander McQueen and SZA in a head-turning white frock. However, the true winner of the night is arguably none other than Jason Momoa and his trusty pink Fendi scrunchie, which coincidentally pairs perfectly with his blushing velour suit. Upon further investigation however, it seems like the Aquaman star started his love affair with the accessory months ago. As we trace back the history of the hair detail, we now provide concrete proof that the scrunchie is back to stay and Jason Momoa is at the forefront of this sartorial renaissance.
Keep scrolling down to see a comprehensive homage to Jason Momoa's Fendi scrunchie and for more Oscars news, don't miss forget to check back on the list of the award winners.
Stay tuned here as we continue our coverage of the 91st Academy Awards.
February 2019
Here is Momoa and wife Lisa Bonet, both looking stunning on the Oscars red carpet. The scrunchie looks equally dazzling.
Momoa appears onstage with Lady Helen Mirren at the Academy Awards. The scrunchie is a true showstopper indeed.
Earlier this month on February 2, Jason Momoa arrived on the red carpet for the premiere of The Lego Movie 2: The Second Part. Paired with a khaki-colored vest and similarly toned pants, the scrunchie adds a pop of color to the neutral tones.
January 2019
Back in January, Momoa attended the 2019 Sundance Film Festival and goofed around with Geoff Stults. The pink scrunchie looks as chic as ever with a grungy black top hat.
December 2018
Thanks to an extensive promotional tour for the blockbuster hit Aquaman, Jason Momoa made numerous premiere appearances with his scrunchie. Here he is pictured with fans before the Hawaii screaning in Honolulu.
Although it is unclear what is being discussed in this conversation, it can only be assumed that James Corden is complimenting Jason Momoa on his pink scrunchie.
The scrunchie looks breathtaking against the crystal blue waters pictured in an Aquaman promotional poster. Jason Momoa's crisp white shirt also brings out the color of the hair accessory.
---
Share this article