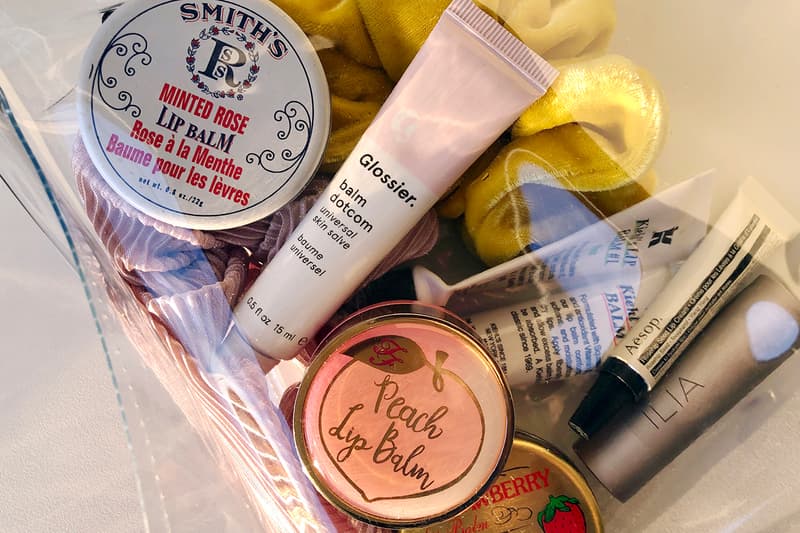 Beauty
Here Are 9 of the Best Lip Balms for Dry and Chapped Lips
From Glossier's Balm Dotcom to Kiehl's Lip Balm #1.
Here Are 9 of the Best Lip Balms for Dry and Chapped Lips
From Glossier's Balm Dotcom to Kiehl's Lip Balm #1.
It's not uncommon for some of us to invest in expensive moisturizers, eye creams and serums and still forget to take good care of the lips. An oft-overlooked area in one's skincare regimen, lip treatment should be practised regularly to heal, rejuvenate and hydrate your pout, especially during the drier and colder months of the year.
To save your dry and chapped lips, continue reading to learn about nine of the best lip balms on the market, including ones from Glossier, Kiehl's and more.
PRICE: $9.50 USD
KEY INGREDIENTS: Squalane, Aloe Vera and Vitamin E.
One of the bestsellers from the brand, Kiehl's Lip Balm #1 makes for the perfect final step in your morning and nightly skincare routine. Ideal for moisturizing and soothing your lips, this product is available in an unscented version as well as a range of scented variants including Cranberry, Mint and Mango.
PRICE: $24 USD
KEY INGREDIENTS: Sugar, Grapeseed Oil, Meadowfoam and Black Currant Seed Oils.
Fresh's cult-favorite formula employs sugar as a natural humectant to retain moisture on the lips for up to six hours. Not only does the lip balm moisturize deeply thanks to its blend of nourishing oils, but it also protects the lips from damaging UV rays. For a hint of color, check out the brand's tinted versions of the popular lip balm.
PRICE: $15 USD
KEY INGREDIENTS: Rosehip Seed, Tocopherol and Ylang Ylang.
Aesop's moisturizing but not greasy lip cream helps replenish and soften your lips with its vitamin-rich formula. Like most Aesop products, the lip cream smells heavenly with hints of citrus, floral and nutty scents. Perfect for everyday use, this 6mL tube is made without silicone or paraffin.
PRICE: $26 USD
KEY INGREDIENTS: Sunflower Seed Oil, Castor Seed Oil, Beeswax and Shea Butter.
For the clean beauty lovers, ILIA's Balmy Days Lip Conditioner is just what you need in your makeup bag. This option sees a creamy texture, and is packed with organic plant botanicals and antioxidants that help restore and soothe the lips.
PRICE: $15 USD
KEY INGREDIENTS: Shea Butter, Olive Oil and Jojoba Seed.
You may be familiar with Le Labo's luxurious line of fragrances, but did you know that the brand also boasts a range of skincare products? Its unscented lip balm is made with a vegan formula and is free from parabens and sulfates. Texture-wise, it's not sticky nor glossy, making it a great daily lip balm for just about anyone.
PRICE: $12 USD each, $30 USD for three.
KEY INGREDIENTS: Castor Seed Oil, Beeswax, Cupuacu Fruit Extract, Rice Bran and Rosemary Leaf Extracts.
An editor-favorite, the Glossier Balm Dotcom is a universal skin salve that gives your lips instant hydration and a kissable, dewy sheen. Since launching its original, untinted and fragrance-free option, the beauty brand has expanded the Balm Dotcom family with five other beloved versions including Rose, Cherry, Mint, Coconut, the delicious-smelling Birthday lip balm and the latest Mango.
PRICE: $17 USD
KEY INGREDIENTS: Petrolatum, Castor Seed Oil and Peach Fruit Extract.
To prep your lips before makeup, reach for Too Faced's peaches and cream-infused lip balm. Addictive scent aside, this product does the job of hydrating and smoothing your lips while also giving them a photo-ready, satin finish. If you're willing to go the extra mile, exfoliate your lips by using the brand's Peach Lip Scrub before applying the lip balm.
PRICE: £8.60 GBP/ $8 USD
KEY INGREDIENTS: Pure White Petrolatum, Cotton Seed Oil and Peppermint Oil.
We love a good multi-use product. In addition to moisturizing the lips, Smith's Rosebud Minted Rose Lip Balm can also be used to calm and soothe irritations and minor burns on the body. The product can also be applied to the neck and tired shoulders to help relieve stiffness.
PRICE: $18 USD
KEY INGREDIENTS: Wild Mint, Konjac Root, Hyaluronic Acid and Vitamin E.
Designed with a sporty-meets-minimalist packaging, Kosas' ultra-sleek LipFuel is formulated with hyaluronic acid, an ingredient that attracts and effectively retains water. Upon application, you'll feel a minty sensation that's refreshing both for your lips and for your mind. The lip balm is available in three different shades: the sheer, cool pink "Rush," the warm red "Pulse" and the clear "Baseline."
Share this article