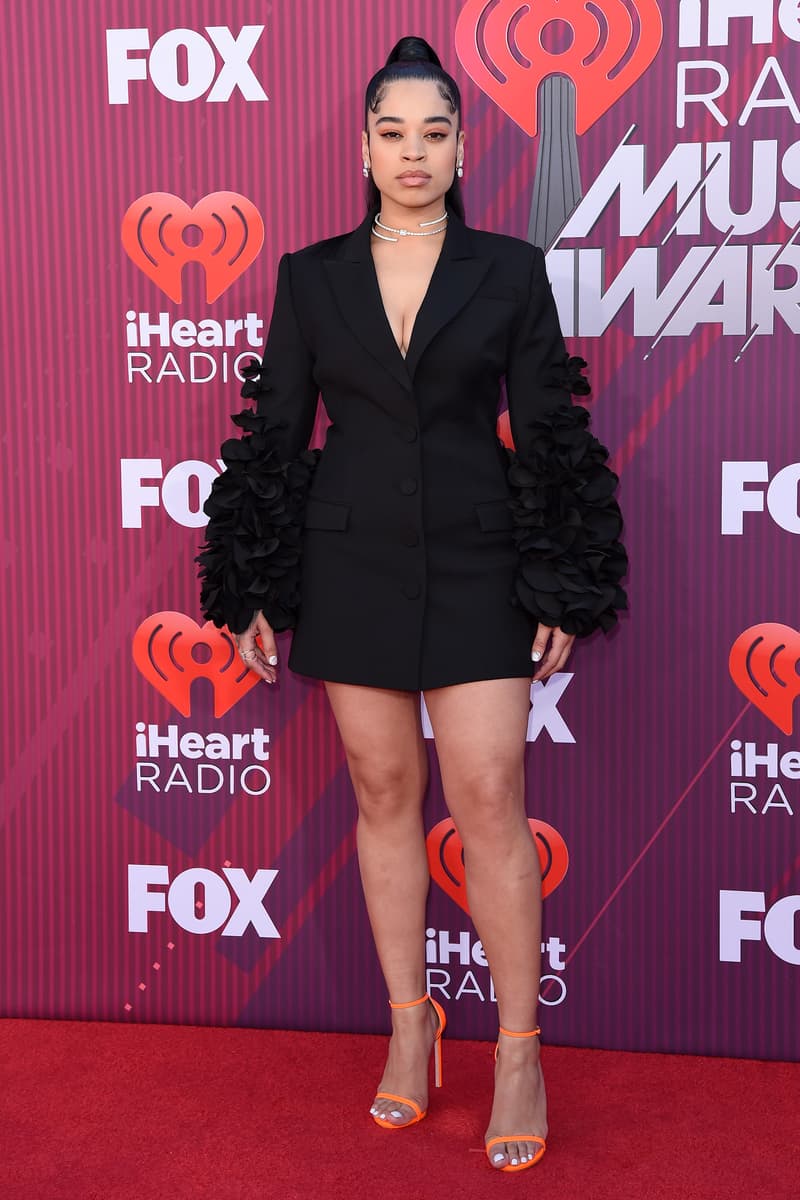 1 of 2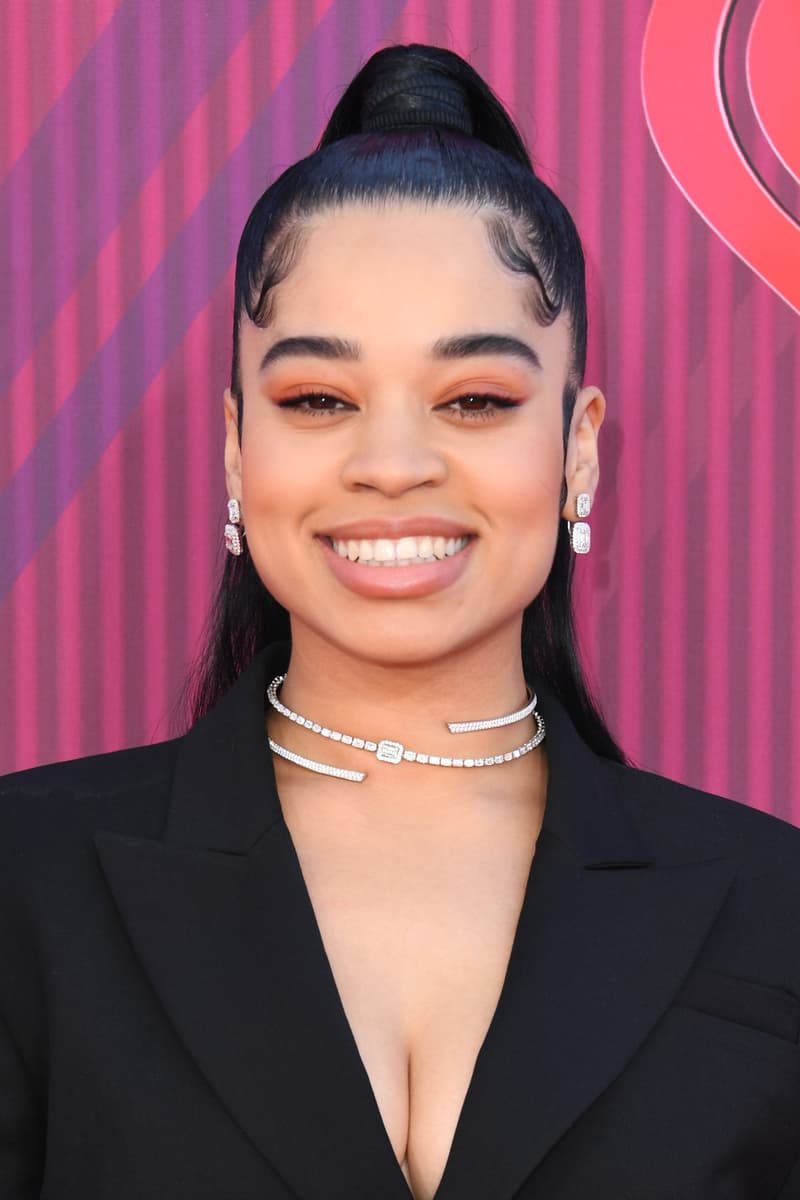 2 of 2
Beauty
Inside Ella Mai's Skincare & Beauty Prep at 2019 iHeart Radio Music Awards
Her makeup artist Emily Cheng exclusively breaks down her dewy beat by Shiseido.
Inside Ella Mai's Skincare & Beauty Prep at 2019 iHeart Radio Music Awards
Her makeup artist Emily Cheng exclusively breaks down her dewy beat by Shiseido.
A month ago, Ella Mai took home the Best R&B Song award at the 2019 Grammys for her viral hit "Boo'd Up." This award was preceded by the release of her critically acclaimed self-titled album. Just last night, the single struck gold again and won Best R&B Song at this year's star-studded iHeart Radio Awards. On the red carpet, she donned a stunning blazer dress styled by Dianne Garcia.
In our latest feature, her makeup artist Emily Cheng exclusively breaks down Ella's sunstruck makeup look which was inspired by her black outfit. To play off of this major hue, Cheng used an array of Shiseido beauty, and skincare products including the ModernMatte Powder Lipstick as eyeshadow. By utilizing this technique she was able to focus heavily on Mai's eye look which was a perfect match for the minimalistic look.
For Ella's performance beauty look, which was inspired by her holographic set by Stinson Haus, Cheng elected to keep everything mostly the same. The only additions were a swap out of the eye makeup. She removed the current eye look with Shiseido's Instant Eye and Lip Makeup Remover and used the brand's Kajal InkArtist in "Sumi Sky" and "Gunjo Blue". This multi-use pen was used to create a chunky winged eye. Following this step, she applied two more coats of the ControlledChaos MascaraInk.
Read our interview with Emily Cheng in which she expands on how she prepped the singer's skin and exactly how she got the finished red carpet look.
What are some products involved in the skincare prep for Ella?
[I] started with a hot towel, to soften skin and open pores. I applied the Shiseido Pure Retinol Intensive Revitalizing Mask for about 10 minutes then took another hot towel to do a quick steam so the serum from the mask penetrates further. At this step, you can take notice of any dry patches and gently scrub with the towel. I find usually in-between the eyebrows, around the nose and around the mouth. I massage the remainder of the serum into the skin. Then a second massage with Bio-Performance LiftDynamic Cream. Lastly, blot the T-zone.
What is the inspiration for Ella's iHeart Radio glam? How does the makeup look compliment her outfit tonight?

Being that the red carpet outfit was black, I wanted to add an element of color and coordinate with the pop of color from her shoes. It is always a really fun award show so a perfect time to play. Ella was up for some color. My inspiration was to mimic a flame. Where it may appear as one color but on closer inspection there are multiple fiery shades creating depth. I aim to find ways so that no matter the color or look, the makeup has richness and vibrancy. Never flat or dull.
Could you break down the products used to achieve this look?
Face:
I used Synchro Skin Glow Luminizing Fluid Foundation in golden 2 and 3. I do a super light layer as Ella's skin is literally perfect. I use mostly 2 all-over and 3 around the edges for a slight contour. [Then I dusted] a light layer of Pressed Translucent Powder on T-zone. With my fingers, I gently buffed in the "Kokei" WhippedPowder Blush and on the cheekbone [I highlighted] with Aura Dew in "Cosmic," which has a soft rose gold-shimmer. Also [I] took "Cosmic" into the inner corner of the eye and the cupids bow. These little highlights will contribute another element of dimension in the makeup.
Eyes:
I started by buffing a light layer of the white Kajal pencil over the eyelid so that the colors I layer overtop will appear more vibrant.
I then gently buffed [in the shade] "Rose Pagoda" [Kajal InkArtist] mixed with ModernMatte Powder Lipstick in "Flame" with a fluffy brush, onto [the] entire eyelid and gently buffed out the edges. Then with just "Rose Pagoda" I do three layers of a soft winged liner to get full intensity. To further define the eyes I smudged MicroLiner Ink in "Black" into the lash line. [I then] curled [her] lashes and applied ControlledChaos MascaraInk in "Black Pulse," on the top and bottom. Doing three coats to get a very lashy look.
Lips:
Keeping the focus on the eyes I smudged ModernMatte Powder Lipstick in "Murmur" lightly all over then nude streak buffed over top. Lastly a touch of LacquerInk LipShine in "Honey Flash," in the center of the lip. I either apply lipstick like this with an eyeshadow brush or my fingers for a blurred natural lip line.
What it comes to red carpet makeup, what are some tricks to make sure that the skin look glowy but not shiny?
I use a very minimal amount of highlighter, as I don't powder the entire face so for the most part natural radiance glows where it needs to. When I do use highlighter I apply on the cheekbone, inner corner of eye and cupids bow. I use a smaller brush so that highlighter doesn't spread.
What are your secrets to creating a makeup look that lasts all night?
Prepping the skin is vital. Having a well-primed canvas makes all the difference so I spend a good amount of time making sure that all the skincare I use is fully absorbed and not sitting on the skin which will often affect the wearability of makeup. I choose my skincare wisely so that nothing I use as a base will compromise the longevity of the makeup. Lastly, I blot the T-zone and press on powder with a puff and dust off excess.
Interviewer

Teresa Lam/Hypebae
---
Share this article