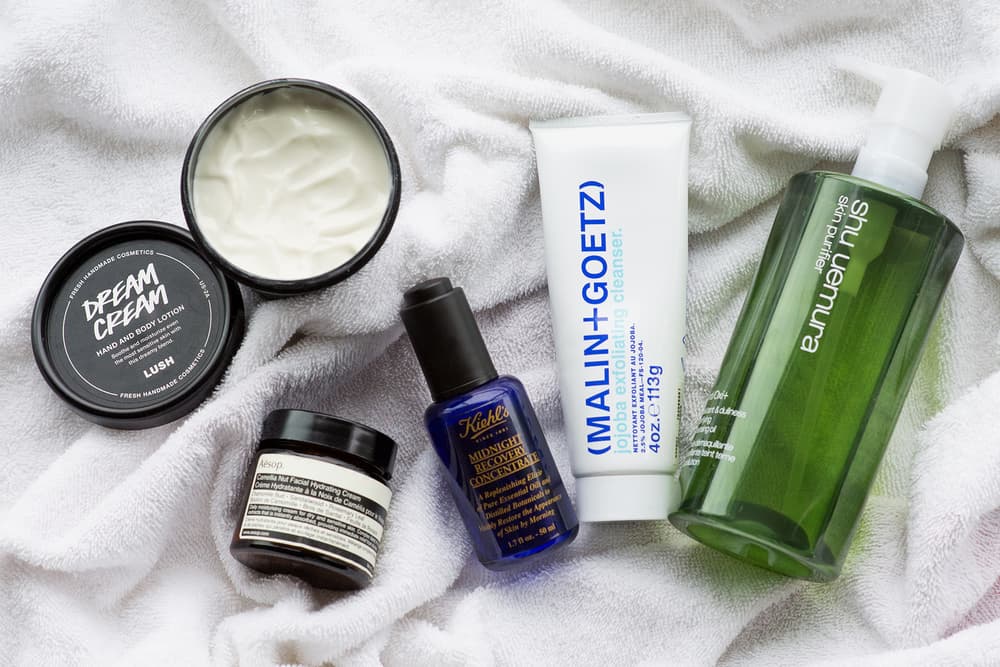 Beauty
High- and Low-Maintenance Nighttime Skincare Routines to Try This Summer
From Aesop to Lush, our editors break down their holy grail beauty products.
High- and Low-Maintenance Nighttime Skincare Routines to Try This Summer
From Aesop to Lush, our editors break down their holy grail beauty products.
The thing about skincare is that there's never only one right way of approaching it. Different cleansers, exfoliators and moisturizers work for different skin types. Sometimes, it takes a bit of trial and error before we finally figure out what suits us best. It's like a life-long lesson, and the best way to learn about new products and techniques is probably by exchanging beauty secrets with those who're just as obsessed with skincare as you are.
As huge beauty junkies ourselves, the HYPEBAE editors have shared what they've been loving to use for their nighttime skincare routines. Whether you're a low-maintenance or a 10-step kind of girl, you might be able to find something interesting to try this summer, both from the drugstore and from more upscale beauty brands. Continue reading to see what we've been using diligently every evening to remove our makeup and to replenish skin. What are you go-to nighttime skincare products? Share with us in the comments section below — we're always up for something new.
Since you're here, be sure to also check out our favorite nail polish shades for Summer 2018.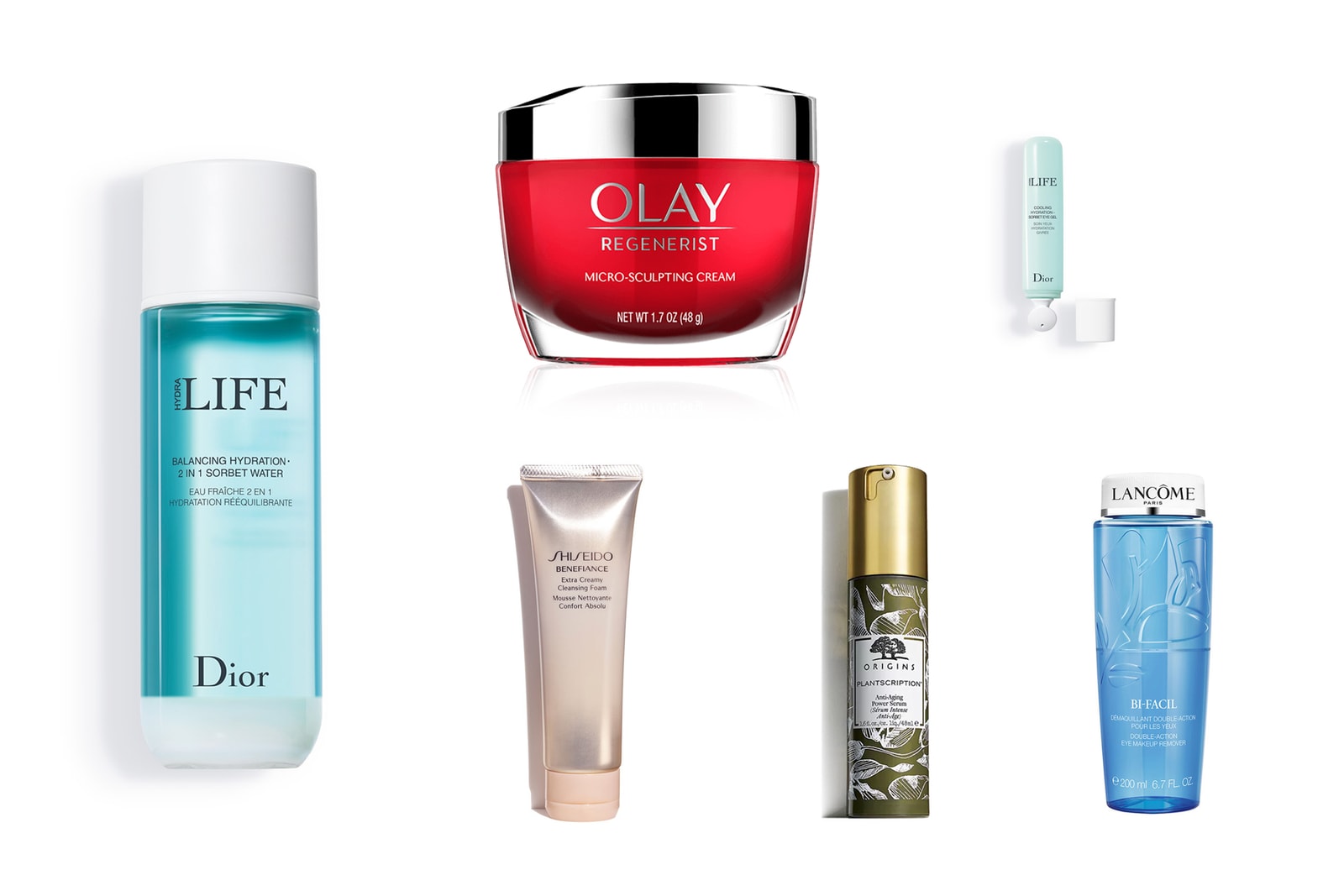 1. Lancôme Bi-Facil Double-Action Makeup Remover
I've been using this product for years and I've never found a reason to switch up my routine when it comes to eye makeup remover. Since both my eyeliner and mascara are waterproof, this item is heavy duty enough to remove both effortlessly, while still being gentle on the eyes (an area with notoriously delicate skin). The formula, however, is slightly oiler than milder options such as micellar water, so the composition might not be for everyone. If you're looking for a remover that quite literally seems to wipe makeup right off though, this one is a sure-win. Despite being on the pricier side ($40 USD), a 200ml bottle lasts for months and is a worthwhile investment.
2. Shiseido Benefiance Extra Creamy Cleansing Foam
The name says it all. This cleanser is extremely creamy and easily works into a lush lather the more you work it into your face. Within the formula are tiny exfoliating beads that gently help to remove impurities on the skin's surface. My face always feel fresh and moisturized after each use, leaving me with a feeling of a deep cleanse. Each tube retails at $36 USD.
3. Dior Hydra Life 2 in 1 Sorbet Water
Introduced just in time for summer, Dior's new Hydra Life line truly does reflect its namesake title. All of the products are deeply hydrating and effortlessly quenches any dryness in your skin. For those who are familiar with Hong Kong, they'll know that the summer season means air conditioners turned up to 11, which in turn inevitably means dried out skin. To re-hydrate my complexion, I rely on this Sorbet Water (approximately $50 USD) – the formula leaves my skin nice and plump, completely prepped for my nighttime routine.
4. Origins Plantscription Anti-Aging Power Serum
This serum has been described as "youth in a bottle" and while I do think it's a great product, I wouldn't really go that far. I first decided to try this product because it's both paraben- and cruelty-free. I do find that my skin is more plump after each use, and also noticed that the smaller pores on my cheeks have been slightly reduced. Due to its high price point ($77 USD), I'm not sure I would replenish my stock after I finish up this bottle but for those who are looking to try a new eco-friendly product, this is a solid option.
5. Dior Hydra Life Sorbet Eye Gel
I'm a very big fan of this product. Each tube comes with a ceramic applicator that amplifies the cooling sensation that is already an effect from the gel itself. The result is an icy sensation that immediately revitalizes your eyes (the gel is great for your brows or temples too, though). Reducing any puffiness, this product has become an unmovable mainstay in my skincare routine. Each tube retails for approximately $55 USD.
6. Olay Regenerist Micro-Sculpting Cream Face Moisturizer
I first tried this product, not really expecting much, but I surprisingly loved it. The formula is very thick and rich (perfect for a night cream), and left my skin feeling baby soft in the morning. This moisturizer is technically meant for anti-aging purposes, which makes sense since my skin felt much more elastic after several uses. Retailing at $10.49 USD, you can't go wrong with this.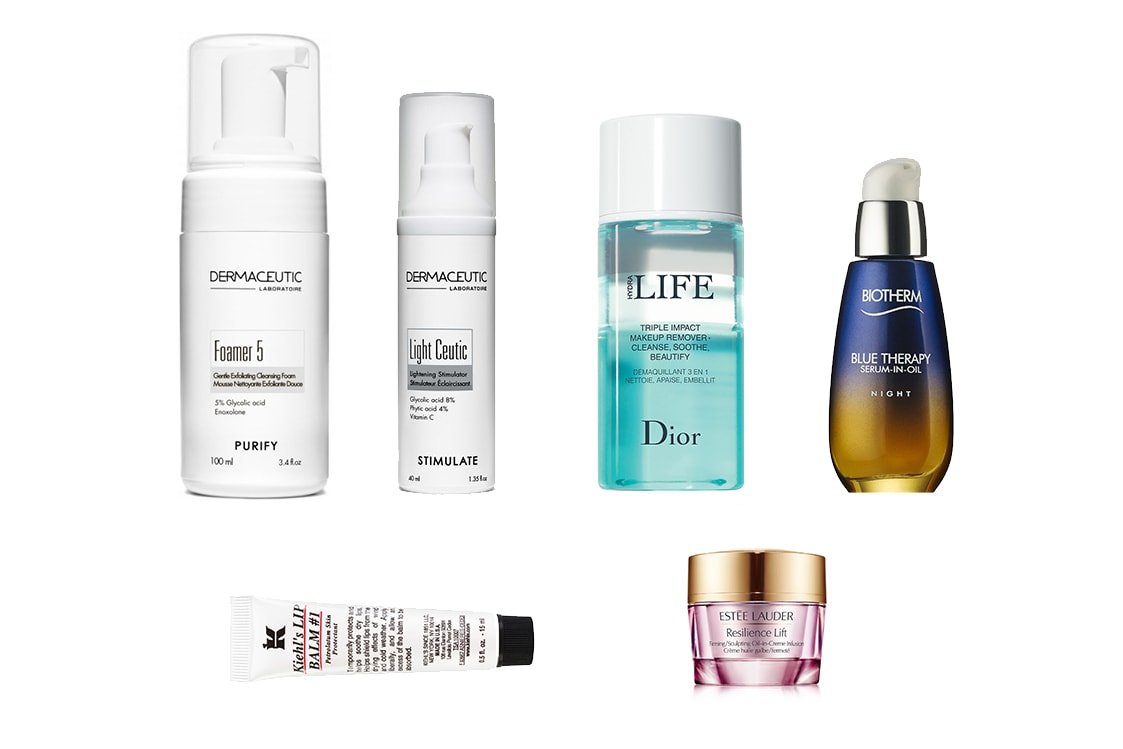 1. Dior Triple Impact Makeup Remover
I've been using makeup wipes forever out of pure laziness, but once I tried out Dior's Triple Impact Makeup Remover I realized what a difference it made for my skin. Leaving a moisturized finish and a clean canvas, this makeup remover manages to effectively remove my mascara as well as any other product I may be wearing. At $33 USD, it is pricey but definitely worth it.
2. Dermaceutic Foamer 5 Face Wash
Ever since I first started visiting my dermatologist, she's recommended products that are tailored to my combination skin. This Foamer 5 face wash from Dermaceutic (approximately $48 USD) is slightly exfoliating, and removes any impurities and purifies the skin, and it truly does wonders for my complexion. I've been using this product for more than two years now, and I'm not planning on stopping anytime soon.
3. Biotherm Blue Therapy Serum-in-Oil
Although my skin feels really oily at times, I've learned that adding more oil isn't actually a bad thing. After using Biotherm's Blue Therapy Serum-in-Oil, I realized that my skin had a new glow, and a soft finish because of this hydrating serum. At $76 USD, it is incredibly pricey, but a little goes a long way and will definitely do wonders for your skin.
4. Dermaceutic Light Ceutic Night Moisturizer
To complement my face wash, I use Light Ceutic from Dermaceutic – a skin-toning night cream that I've been using for more than a year. Featuring a combination of glycolic acid, phytic acid and vitamin C, this night cream adds a very necessary boost to my face after a long day of staring at a computer screen. At approximately $45 USD, this product is more than worth it to me.
5. Estée Lauder Resilience Lift Firming/Sculpting Eye Creme
I'm someone with naturally dark under eyes, which not even an immense amount of concealer can cover up on some days. I've never been one for eye creams, but ever since I tried out Estée Lauder's product, I've been hooked. Not only is it cooling and provides a hydrating feeling, it brightens my dark areas better than anything I've tried before. $65 USD may seem steep for an eye cream, but a little goes a long way with this one and you'll be able to use it for a long time.
To finish off my routine, I add a coat of lip balm to my lips, especially if I've been wearing lipstick during the day. Kiehl's #1 Lipbalm is the only product I feel truly works for my lips, and leaves a light finish that gives a moisturized feeling. Retailing at only $9.50 USD, this miracle product is one that I would never leave out of my nightly roundup.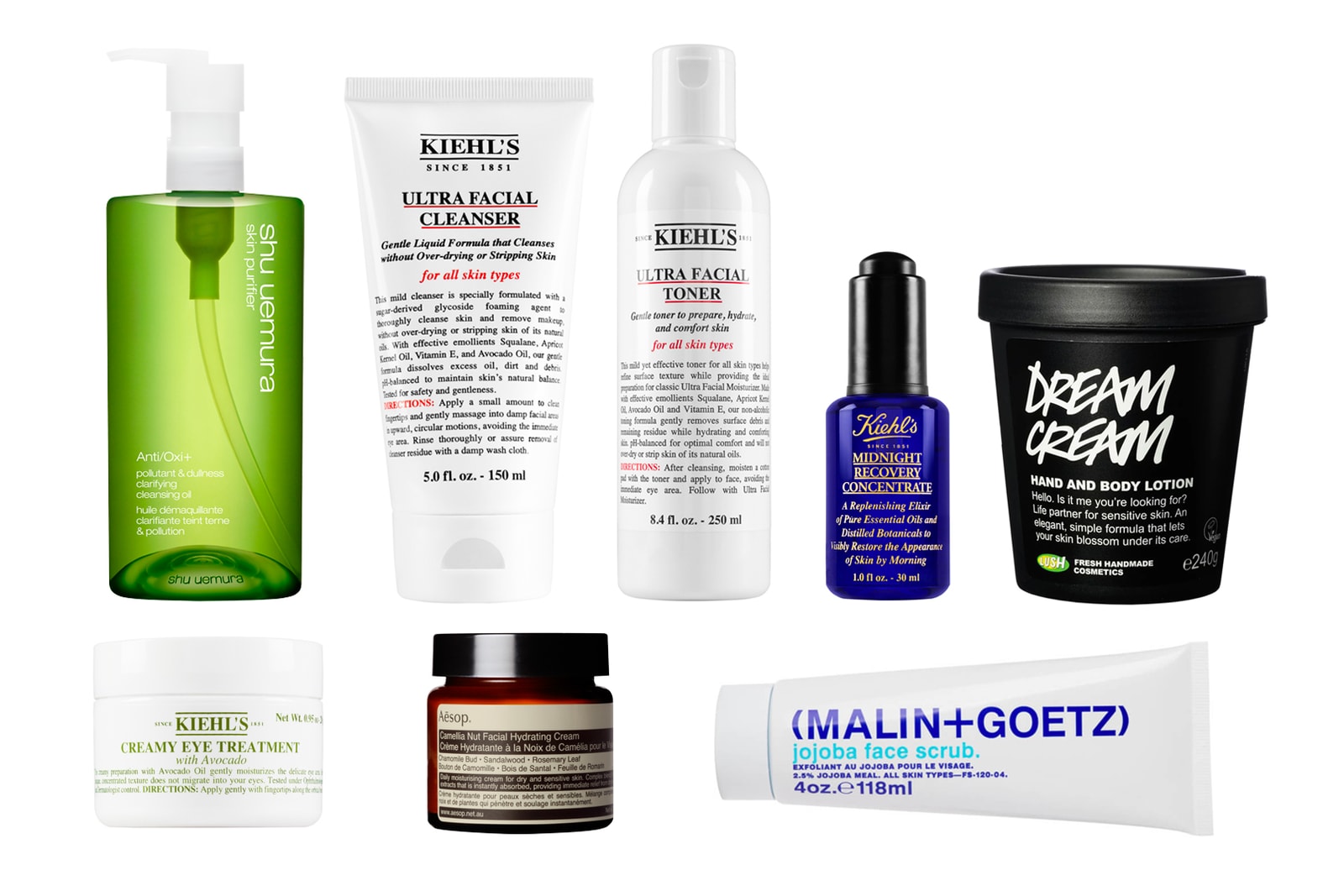 1. Shu Uemura Anti-Oxi+ Skin Refining Cleansing Oil
I've only started triple-cleansing recently (huge regrets) as I'm trying to do everything I can to prevent signs of aging. My younger self was definitely too lazy for that. To remove my makeup, I like to use this cult-favorite cleansing oil from Shu Uemura. Arguably one of the best makeup removers out there, this product is very gentle to the skin and does a great job in getting rid of any micro impurities and even the most stubborn eyeliners. I got my 450ml bottle for $82 USD which isn't particularly the most budget-friendly, but honestly this is going to last you a really long time.
2. Kiehl's Ultra Facial Cleanser
Moving on to cleanser number two, the Kiehl's Ultra Facial Cleanser. Another product that's been popular among skincare lovers, this facial cleanser does literally what it's supposed to do — to cleanse thoroughly without leaving your skin feeling dried. For me, using a second cleanser is important as makeup residue is often invisible to the eyes (but it's still there!) So, do give this $20 USD product a go if you're serious about your cleansing routine.
3. (MALIN+GOETZ) Jojoba Exfoliating Cleanser
On days when I do wear makeup, I love to finish off by using (MALIN+GOETZ)'s Jojoba Exfoliating Cleanser (priced at $40 USD). I've read somewhere that exfoliating is key when it comes to minimizing the look of neck lines. As someone who uses bronzer on both the face and the neck almost all the time, I do find it necessary to use a face scrub regularly to keep my skin fresh and baby soft.
Toner is one of those skincare products that some may find redundant. I had done without it for a short while and found that my skin felt significantly dehydrated, and since then I'm never not using a toner. My go-to is Kiehl's Ultra Facial Toner ($16 USD). Again, this is one of the brand's best-selling products and for good reason. It really helps prep and refine the texture of your skin so that it can better absorb any cream that you're going to apply afterwards.
5. Kiehl's Midnight Recovery Concentrate
It's been a little over a year since I introduced a serum to my evening skincare routine, and boy does that make a major difference. I was told that moisturizers are only able to replenish the surface layer of your skin. To hydrate what's underneath that, you'll need to rely on a serum like Kiehl's Midnight Recovery Concentrate. Trust me, you'll be happy with the results after using this $47 USD product.
6. Kiehl's Creamy Eye Treatment with Avocado
Eye cream is another step that I abandoned for a while before I realized that it was a mistake. I'm someone who has always had dark circles around my eyes, so I do have to give this area some love and attention. By now, you'll probably realize that my nighttime routine is made up almost entirely of Kiehl's products, so it comes as no surprise that I count the brand's Creamy Eye Treatment ($29 USD) as a favorite.
7. Aesop Camellia Nut Facial Hydrating Cream
Aesop has always been my top choice when it comes to night cream. I love trying different products from its offering and the latest I've been using is the Camellia Nut Facial Hydrating Cream ($49 USD). The luxurious cream features a mix of nut and plant extracts that not only provides anti-oxidant protection but also deeply hydrates skin.
I made a beauty resolution in the beginning of the year to use a body lotion daily, and I'm proud to say that I've been keeping my word. These days, I've been using Lush's Dream Cream which is an ideal product even for those who have sensitive skin. Packed with nourishing ingredients like oat milk, lavender and cocoa butter, this $29.95 USD cream is effective in making every inch of your skin as smooth as ever.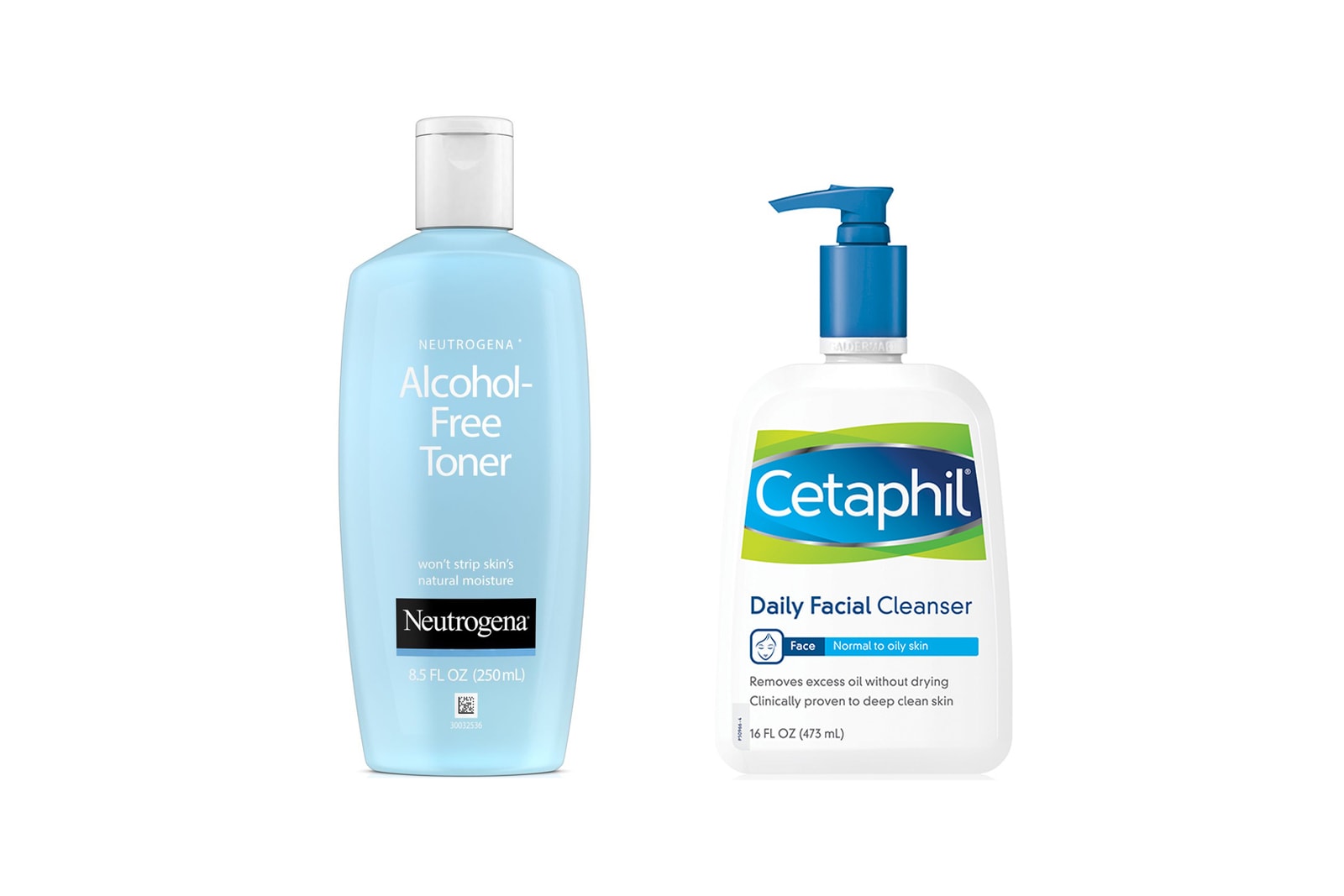 1. Cetaphil Daily Facial Cleanser
I've sworn by this facial cleanser ever since I remember my mom's dermatologist recommending it years ago. It gets the majority of my makeup off if I have on a full face or dramatic beat for a night out. What I love the most about this product is how refreshed my skin feels after I use it when I get home after a long day. To be quite honest, I've tried out numerous facial cleansers and this is extremely effective for my T-zone which is oily during the warmer months of the year. I would venture to say I've used this product for at least seven years. It's efficient, moderately priced at $16 USD for 16 fluid ounces. Most importantly, the cleanser doesn't leave my skin feeling dry which is an issue I've found with other cleansers.
2. Neutrogena Alcohol-Free Toner
If I can't get all my makeup off, I use this toner which is a bit strong but gets the job done. When applied with a cotton ball, the product completely takes off left over eyeshadow and liquid foundation (I typically wear both daily.) In the past I was scared of using toners because I once used witch hazel which was too strong for my skin type. But when I added this product to my makeup routine if I had a lot of product on, I found that it didn't dry my skin out like witch hazel did. After using this product a few times, I noticed that my skin was brighter. It's affordable at $9 USD and worth trying out if you're iffy on trying out alcohol-based toners.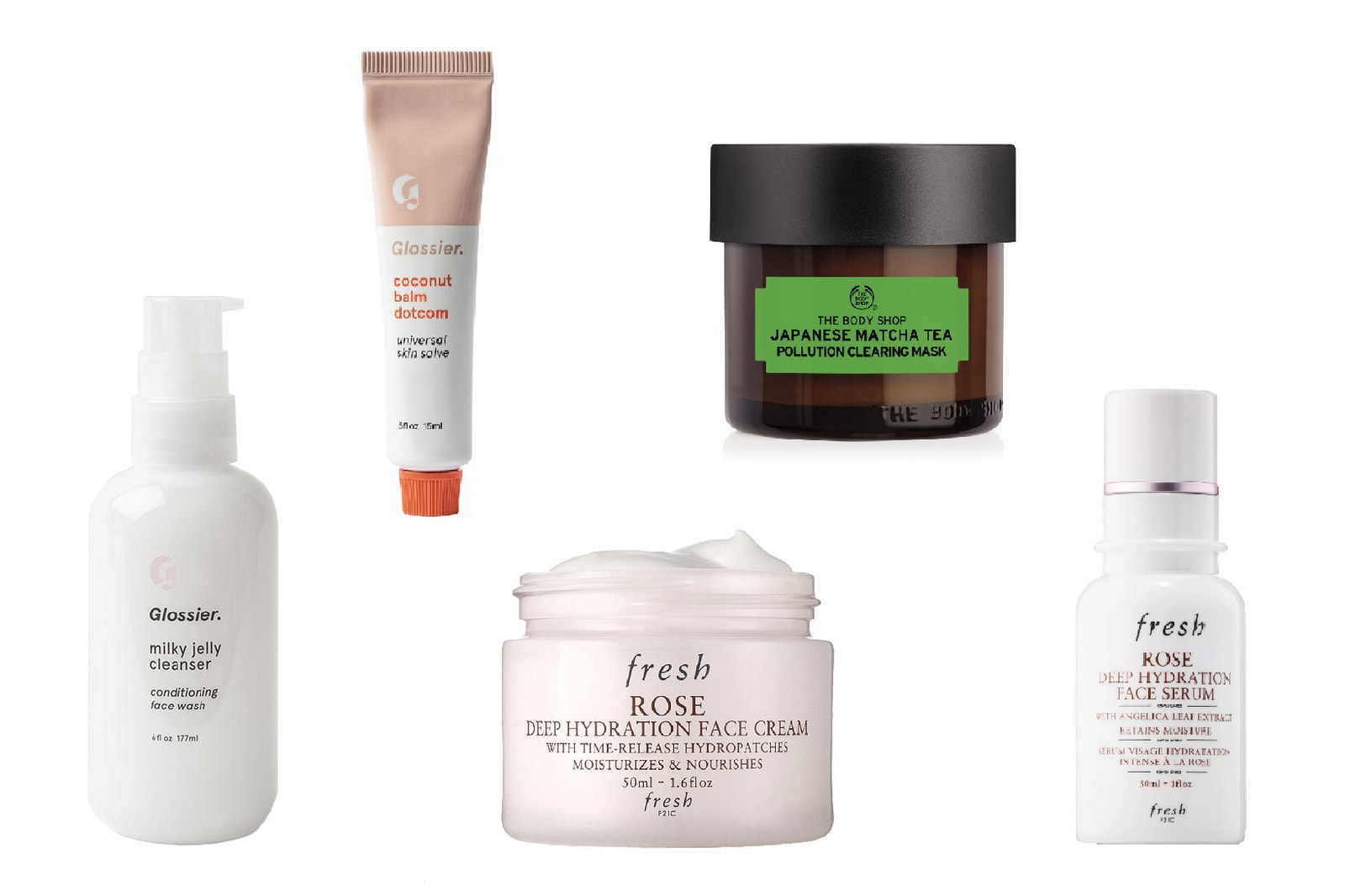 1. Glossier Milky Jelly Cleanser
I'm one of those people who's always flitted between cleansers and never really stayed loyal to one brand or product. I guess I was just constantly on the quest for something that really got rid of all my makeup and didn't dry out my sensitive skin. From the first time I tried Glossier's cult-favorite Milky Jelly Cleanser ($18 USD), I was hooked. The light, creamy formula visibly dissolved my makeup and didn't leave my skin feeling tight afterwards. I'll never need to hunt for the perfect cleanser again.
2. Fresh Rose Deep Hydration Serum
Serums are a relatively new addition to the routine for me. I'd never paid them much attention but am always one to jump on the bandwagon, so when I saw talk of magical, face-altering serums flooding beauty industry, I had to give them a go. So far, the Rose Deep Hydration Serum by Fresh has been my favorite. The super fast-absorbing formula sinks right into my skin after cleansing and leaves my face feeling – and looking – ultra hydrated. At $48 USD, it is a little bit costly, but my smooth skin thanks me for it.
3. Fresh Rose Deep Hydration Cream
Since I'm a sucker for matching my products as much as I can, investing in Fresh's Rose Deep Hydration Cream ($40 USD) was a no-brainer after the success of the serum. I usually apply this just before I go to bed, as a little treat at the end of the day. The lightweight, hybrid gel-cream formula is like a much-needed drink for my skin, which still feels ultra-soft the next day as a result. It's infused with soothing rosewater and rose flower oil, which gives it a dreamy and subtle rosy scent – it's definitely earned its spot as my favorite moisturizer of the moment.
4. Glossier Coconut Balm Dotcom
The final step in my nighttime routine is always a little lip balm and yes, I am that person who has multiple lip balms in every bag – and is somehow still losing them. Since Glossier launched in the U.K., I went crazy and bought literally every Balm Dotcom on offer. My go-to choice for the evening is the Coconut flavor and the nourishing formula glides right on with ease. It's infused with antioxidants and provides long-lasting hydration through the night – and of course, the coconut scent is delicious. I usually add a swipe in the morning too, for a natural, dewy sheen – at just $12 USD each, you can afford to stock up on these.
5. The Body Shop Japanese Matcha Tea Pollution Clearing Mask
This face mask is an added bonus beauty product that I try to use weekly – usually on a Sunday night – to get my week off to a nice, wholesome start. Those who live in cities like London can attest to the fact that the polluted air does some really nasty things to your skin and although long-term damage is probably unavoidable on the whole, this $28 USD mask does a great job of helping my skin in the meantime. The smooth and soothing formula is enriched with Japanese matcha tea and Mexican aloe vera and genuinely removes impurities and pollutants from your skin. Just layer it on, let the tingling commence, leave it on for around 25 minutes and then wash off with warm water. The real trick comes when removing the mask – be sure to take it off with soft circular motions for a little extra exfoliation.
Going into summer, I choose to wear less makeup. Coverage turns lightweight and save a little Boy Brow and blush or contour, you could convince me to do little else. With that, I can do with a gentle makeup remover. IOPE's IDEAL Cleansing Milk ($22 USD) is ultra-moisturizing, removing makeup traces while boosting the skin's ability to retain moisture. It means I can really cleanse without drying out my skin.
Following the cleansing milk and while still in the shower, I proceed to use another cleanser. The milk removes makeup and debris, but its IOPE IDEAL Cleansing Foam ($20 USD) gives a deeper clean. The solution includes prebiotics, ceramide and hyaluronic acid. It is important to note that the two-step cleanse still leaves the skin plump, and ready to be primed with the next steps.
Now onto the next step you will have noticed that I've stuck to the same brand. It's something new I'm trying. IOPE's Hyaluronic Serum ($45 USD) contains micro hyaluronic acid, inside hyaluronic capsules in its solution that also includes white birch juice. Everything together is designed to spread, and penetrate the skin with moisture, restoring what was lost during the cleanse. I can't use toner which causes me to breakout, so it's important to have a base hydration layer.
Second to last is IOPE's Hyaluronic Emulsion ($32 USD). It is also meant to hydrate like the last, but serum is considered to be lighter, and more concentrated. Emulsion is a lightweight lotion that works with skin's natural oils to promote hydration. I have notoriously dry skin so the more hydrating, the better.
The last step is a thicker moisturizer. Notice it isn't IOPE but Atomy's Nutrition Cream ($21 USD) isn't one I can do without. I've religiously sworn by it the last three years and when it runs out or I haven't ordered a replacement in time, I instantly notice dried out skin. The cream contains enriched amino acids made using advanced technology at Korea's Atomic Energy Research Institute. It's the best kept secret.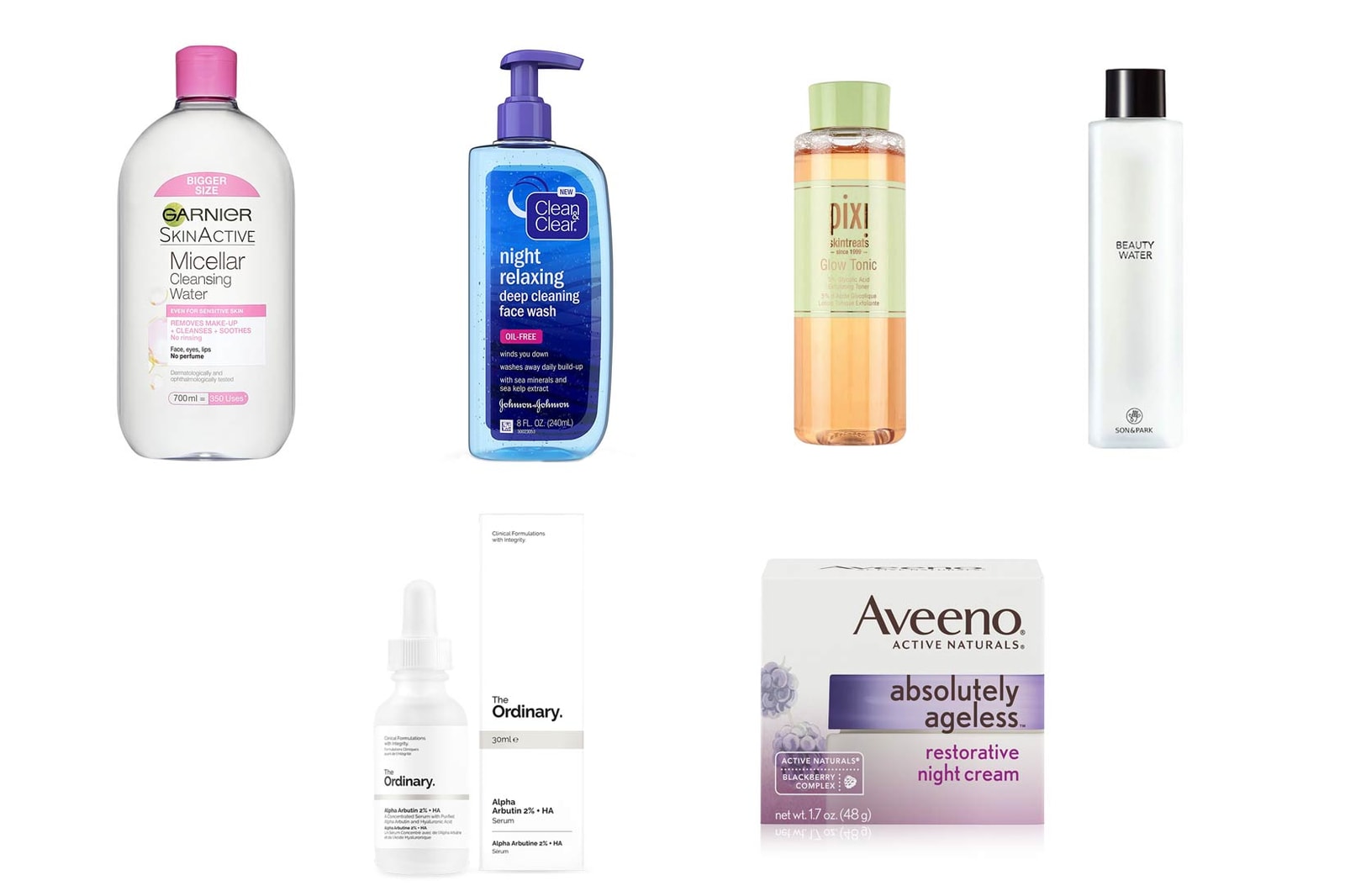 1. Garnier SkinActive All-In-1 Micellar Water
It took me a while to figure out the best way to remove my makeup. The idea of double cleansing makes me tired so Garnier's SkinActive Micellar Water was the perfect solution. I soak a cotton pad with the formula and it wipes off everything from the day, even mascara. What more can you ask for from a $9 USD product?
2. Clean & Clear Night Relaxing Deep Clean Face Wash
I'm not picky about what I use to wash my face. Clean & Clear's Night Relaxing Face Wash ($6 USD) suds up and makes my skin feel squeaky clean afterwards. I stay away from facial brushes (as per my esthetician's instructions) so using this product helps remove any leftover makeup and grime with just circular motions of my hands.
3. Pixi Beauty Glow Tonic Exfoliating Toner
The main event for my night time skincare routine comes after I get out of the shower. I let my skin slightly dry then apply Pixi Beauty's Glow Tonic ($30 USD). This item is a cult-favorite for a reason. Glycolic acid helps reveal a fresh layer of skin and the aloe vera soothes the peeling process. I highly recommend chemical exfoliants as opposed to physical scrubs.
Son & Park's Beauty Water ($30 USD) is the newest product in my regimen. I picked it up with the hopes of smoothing out my skin and it more than delivered. After washing and applying my exfoliating toner, this gives my skin a boost of nutrients that penetrates deeply while I sleep.
5. The Ordinary Alpha Arbutin 2% + HA
The summer is quickly approaching and I'd rather not apply my normal two pumps of foundation a day. The Ordinary's Alpha Arbutin ($9 USD) solution contains hyaluronic acid which holds 1,000 times its weight in water. This mixture helps tackle hyper pigmentation and scarring for a more even tone. With each application, I'm one step closer to achieving a flawless "no makeup" makeup look.
6. Aveeno Absolutely Ageless Restorative Night Cream
After putting on three layers of products, it's important to lock it in place for the night. Aveeno's Absolutely Ageless Restorative night cream ($17 USD) provides a moisturizing finish to my nighttime routine. Though I am still young it is never too early to prevent wrinkles and further help your skin out as it repairs while you sleep.
---
Share this article