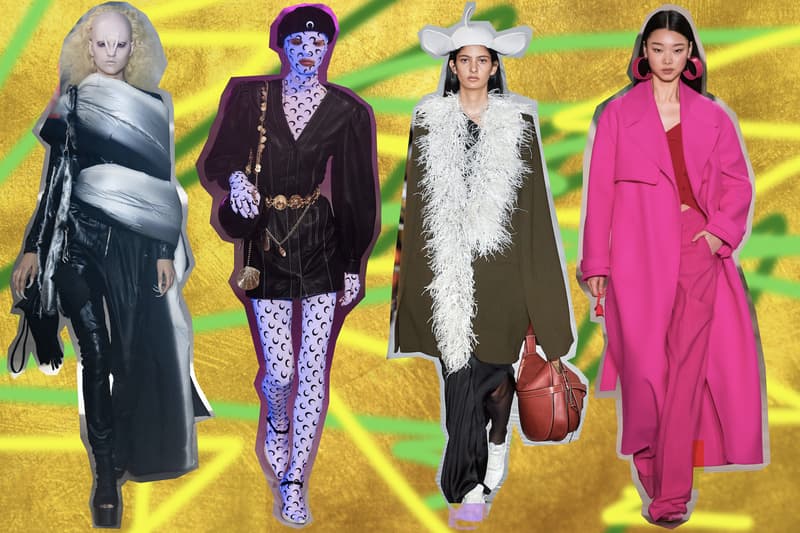 Fashion
Here Are All the Shows You Missed at Paris Fashion Week FW19
Rick Owens, Maison Margiela, Jacquemus and more.
Here Are All the Shows You Missed at Paris Fashion Week FW19
Rick Owens, Maison Margiela, Jacquemus and more.
We're half way through Paris Fashion Week, which means that fashion month is slowly coming to an end. We've already taken a look at the best shows from New York, London and Milan Fashion Week, and this time around we're tackling the French capital.
With highly anticipated shows from Hedi Slimane's CELINE, Rick Owens, Dries Van Noten and more, to refined presentations from Dior and Saint Laurent, it goes without saying that Paris Fashion Week is the place to be. With so much going on, it can be hard to keep track of all the shows and presentations, so we've rounded up some of the must-see shows from PFW.
Take a look at our top picks below, and for more from Paris Fashion Week, don't miss all the best street style here.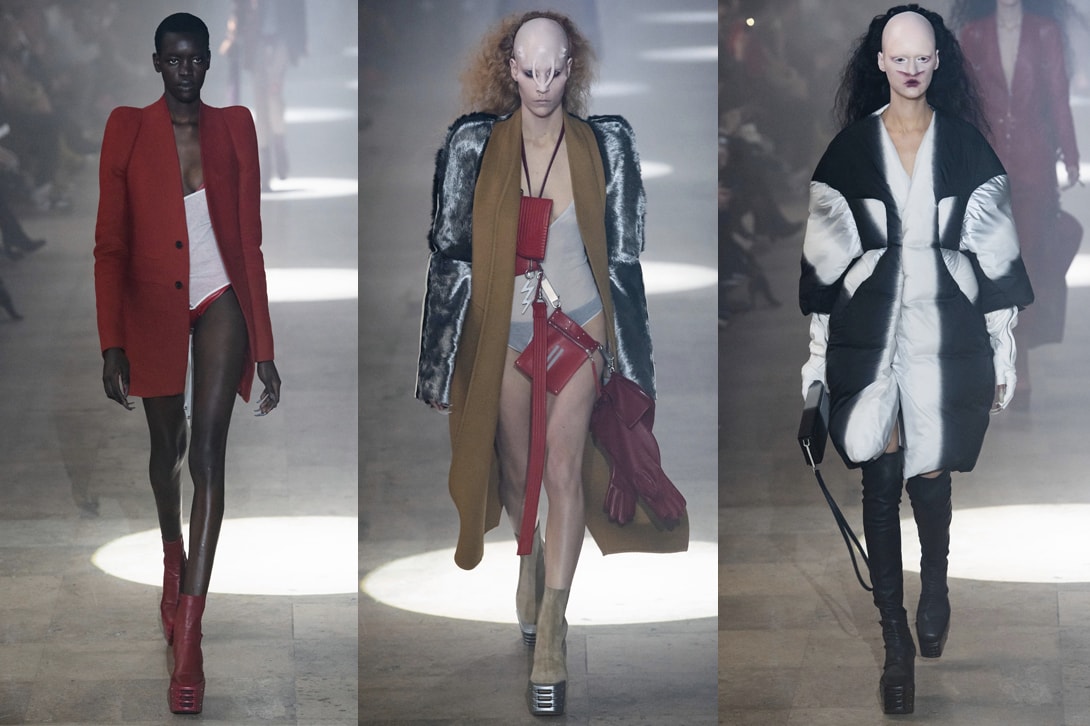 It's no secret that Rick Owens is the king of the unconventional, and FW19 was no different. In his latest collection, Owens focused on striking silhouettes and drastic geometry, creating eye-catching shapes and draping in true Rick fashion. Models sported alien-like prosthetics and wigs, adding to the fantasy Owens set out to project.
Inspired by "the glory of lust and vice," the collection featured Kiss-inspired platform boots in a wide range of colors, draped dresses, textured jackets and of course, bold accessories. Not surprisingly, the collection followed a predominantly black and grey palette, with accents of brown, red and white throughout, emphasizing the designer's singature aesthetic.
Shown at Paris' Palais De Tokyo, Owens brought the audience into a glamorous, out-of-this-world experience – and it was a collection to remember.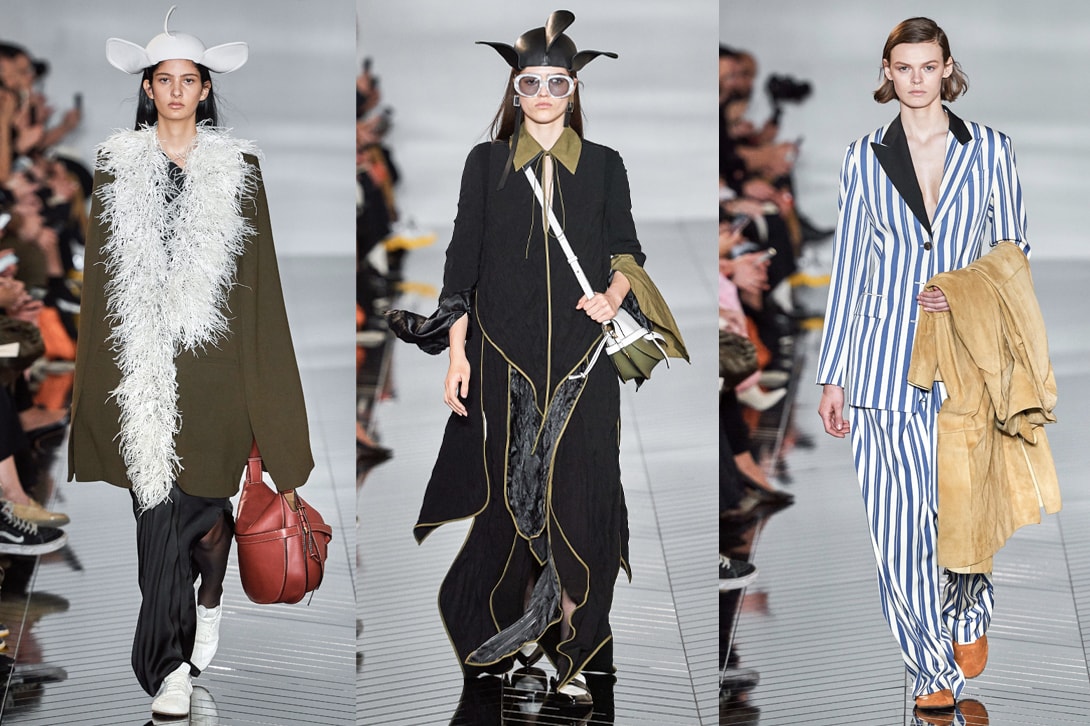 Following a strong collection for his eponymous brand, JW Anderson, at London Fashion Week, all eyes were on Jonathan Anderson and his Fall/Winter 2019 collection for Loewe. Kicking off day 5 of PFW, the day started off with rain and a slightly soaked audience, but that didn't stop the show from delivering looks.
We saw edgy, geometrical headwear, which came in a range of colors, as well as a brand-new selection of bags. Accessories have always been Loewe's selling-point, and this season we saw new silhouettes, as well as footwear like sleek sneakers and loafers – all merging luxury with day-to-day wear.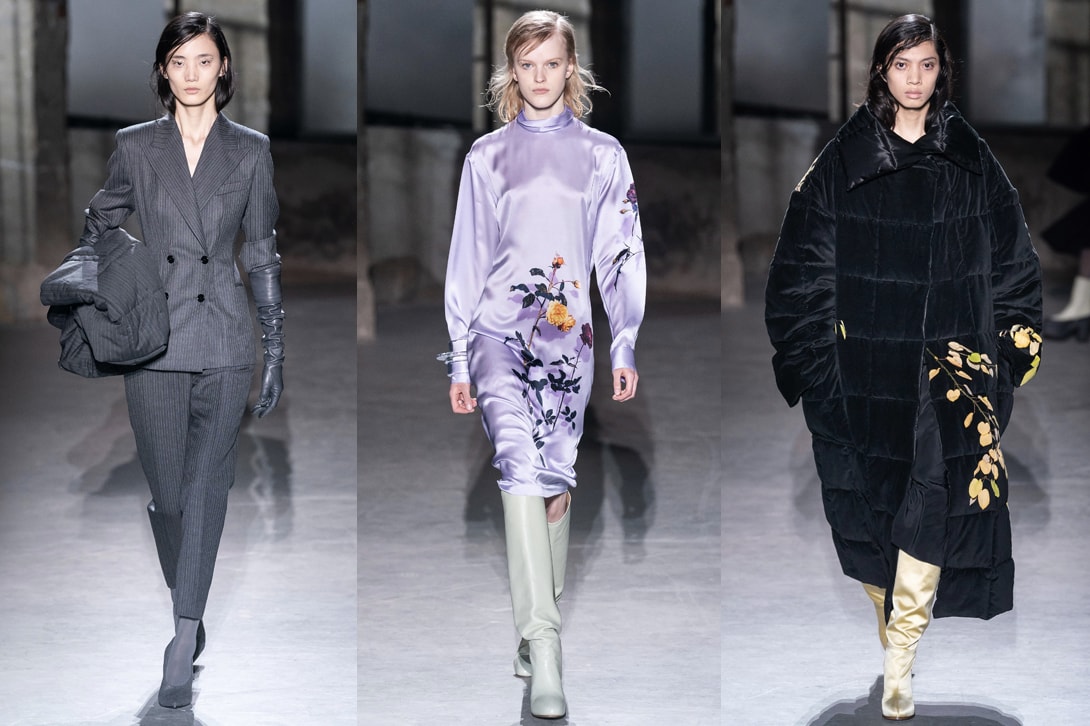 Dries is a wizard when it comes to tailoring and patterns. For Fall/Winter 2019, the designer took pictures of flowers from his own garden and recreated them in his collection, and the designer told Vogue, "I wanted roses but not sweet roses—roses with an edge, roses for now. Flowers can be romantic, but this I wanted to take out, because the times are tougher than in the past. So you see the diseases, the black spot, the imperfections."
The FW19 collection had a sense of melancholy to it. A more harsh aeshetic than that we are used to from Dries, which also symbolizes changing times with a dark and intense twist. Featuring perfectly tailored suits, draped satin dresses and structured trench coats, the collection combined harsh silhouettes with soft, floral prints, signature to the house. Needless to say, it was an interesting take on FW19 by Dries Van Noten.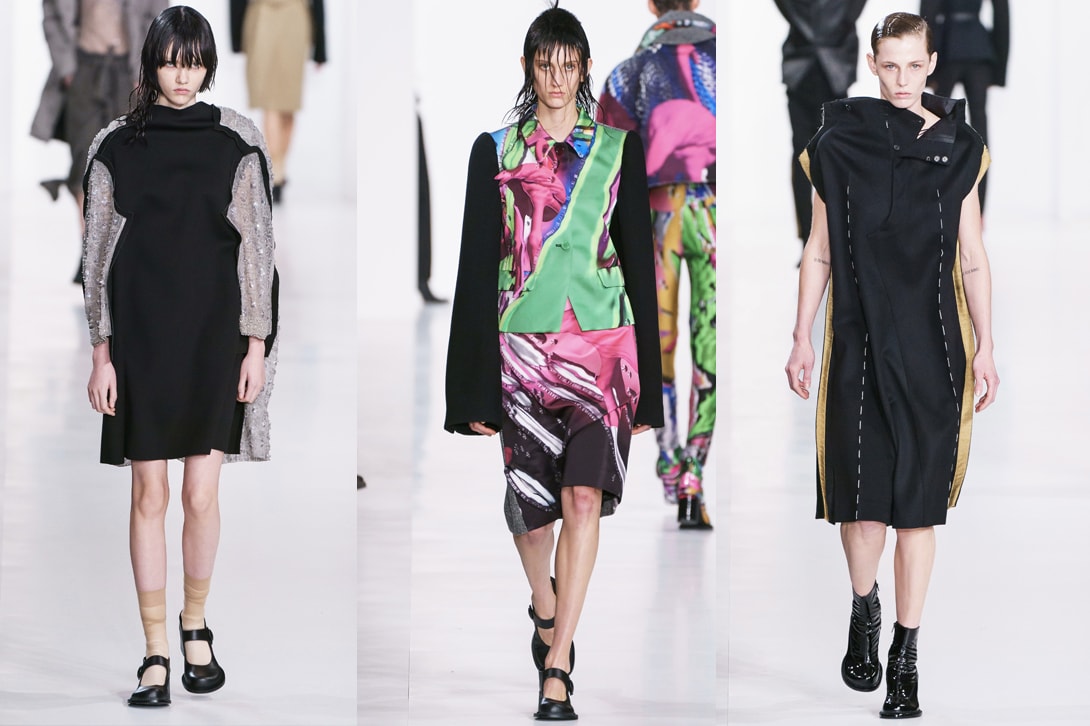 Tailoring, tailoring and tailoring. Those are the words that describe John Galliano's FW19 collection for Maison Margiela. Having previously experimented with extravagant and bold colors for Haute Couture, Galliano went back to the basics and presented a collection filled with carefully crafted pieces with a Margiela twist. The designer called the show a "co-ed" presentation, emphasizing the importance of non-binary fashion. Trans teen Finn Buchanan opened the show, setting the tone for the range.
Filled with must-have suits, blazers, jackets and more, this was one of the strongest and most surprising collections of this season's Paris Fashion Week.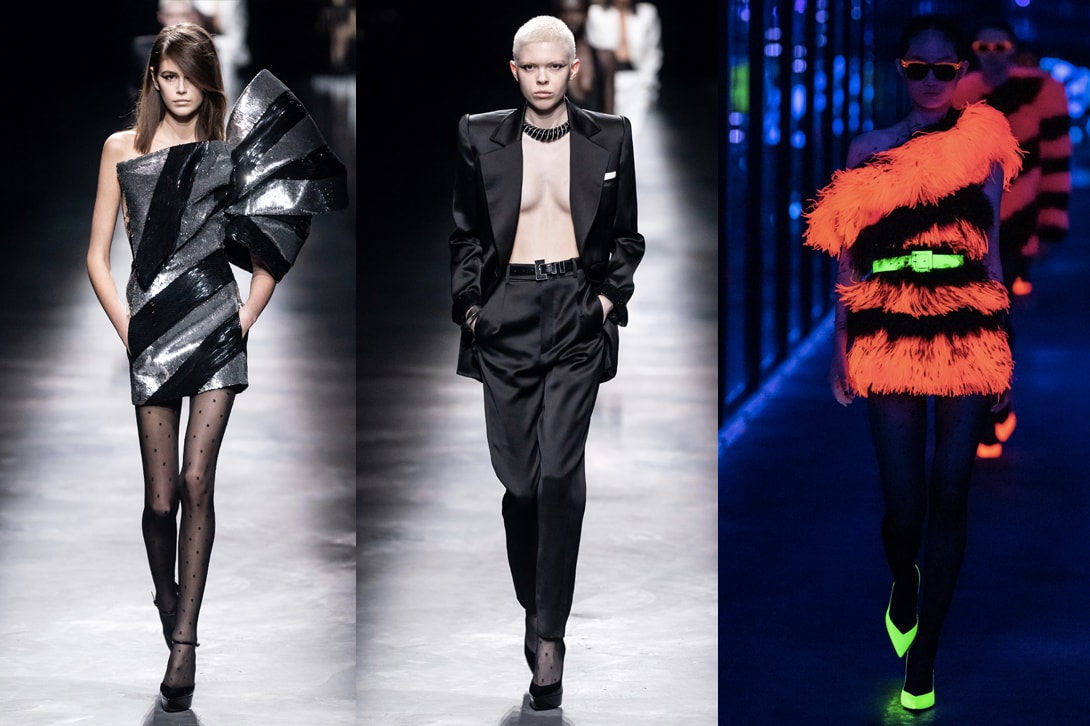 Anthony Vaccarello's Saint Laurent is perhaps one of the most defined aesthetics out there, and for Fall/Winter he brought the rocker-chic vibes to the runway again. With sequins, leather and satin mini-dresses, edgy blazers and dramatic silhouettes, Vaccarello presented a collection that woke up the party animal inside us. But that wasn't it. The lights turned off and a neon, glow-in-the-dark range paraded down the runway in pink, orange and green colors that lit up the runway. Feathered dresses, statement shades and vibrant shoes all glowed in the pitch-black room, surprising the audience and having everyone in awe of the exciting pieces.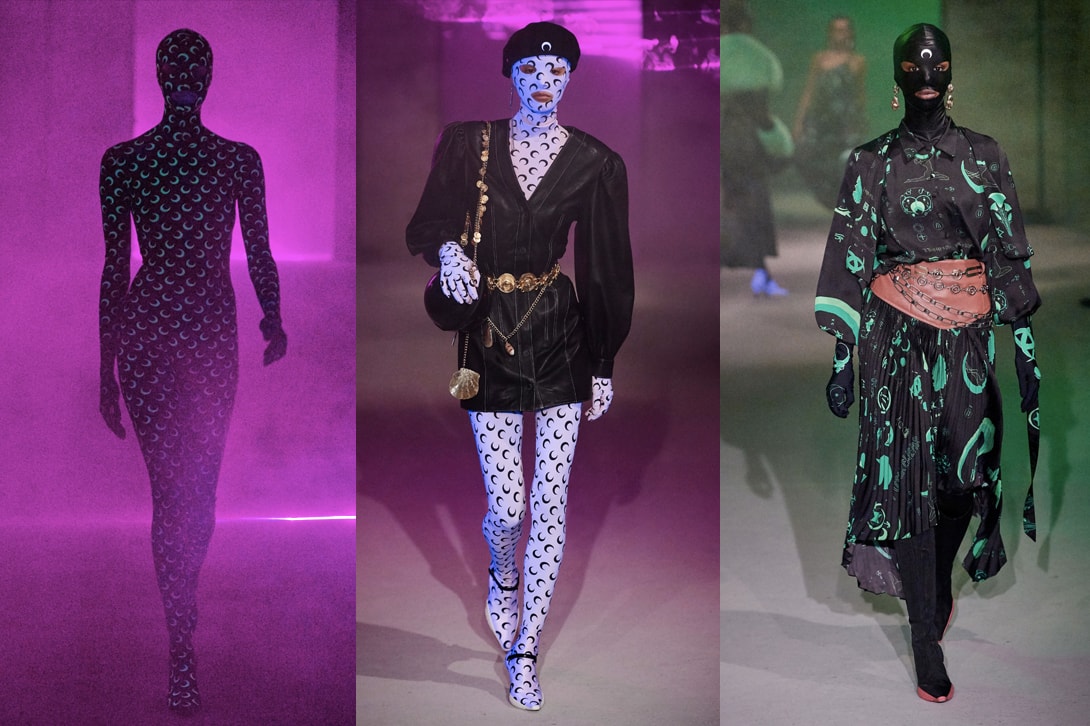 French designer Marine Serre brought the audience to underground tunnels, where it was dark and hazy. Once the show started, models came down the runway in full bodysuits in Serre's signature half-moon print, which glowed in the dark. Titled "Radiation," the show captured the designer's vision of "warriors from the future," sporting deconstructed and unconventional pieces.
"It's after the apocalypse; a group of friends are underground—a community coming together. It's a safe zone in which a new world is being created, a future world, and a new way to see fashion," Serre told Vogue, emphasizing the central theme to the collection. Having only two previous seasons under her belt, Serre deserves a standing ovation. Not only are the pieces unique and a breath of fresh air, but we're sure that they'll become favorites for fashion lovers and street style enthusiasts next season.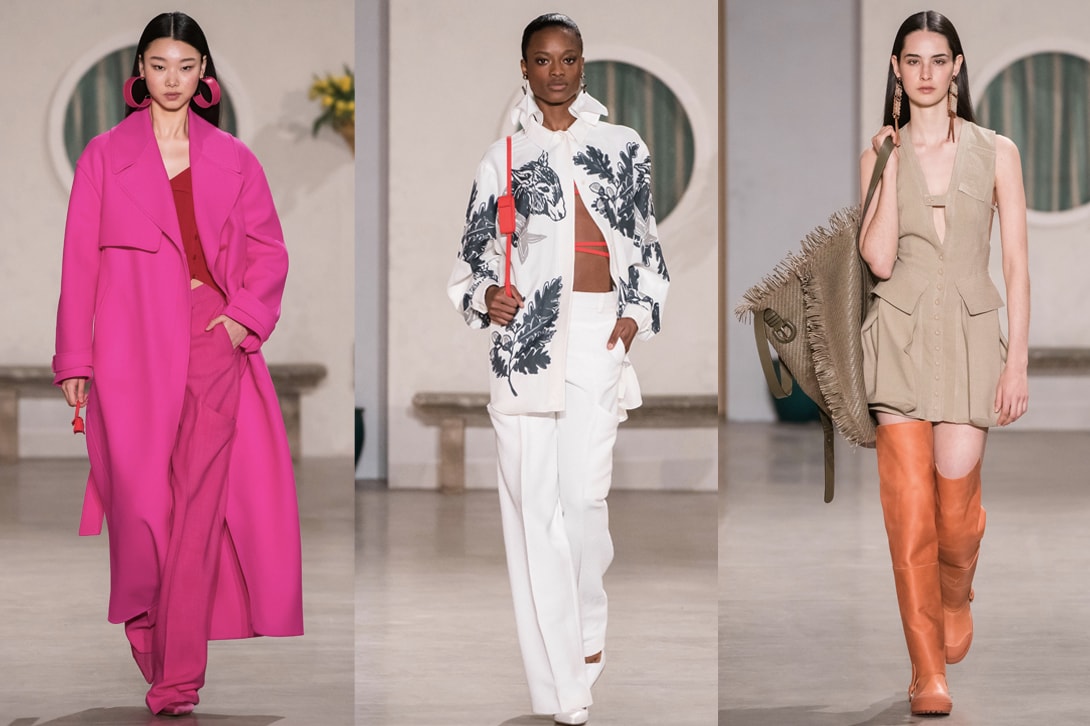 Simon Porte Jacquemus brought the audience to a village in the south of France, creating a full set that replicated a small town. With gorgeous pastel colors all around the audience was invited to explore the venue and see the set up-close before the show started, and it's safe to say that a number of Instagram-worthy posts came out of it. The collection saw Jacquemus drift away from his previous beach aesthetic to a more refined, yet still playful, vibe with silhouettes like coats, dresses and matching sets. We also saw a new version of the designer's signature mini-bag, this time made 10x smaller and barely visible from the audience.
The range followed a mainly neutral palette which also featured pops of yellow, fuschia, red, blue and green, capturing Jacquemus' love for mixing and matching and layering. Of course, accessories we're also in focus, with the designer creating a new selection of earrings, bags and rain boot-like shoes. Ending with applause and a close-to standing ovation, it goes without saying that the crowd loved it.
Share this article