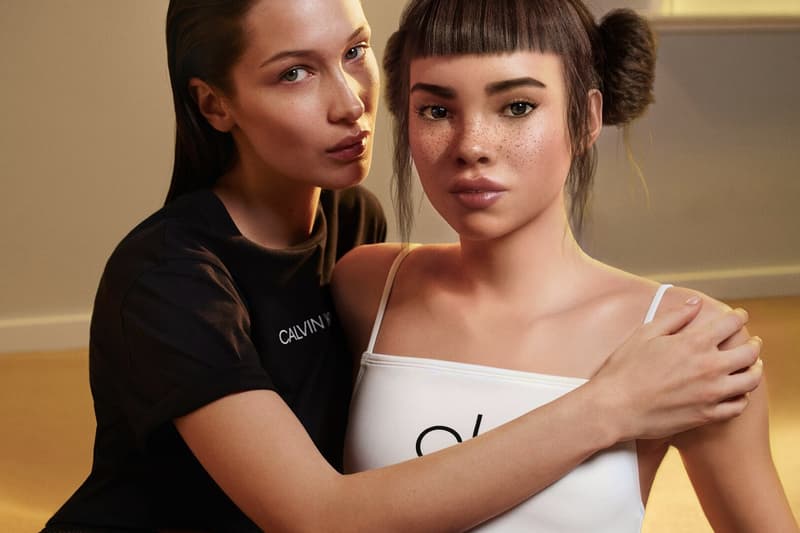 Fashion
Calvin Klein Apologizes Following "Queerbaiting" Accusations for Bella Hadid & Lil Miquela Ad
"It was certainly not our intention to misrepresent the LGBTQ+ community."
Calvin Klein Apologizes Following "Queerbaiting" Accusations for Bella Hadid & Lil Miquela Ad
"It was certainly not our intention to misrepresent the LGBTQ+ community."
Calvin Klein has issued an apology in response to the social media backlash against its new ad fronted by Bella Hadid and virtual influencer, Lil Miquela. The supermodel is seen kissing the robot in said campaign video, subsequently causing a stir on Twitter and Instagram where users left comments like "a corporate brand will show Lil Miquela and Bella Hadid making out but not an actual gay couple," and "Let's not queer bait in 2019, thanks."
The brand has since released a statement, writing that "we sincerely regret any offense we caused":
"The concept for our latest #MYCALVINS campaign is to promote freedom of expression for a wide range of identities, including a spectrum of gender and sexual identities… In this particular video, we explored the blurred lines between reality and imagination."
The company also addresses "how featuring someone who identifies as heterosexual in a same-sex kiss could be perceived as queerbaiting," adding that Calvin Klein has had a "longstanding tradition for advocating for LGBTQ+ rights" and that it was not the brand's intention to misrepresent the community.
You may find the full statement below.
Here at CALVIN KLEIN, we welcome all types of constructive feedback from our community. We see your comments and we appreciate them. We'd like to offer our thoughts in response to comments on our campaign video featuring Bella Hadid and Lil Miquela. pic.twitter.com/OIcIekyR9K

— CALVIN KLEIN (@CalvinKlein) May 17, 2019
While you are here, read our op-ed on whether we are to blame for virtual influencers like Lil Miquela.
Share this article