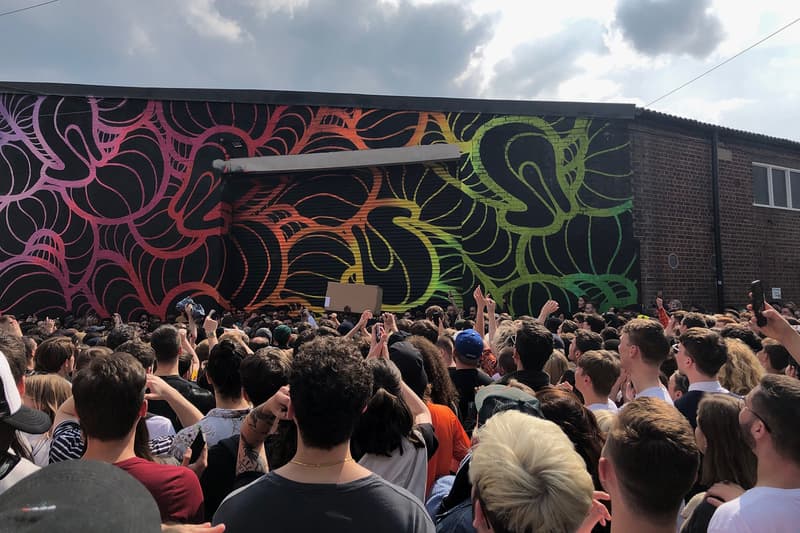 1 of 2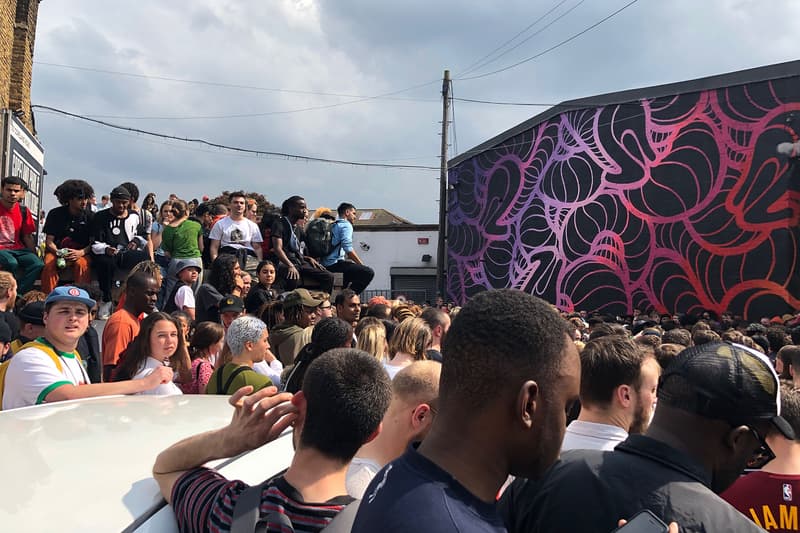 2 of 2
Culture
Tyler, the Creator's Spontaneous London Show Just Got Shut Down
Following concerns of overcrowding and rowdy behaviour.
Tyler, the Creator's Spontaneous London Show Just Got Shut Down
Following concerns of overcrowding and rowdy behaviour.
Earlier today, Tyler, the Creator revealed he was back in London following a ban, as he posed in front of Buckingham Palace in an Instagram post, prompting fans to believe he may be in town for a show. Shortly after, on Instagram and Twitter, Tyler shared the cryptic message "COPELAND PARK, BUSSEY BUILDING, 3PM." To those in the know, this indicated Tyler would be appearing at the venue in Peckham, South London today and crowds gathered in anticipation soon after Tyler sent the message out.
Unsurprisingly, word spread fast and the venue was filled with fans including Virgil Abloh however it was soon over capacity, forcing the gates to be closed. Those who couldn't get access started crowding the streets and attempting to climb over the gates and roofs to gain access to the outdoor courtyard where the performance was expected to take place. Due to the overcrowding and concern for public safety, Tyler took to social media once more to confirm that the show had been shut down due to rowdy behaviour, urging fans to go home, before police shut down and cleared out the entire area.
There's no update yet as to whether Tyler, the Creator may attempt another spontaneous performance whilst in London however due to today's events, it seems unlikely. Take a look at some of the reactions on social media below and check out Tyler, the Creator's new album 'IGOR.'
COPELAND PARK, BUSSEY BUILDING, 3PM

— Tyler, The Creator (@tylerthecreator) May 18, 2019
too rowdy, cops cancelled it, go home, i tried, the gate climbing nail in the coffin, they go nervous, too bad was a cool idea but hey, ??‍♂️, igor out now

— Tyler, The Creator (@tylerthecreator) May 18, 2019
? london i wanted to play new magic and earfquake so bad fuckkkkkk

— Tyler, The Creator (@tylerthecreator) May 18, 2019
Loooool Tyler, The Creator just shut down Peckham @tylerthecreator pic.twitter.com/AReDykmMwR

— T (@tobyyyy69) May 18, 2019
nobody could get out after Tyler cancelled the gig so virgil abloh and I had to escape under this gate pic.twitter.com/P0aCHH4lnZ

— Róisín Lanigan (@rosielanners) May 18, 2019
Share this article