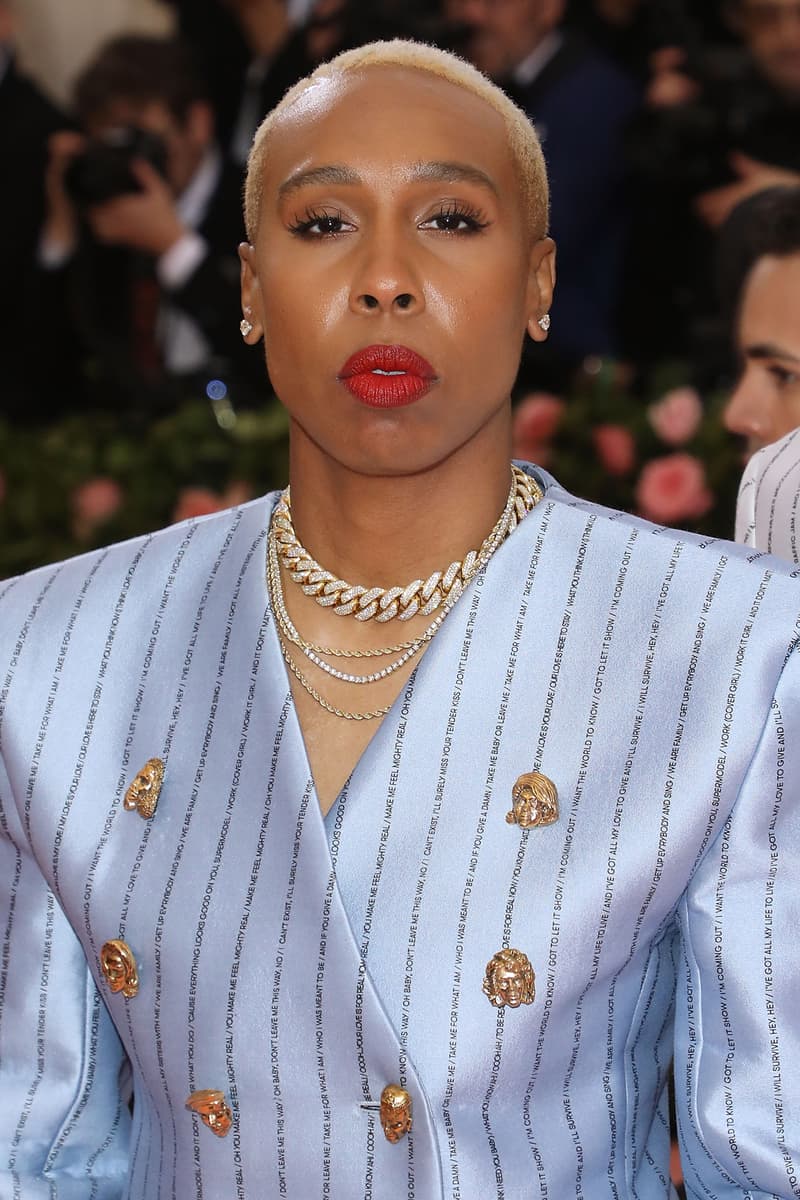 1 of 2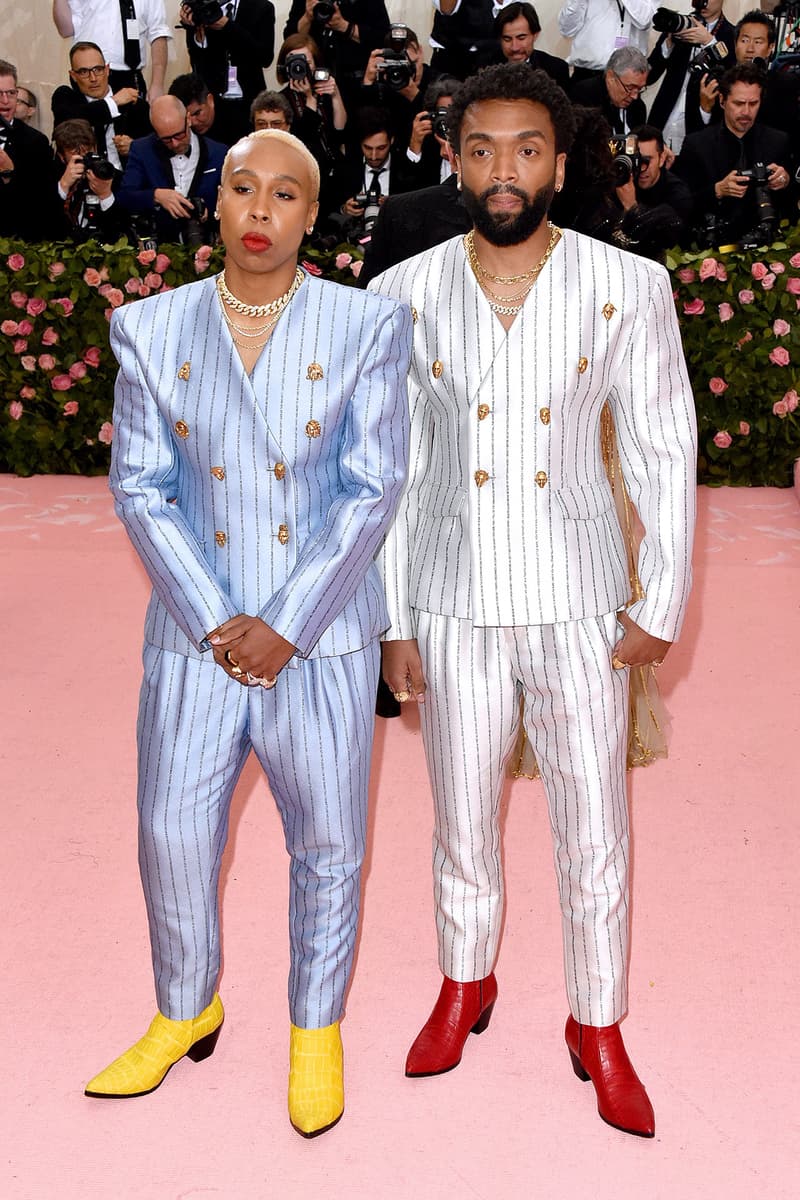 2 of 2
Beauty
Inside Lena Waithe's Beauty Prep for 2019 Met Gala Celebrating "Camp: Notes on Fashion"
Her makeup artist Rebekah Aladdin breaks down her statement-making look.
Inside Lena Waithe's Beauty Prep for 2019 Met Gala Celebrating "Camp: Notes on Fashion"
Her makeup artist Rebekah Aladdin breaks down her statement-making look.
This year's Met Gala follows a theme entitled "Camp: Notes on Fashion." Announced earlier this year as a member of the host committee of The Metropolitan Museum of Art's exclusive fundraiser was none other than Emmy award-winning creator Lena Waithe. The multi-talented star is experiencing a pivotal moment in her career as she fills the roles of executive producer for Showtime's The Chi and BET's Boomerang scripted series.
Waithe accompanied black designer Kerby Jean-Raymond of Pyer Moss in a custom, pinstripe sky blue suit created in collaboration with New York-based jewelry designer, Johnny Nelson. Her suit features an assortment of black power fist cuff links and sculpture portrait buttons by Nelson. The pinstripes are formed by lyrics celebrating black queer artists. And on the back, her jacket is emblazoned with the message "Black drag queens invented camp." The playful theme has presented a moment for Waithe to celebrate blackness and queerness simultaneously.
Celebrity makeup artist, Rebekah Aladdin worked with Waithe to create a striking look that spoke loudly for the LGBTQ community. Though Lena typically keeps her face simple, for yesterday evening's festivities Aladdin included a red lip to honor Marsha P. Johnson, a highly regarded beacon within the gay liberation movement. In total, when paired with her statement-making suit, the beauty look shows Waithe's perspective of inclusive fashion and beauty.
Read our interview with Aladdin below featuring a breakdown of each beauty product she used to create Lena's stunning look.
Last year Lena's beauty look featured a dewy, glowing face and a natural lip color. Where did you look to for inspiration for Lena's makeup this year?
You can always count on Lena Waithe for a good story even with her fashion. This year, just as last year, she used the Met Gala carpet to spotlight a marginalized community and honor the voices that are often left out of the larger narrative. Tonight, Lena paid tribute to black drag queens for their innovation and contribution to Camp. We continued that story through her makeup. We channeled iconic queens like Marsha P. Johnson who's noted as a prominent figure in the Stonewall riots, a critical moment that sparked the gay liberation movement 50 years ago. In tribute to her and the untold story of many others, we added a never-seen-before bold red lip, as often seen on Marsha, to Lena's clean and classic signature makeup look.
This year's Met Gala Theme, "Camp: Notes on Fashion" offers an opportunity to interpret fashion and beauty through a self-expressive lens, do you believe you've accomplished this?
Absolutely, tonight's fashion and beauty on Lena definitely has a lot to express. Lena is using every detail to carry out the story – from the stripes on her suit that read lyrics from Diana Ross's iconic [song] "I'm Coming Out," to the buttons on the suit which feature black queer icons such as Pepper Labeija and Dorian Corey, to the bold red lip. Every single detail has a message.
What were the actual products you used to achieve this look?
Tonight's look was about clean flawless skin to compliment the burst of color on her lips. To accomplish this look, I focused on creating a beautiful base foundation using AJ Crimson Beauty Dual Skin Foundation mixed with Dermablend Flawless Creator Foundation. [After that] I used NARS Radiant Creamy Concealer to highlight under eyes, and Dermablend Loose Setting Powders to set her face. I [then] used MAC Cosmetics' Mineralize Skinfinish Powder in "Dark Deepest" to create a soft contour around the perimeter of her forehead, cheekbones and the bridge of her nose. I finished off the look with Huda Beauty Demi Matte Cream Lipstick in "Boy Collector."
When you were in the brainstorming process, did you initially have a specific image in mind? Did you end up going with that idea?
Initially, we discussed recreating a look we did for Lena's feature cover of OUT magazine. It had the perfect subtle feminine touch but still had the effortless cool about it, that we've come to love about Lena. We kept the signature look that we were going for, but today, we had a change in direction as Lena wanted to take her message of empowerment all the way by adding a lipstick, which added a bold, exciting and powerful new flare.
Image Credit

Rebekah Aladdin
Share this article