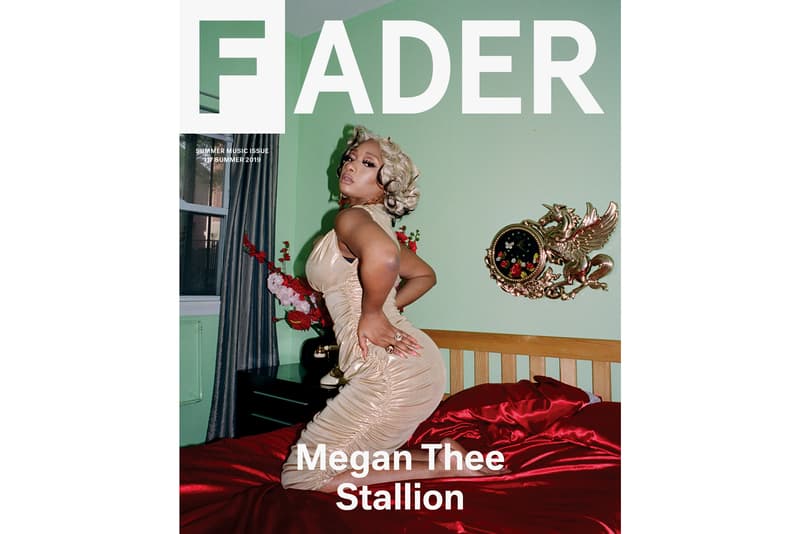 Music
Megan Thee Stallion Covers 'The FADER's Summer 2019 Music Issue
The 24-year-old rapper is having a breakout year.
Megan Thee Stallion Covers 'The FADER's Summer 2019 Music Issue
The 24-year-old rapper is having a breakout year.
Following up on the release of her highly anticipated album Fever, Megan Thee Stallion graces the cover of FADER's Summer 2019 music issue. On the cover shot by Renell Medrano, and styled by celebrity stylist Ian Bradley, she dons a gold ruched Norma Kamali dress and Alexander Wang rings. In the in-depth feature, she addresses her late mother who recently passed, double standards in the industry and more.
Beyond the lyrics, Megan's meteoric rise can also be attributed to her diehard work ethic. After signing to 300 Entertainment she immediately began a press run, and continued to headline her current tour. Later in the profile, she opens up about being raised by three different generations of black women: her mother, grandmother and great-grandmother.
In the feature when speaking of double standards in the industry, she shared:
"And then being a girl too they criticize you harder than they criticize men. If I was out there making little noises like Uzi and Carti be making, they would not rock with that. And not saying that they don't be going hard because we definitely 'finna turn up to both of them, but if it was a chick, like no."
On her late mother:
"My momma wasn't a weak person and she wasn't a complainer. So I don't wanna be like that…No matter what I'm going through, I still want to keep going. Just to show people you can still be strong and you can still face your everyday life. Even when everything coming down on you. I didn't cancel none of my shows."
As a whole, the profile takes a closer look at the rising rapper during her breakout year. If you've been watching the iTunes charts, Fever was recently in the No. 3 spot upon its release.
Head over to Fader magazine's website to read the entire feature.
Photographer

Renell Medrano
Stylist

Ian Bradley
Interviewer

Lawrence Burney
Image Credit

Zach Boisjoly/Hypebae