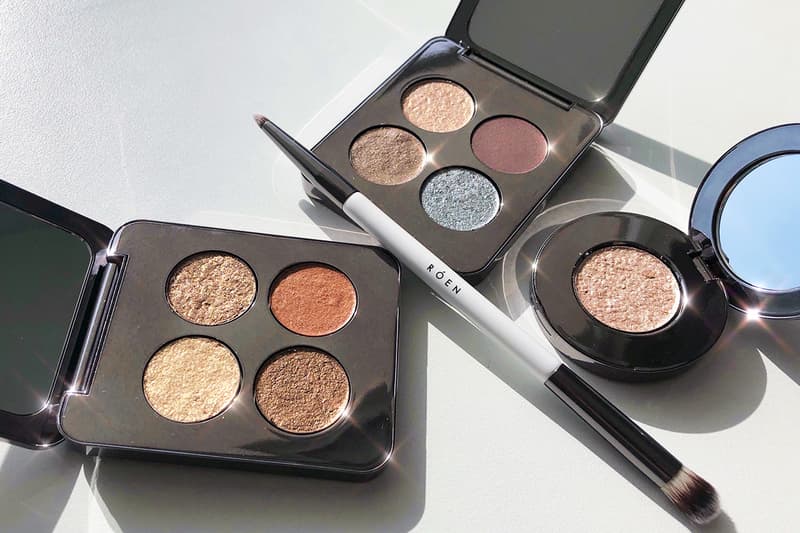 Beauty
These Supermodel-Approved Eyeshadow Palettes Are Our Editor's New Favorites
Created by Bella Hadid and Rosie Huntington-Whiteley's makeup artist.
These Supermodel-Approved Eyeshadow Palettes Are Our Editor's New Favorites
Created by Bella Hadid and Rosie Huntington-Whiteley's makeup artist.
I've always loved a good sunset-inspired eye look and the first eyeshadow palette I've ever bought, the Urban Decay Naked3 Palette, is an indication of that. While I still enjoy playing with the many different shades in that cult-favorite palette, the product itself is admittedly not the most convenient to travel with due to its long shape. So when I came across these compact options from the newly-launched makeup brand RÓEN Beauty, I was immediately intrigued.
RÓEN Beauty is the brainchild of celebrity makeup artist Nikki DeRoest, who boasts an A-list clientele including Bella Hadid and Hailey Bieber. Having followed DeRoest on Instagram for quite some time, I discovered the brand back in March when it launched with a beautiful range of eyeshadows, including the 75° and the 52° eye palettes, as well as the DISCO single eyeshadow. And after seeing the shades on supermodel Rosie Huntington-Whiteley, who sings the praises of the products in a video, I became even more convinced that I need to try them out myself.
As you can probably figure out from their names, the 75° and the 52° eyeshadow quads are made up of warm-tone shades and cooler hues respectively (get it?). Unlike any shimmery eyeshadows that I've ever tried, the texture of these shadows are incredibly buttery — imagine a perfect blend of powder and cream that you can easily apply onto your eyelids by using just your fingers. That, coupled with the fact that each palette is designed with a large mirror and is pleasantly lightweight, have already made the products a winner in the travel-friendly category.
While these eyeshadows are designed by a professional makeup artist, they aren't intimidating to use at all. I especially gravitate towards the versatile 75° WARM colors which include the golden "Obviously," warm-taupe "Nikki Dust," shimmering dark brown "Facetime" and the terracotta "J'adore." With my fingers, I like to blend all four colors — lighter shades towards the inner corner of my eye and deeper ones at the outer corner — to create a sultry, light wash of sparkle. The shades are buildable as well for anyone who wishes to achieve a bolder, more opaque eye look.
The DISCO eyeshadow is ideal for topping off any eye makeup. The champagne-like shade is a bit more reflective compared to the ones in the palettes, and offers that extra bit of glow and shine when applied to the center of the eyelids.

While the colors themselves may not be that different from what's already available on the market, the lasting power of the RÓEN shades is undeniably impressive. Thanks to the unique, cream-meets-powder formula, I noticed that there's barely any fallout under the eyes every time I checked in the mirror — I'd prefer not to look like I have glitter all over my face when I take a selfie, so that's a great sign. The colors stay put throughout the day without any creasing either.
And in case you're wondering, all of RÓEN's products are
vegan
and
cruelty-free
. The 75° WARM and 52° COOL Eyeshadow Palettes retail for $42 USD, while the DISCO single is available for $29 USD at
roenbeauty.com
.
While you are here, check out
Nikki DeRoest's beauty essentials
, including her go-to skincare and makeup products.
Share this article