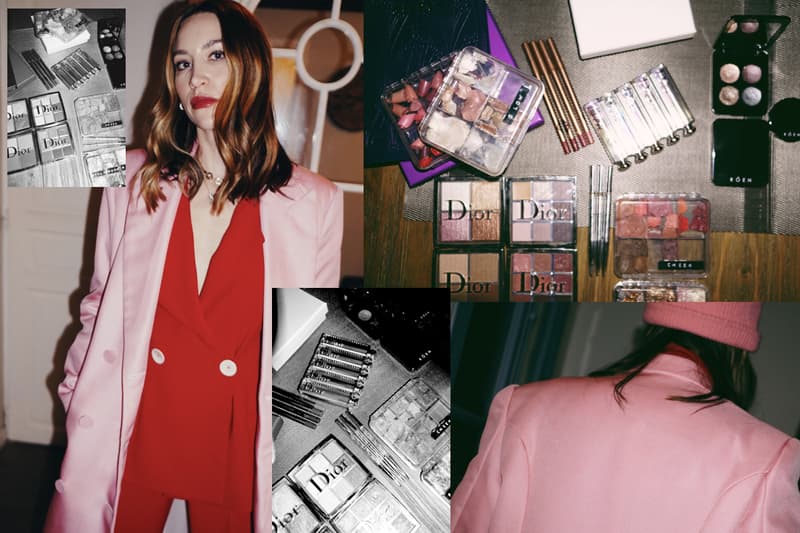 Beauty
Nikki DeRoest Shows Us Her Paris Fashion Week Beauty Essentials and French Pharmacy Faves
The celebrity makeup artist also takes us backstage at Dior's FW19 show.
Nikki DeRoest Shows Us Her Paris Fashion Week Beauty Essentials and French Pharmacy Faves
The celebrity makeup artist also takes us backstage at Dior's FW19 show.
Like the fairy godmother to Cinderella, Nikki DeRoest has cast her magic on some of the modeling industry's favorite faces like Bella Hadid, Rosie Huntington-Whiteley and Hailey Bieber – except the in-demand celebrity makeup artist doesn't use an imaginary wand, but heavy suitcases and bags neatly filled with her trusty beauty products.
In the middle of Paris Fashion Week, we caught up with the always stylishly dressed DeRoest for a glimpse at all the essentials in her makeup kit, as well as to chat about some of her favorite affordable products to shop at French pharmacies. In a photo diary shared exclusively with HYPEBAE, she also gives us a behind-the-scenes look at the Dior Fall/Winter 2019 runway show, where Dior Makeup Creative and Image Director Peter Philips has created one of the most memorable beauty looks this season.
Nikki DeRoest's Paris Fashion Week Beauty Essentials
Skincare
"Being a makeup artist and also personally obsessed with beauty and skincare, it's always a challenge to travel especially during Fashion Week. Not only are you packing proper outfits for day and night, workout clothes, haircare, skincare and makeup, you also have to have every single possible thing you'd need for glam for your clients. It is a puzzle, but one I would say I am proud that I am getting better and better at."
Caudalie Vinoperfect Radiance Serum & Vinoperfect Brightening Glycolic Night Cream: I am a skincare junkie, so packing all the goods is a must. I have been really into Caudalie lately, specifically their Vinoperfect line, and it has been game-changing for my skin. I use their Vinoperfect Serum every day and night, and then at night also use their Vinoperfect Brightening Glycolic Night Cream. Wow. Those two products really have changed my skin.
Sunmi Beauty Illumine Face Serum: I also have been really into this CBD Serum that was sent to me from a cancer specialist in Chicago. I love where skincare is headed using cannabidiol botanicals, and my skin loves it.
Augustinus Bader The Rich Cream: During the day I like to use Augustinus Bader's The Rich Cream after my serums, before makeup.
St. Ives Apricot Face Exfoliator: I'm not too bougie for a good drugstore cleanser. I also packed my St. Ives Apricot Face Exfoliator that I use a few times a week because I think it's the best and I love the way that it scrubs.
Makeup
"Now onto my kit: I have dialed my kit and created basically my dream travel kit. It's been tough, but I feel like I finally have achieved the perfect kit. I am really into minimizing the size of cases and bottles that I travel with, so I have now put all of my favorite skincare, balms, foundations and primers into tiny travel size bottles. I am also known to make my own proprietary potions — it's my secret weapon for creating the most flawless skin…… Most of my lipsticks, highlighters, contours, and cream blushes have been mixed into mini palettes. It's the way I like to work and I think that's the key to my artistry."
NARS Radiant Creamy Concealer: I always use the NARS Creamy Concealers, and have them in every shade.
Dior Backstage Glow Face Palette: Glow comes from a combination of highlighters that I've chopped up and mixed, but I always, always finish with the Dior Backstage highlighting palette. That happens right at the end after the girls are dressed, and it goes both on the face and body. I also love basically the full Dior Backstage collection, I use both the eyeshadow palettes, the contour palette and the lip palette. So yeah, I guess all of it. The trouble is keeping them in my kit — the girls try to take them while I'm not looking, haha.
Diorshow Brow Styler: I am majorly into brows and I love that the brow pencils are firm, precise, and have a spoolie on the other end. They are perfection.
Tom Ford Beauty: I am also a huge Tom Ford fan, and have a block of gold in my kit, which is all of his eyeshadow palettes, his cream contour and blushes, and also his highlighters.
RÓEN Beauty: I also just launched my own makeup line called RÓEN Beauty, and it's two eyeshadow palettes, a DISCO Eyeshadow, and a custom, vegan, double-ended eyeshadow brush. These are gorgeous by themselves, but also look incredible on top of whatever eye look I've done with my Dior or Tom Ford. They are a first of its kind formula, and truly are the icing on the cake.
RÓEN has been a major request as of late with my clients, and as an artist it's always a compliment that people want them. I just love using them in addition to all of my favorite brands, and that's why I made them.
Charlotte Tilbury Lip Cheat Lip Liners: For lips, everyone is after a bigger lip, and I always rely on Charlotte Tilbury's Lip Cheat Lip Liners. They last a long time, and you can make them really precise or blur them out if you want a softer edge.
What are some products that you always pick up at French pharmacies?
While I'm in Paris, I always hit up the French pharmacies to pick up my essentials. And it literally was the first thing I did off the plane this year before the Dior show. I always stock up on Biafine and Homeoplasmine, which are two French beauty essentials. You will never open up someone's cabinet here and not see it. I learned about these products years ago, and can't get enough.
Biafine is an amazing moisturizer, incredible after being in the sun (especially after a sunburn because it originated in the hospital as a burn treatment cream), and can be used all over the body and the face. Homeoplasmine is an everything ointment. It's not as greasy as an Aquaphor, and is amazing to use on the lips, any rashes or irritations, on any dry patches or cracked skin. And I even like to use it under my eyes on the airplane.
I also always grab a Bioderma, but I feel like at this point we all know what that is — the one and only makeup remover that is major. I use it both personally and in my kit.
What made you realize that being a makeup artist is something that you'd like to pursue? What sparked your passion?
I don't think I could help it. It's literally been the one thing I've known my entire life. My mom is a hairdresser. I grew up sitting on her clients' laps while she was perming hair in the '80s, and beauty has literally always been a gift given to me that I've always felt compelled to share. I can't help myself but be a makeup artist and I am so blessed to work in a job that I love so much. When I was 11, I started buying Bobbi Brown and Kevyn Aucoin's books, and that was all I cared about.
Nothing else career-wise outside of beauty really interested me, but there was never a question what I was going to do, it was more or less what role I wanted to play in the beauty industry. I've done basically every job you could do — I started as a counter girl at Nordstrom – and now being able to collaborate and consult with major cosmetic companies, continue freelancing for some of the most beautiful women on the red carpet, and launch my own line has been a lifelong dream come true. Wow, it gives me chills just saying that all out loud.
With an A-list clientele that includes Bella Hadid and Rosie Huntington-Whiteley, could you tell us how you've got to where you are now at your career?
I think it's been just keeping at it. Great things do not happen overnight, and I have worked my tail off to get where I am now. I know that Instagram makes everything look very glamorous and easy, but it is stressful, hard work, and can be intense pressure at times, so you have to be able to control all of that. Even being where I am now, I know how precious it is and that it can all go away overnight, so I think it's all about living and working with integrity, no ego, and true love and passion for what you do.
I really love and care about every person that I work with, and I think that is pretty obvious. I want whoever I'm doing makeup on to feel amazing and the best version of themselves, or the look that we are after. I also am not the person walking out to the event or carpet, so I am always open to feedback or collaborating, because it's not about me, it's about them. I've also always said "yes" (as long as it wasn't harmful and dangerous, of course) and have been willing to go for things and make things happen. I also think dreaming big, manifesting and declaring what you want is real.
My goal is always to inspire people, and make them see the beauty that I see in them.
What is your favorite thing about your job?
Honestly, making people feel better than where they were when we started. That can be any person I spend time with or did glam on, or any follower on Instagram that may check in or follow me and my life. My goal is always to inspire people, and make them see the beauty that I see in them.
Would you say that being able to work confidently with models and clients of different skin tones is an important attribute of a professional makeup artist?
Being an artist is my career, and I think you have to be an expert in every area of skin tones, textures, ages and skin issues. I remember early on in my career there were not as many shades out there for darker-toned girls, which I could only imagine was frustrating for these women. I was able to mix to make the perfect shade, but I am grateful that there are so many options available now from so many different brands.
I think the way that I learned the best along the way was from women with different skin tones to my own, and because I was excited to learn, it became a beautiful moment of collaborating and creating an amazing look together. I think being a lifelong learner is the only way to go if you want to be the best at your craft.
What is your secret recipe for creating the perfect, Instagram-worthy glow?
As I mentioned before, I mix and match a lot of products to get the glow. I prep with a lot of moisturizers and serums and make sure the skin is properly exfoliated before I even start makeup. I think that is key. If the skin isn't ready and properly treated, no makeup is going to look right. I use a lot of brightening serums, and use different tones of serums in different areas of the face before I apply foundation.
I also like to use the same brush throughout to melt the previous products into the next. It's a whole thing, but creating flawless skin is one of my favorite things I get to do as an artist. I also like to sculpt a lot of the times with the same foundation to keep the textures consistent on the skin.
You visited the backstage of Dior's FW19 show. How are you inspired by the beauty looks seen on the runway this season?
What Peter created was one of my favorite looks I've seen in any of the cities for Fashion Week – thank you Peter for creating a look! Sometimes the glam for runway can be so boring or basically non-existent, and even though this was a look, it still didn't compete with the clothing. I think it tied it all together in a really cool way.
I loved the lower lash effect that he created using eyeliner instead of lower false lashes, and it really gave the girls an open-eyed, doll-like look. Because everything else was done so simply (skin, brows and lips) it made the look really work. We could translate this into real life by creating tiny little strokes on our bottom lashes, but doing it in a much softer, more natural way. Also keeping that idea of choosing one feature to amp up, and keep the rest simple. It was a calm and beautiful backstage, and an incredible show.
What are some spring beauty trends that you're excited about this year?
Glossy lips, '90s glam and tones, and getting back to pretty, raw beauty.
Share this article