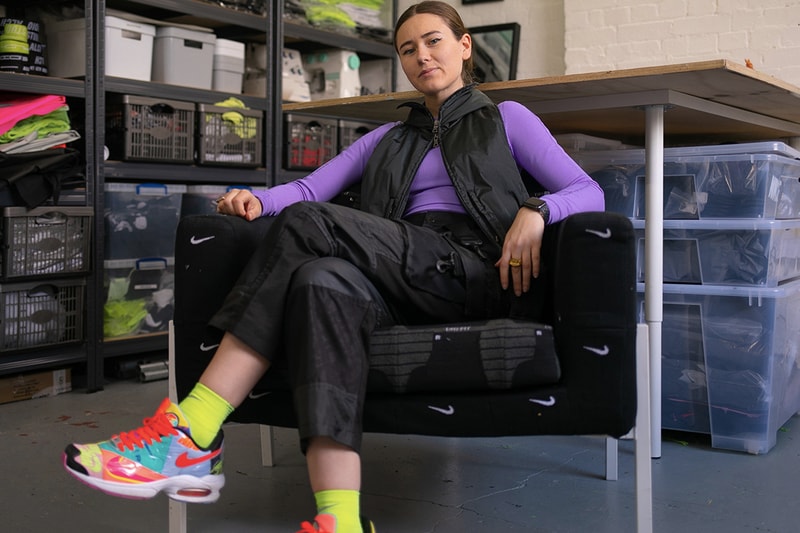 Fashion
Here Are the Female Designers to Keep an Eye out for at London Fashion Week: Men's
Meet the women making waves in the menswear realm.
Here Are the Female Designers to Keep an Eye out for at London Fashion Week: Men's
Meet the women making waves in the menswear realm.
London Fashion Week: Men's is right around the corner, and we're gearing up for four days of must-see shows from some of the biggest names in the industry. Ranging from small up-and-coming designers to established brands, LFW:M has become a hub for creativity at the forefront of fashion.
We've compiled a list of five female designers making moves in the menswear realm, who will all be showing their Spring/Summer 2020 collections at this season's London Fashion Week: Men's. Take a look at our list below, and stay tuned as LFW:M kicks off this Friday, June 7.
Founded by
Alexandra Hackett
, or "Miniswoosh" as she's known as on Instagram, streetwear label Studio ALCH has managed to become one of the most talked about labels showing at London Fashion Week: Men's this season. Showcasing the designer's love for upcycling, the brand has debuted everything from re-made pieces out of Nike socks to a full collection of garments last season.
This year, the designer will be putting on her first runway show to showcase her upcoming range for Studio ALCH, and it is guaranteed to become one of the most talked-about presentations.
As a part of The British Fashion Council's NEWGEN programme, Paria Farzaneh has previously collaborated with labels like Converse and has become one of the most promising young menswear designers since graduating in 2016. Her Fall/Winter 2018 collection celebrated her Iranian heritage, showcasing a collection filled with prints, eye-catching silhouettes and providing an immersive experience for showgoers. The previous shows have been met with huge praise from some of fashion's leading names, and the designer is only just getting started. This time around, Paria Farzaneh will be putting on another runway show and we can't wait to see what the new collection will entail.
Chinese-born designer Feng Chen Wang was nominated for the prestigious
2016 LVMH Prize
, and has previously shown two collections at London Fashion Week: Men's. The designer has also collaborated with brands like
Converse
and
Levi's
, and has been named one of the biggest emerging talents coming out of China. She describes her aesthetic as "bold, futuristic and structured" and often takes inspiration from her life experiences as well as her heritage to create eye-catching and unisex pieces that combine streetwear with luxury.
In February 2019, Bethany Williams achieved the prestigious Queen Elizabeth II Award which was presented by Camilla, The Duchess of Cornwall, on behalf of the Queen at London Fashion Week. The designer is also in the finals of this year's coveted LVMH 2019 Prize and will be showing her new collection with with NEWGEN this season.
Putting a huge focus on sustainability, the designer has collaborated with charities and communities to create collections embedded with real people and social change. Each of her pieces are 100% sustainable as well as made in the UK, reflecting the designer's belief that fashion's reflection upon the world can create positive change. Titled "The Butterfly Café," Williams will be debuting her SS20 range at London Fashion Week Men's.
Born in Shanghai, menswear designer Yixi Chen launched her label C2H4 in 2014. Based between Shanghai and Los Angeles, the designer takes inspiration from east and west by mixing cultures, techniques and more to create her bold pieces. She also takes a lot of inspiration from science and cinema, applying new chemicals and substances to garments to experiment with mixed media and materials.
Her debut runway show "Zero Gravity" for SS18 took place in New York City and included collaborations with footwear giant Vans and was designed to reflect "hypothetical spaceship scientists travelling to Mars in 2082." This season, the designer will be showing her SS20 collection in London.
London-born designer Priya Ahluwalia received the 2019 H&M Design Award this year, and is quickly becoming one of the biggest names in the fashion scene. Drawing from her dual Indian-Nigerian heritage as well as her London roots, the designer has managed to create an intriguing aesthetic by exploring new textile techniques and craftsmanship.
Last season, Priya collaborated with adidas Originals and showcased her collection at Paris Fashion Week. This year she returns to London to showcase her SS20 collection.
---
Share this article