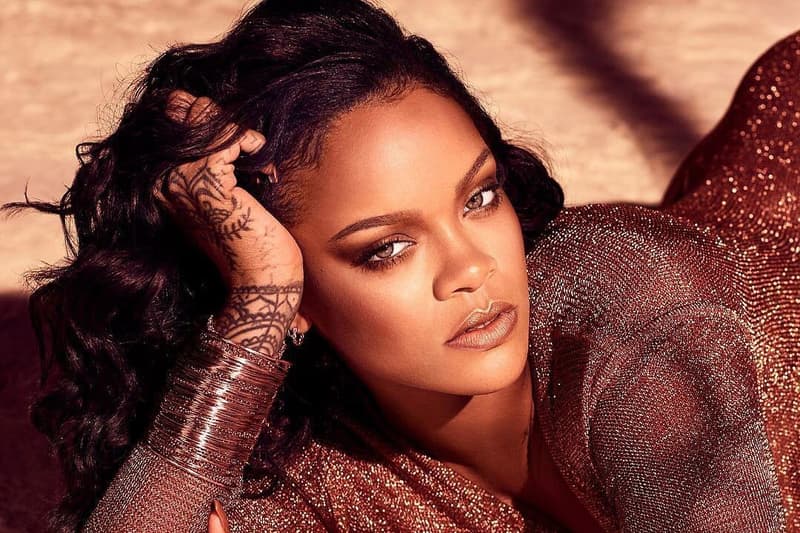 Culture
Rihanna Admits She's "In Love" & Spills Details On Her New Album in 'Interview'
She even touches on work-life balance and what she thinks about her fans.
Rihanna Admits She's "In Love" & Spills Details On Her New Album in 'Interview'
She even touches on work-life balance and what she thinks about her fans.
After the official release of her eponymous fashion line Fenty, Rihanna appears as the cover star of Interview magazine's latest issue. For the killer fashion spread styled by the singer's longtime stylist Mel Ottenberg and shot by Pierre-Ange Carlotti, she takes pieces by Saint Laurent by Anthony Vaccarello and LaQuan Smith for a spin. In the in-depth profile orchestrated by actress Sarah Paulson, Rihanna divulges details on being in love, her upcoming album and more.
During the interview, she shares that her relationship with billionaire Hassan Jameel, without stating his name led her to change her work-life balance. She also breaks down that she takes personal days, doesn't have a sleep pattern and she never leaves things hanging.
When speaking of her relationship, she shares:
"If you're not happy, you're not going to be happy even doing things that you love doing. It'd feel like a chore. I never want work to feel like a chore. My career is my purpose, and it should never feel like anything other than a happy place. I've made little things a big deal, like going for a walk or going to the grocery store. I got into a new relationship, and it matters to me. It was like, 'I need to make time for this.' Just like I nurture my businesses, I need to nurture this as well."
On her upcoming album:
"It really does suck that it can't just come out, because I'm working on a really fun one right now. I'm really happy with a lot of the material we have so far, but I am not going to put it out until it's complete. It makes no sense to rush it, but I want it out. I've gotten to the point where I'm like, 'Even if I don't have the time to shoot videos, I'm going to put an album out.'"
In total, the feature provides a peek into the Barbadian star's innermost thoughts and how she's able to work on numerous projects at a time. One of the most poignant parts of the profile includes Rihanna shedding light on the fact that by growing older she's realized she needs to focus on herself and her mental health.
Head over to Interview magazine's website to read the entire feature in full.
Share this article