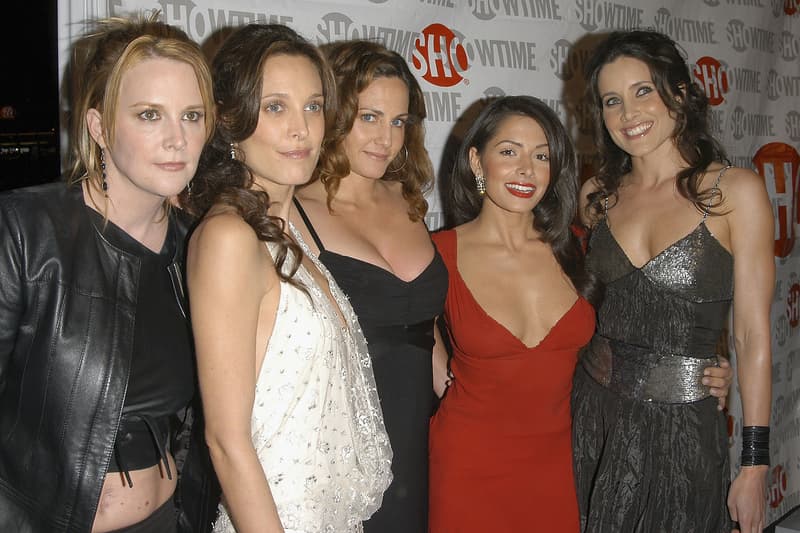 Culture
Will 'The L Word' Revival Series Still Make Lesbians Cringe?
Or will the show finally give LGBTQ+ audiences characters they can be proud of?
Will 'The L Word' Revival Series Still Make Lesbians Cringe?
Or will the show finally give LGBTQ+ audiences characters they can be proud of?
I used to wait until my whole family was asleep and then secretly watch The L Word on my laptop. Trying to cram in as many episodes as I could, I would often stay up until 2 or 3 a.m. to watch the show. I was exhausted the next day for my morning classes but even so, this pattern of behaviour went on for the next few months or so as I blazed through all six seasons of the cult series. I don't remember how old I was exactly, but it was the second or third year of university – a time of self-discovery indeed.
It's difficult for me to accurately verbalize just why I felt the need to watch The L Word under clandestine circumstances. It was a time when I wasn't sure who I was. I couldn't admit to myself that I was, in fact, a lesbian – let alone say it aloud to those around me. Telling my immigrant parents was most definitely out of the question. I was ashamed. At the end of the day, it all comes down to this singular feeling of self-loathing and grotesque un-acceptance of self. I had been raised to think that gay people were abnormal. Evil. Doomed. It's hard to think now that I could be so dishonest with myself and still feel like I was exercising my only option.
I got hooked on The L Word because it was the only way that I could re-affirm my gayness without actually having to put myself out there. Call me a coward, but I was deathly afraid of what it meant to come out. I laugh now when I look at @godimsuchadyke memes, chuckling at the buffoonery of baby gays but 10 years ago, the feelings of confusion and self-doubt were overwhelmingly complex and even suffocating at times. Why did I laugh awkwardly when all my friends were ogling at the "hot guy in the library"? Why did I keep stealing glances at the lesbian couples on the bus? Why did I get so angry and defensive when people asked if I liked girls (I had a really bad asymmetric bob at the time – no, I don't want to talk about it)?
The above all culminated on the day I finally decided to watch an episode of "that lesbian show" – perhaps out of boredom, perhaps out of uncontainable curiosity. I was embarrassed and paranoid and exhilarated and giddy when that first scene unfolded between Bette and Tina in the bathroom. For the first time (perhaps ever), I felt seen and more importantly, I felt like I wasn't alone. As the episode unfolded and I saw Dana struggling with staying in the closet, saw Jenny and Marina having their first love scene, and saw Shane embracing her sexuality, it quite literally changed my world. Here was this entire perspective that had just opened up to me, a reality that seemed altogether unreal.
The L Word was a critical part of my sexual awakening in that it helped me come to terms with the fact that I was indeed a lesbian. It was not a matter of labelling myself or forging a new identity for myself, but it helped me accept that there was a huge part of myself that I could no longer ignore or deny. And because it was such a substantial part of my formative years, I was absolutely elated to hear that the show was getting a revival series. Dubbed The L Word: Generation Q, the show with Ilene Chaiken once again at the helm, will be launching an eight-part program come fall.
To prepare for the premiere, I convinced my wife to re-watch the series with me. She had never seen the show and was completely unfamiliar with the program beyond the fact that it was "about lesbians." So there we were: me, ecstatic that I could relive the series, and my wife, intrigued but otherwise a little bit indifferent about why I was so excited to rewatch the show. We finish the first episode. I'm thinking that the show isn't quite what I remembered. Then we finish the second episode. When I ask if we should keep watching, my wife asks if maybe we can watch something else instead. A little bit hurt, I ask why she doesn't like the show. She tells me that it's really melodramatic and makes lesbians look bad. At first, I get a little bit defensive and go on about the merits of the show, but then I start to struggle a bit in justifying some of the show's key characters and plots.
The truth is that The L Word is outdated. It reinforces some of the lesbian community's most played out stereotypes in the most contrived ways possible, and in many ways succumbs to society's perceptions of what gay women should look and act like.  Everyone is either dating their friend's ex, or sleeping with an ex, or busy running into their ex at the bar while with their current girlfriend. All couples eventually experience lesbian bed death so the most acceptable way to remedy this is to cheat (yes Bette, I'm looking at you). Bisexual women are nothing but narcissistic, insatiable sociopaths who are only hungry for sex or dominance, or both (I'm not defending Jenny but dear Lord, she was the absolute worst). And then of course, there's the casting.
Sure, for the sake of ratings, the show's writers may have argued that the wider public needs "hot," cisgender-looking women to portray this particular posse of lesbians, but that's definitely not going to fly in 2019. We are no longer living in a time when a lack of representation in any way is justified. Queer women are not all lipstick lesbians as television has led us to believe. Much like what actual society looks like, women come in every shape and form – queer ladies included. Let's also not forget that the original series was harshly criticized for being transphobic – and rightfully so. There were no actual trans actors cast to play the trans characters in the show. Daniela Sea's character Max Sweeney was massively problematic, as was Kelly Lynch's Ivan. Both characters contributed to a dangerously misled notion of trans individuals and perpetuated media's obsession with clichés and formulae.
I'm not denying how pivotal The L Word was for queer representation because after all, there was no other show like it at the time. There were only a handful of lesbian characters written into movies who were not there to satisfy the male gaze, and even less seen on television. The series will always be remembered as a boundary-pushing triumph that provided visibility for young, questioning lesbians everywhere. However, Generation Q has much to learn from the mistakes of its predecessor.
We are in an age of Orange Is The New Black, which features not only a richly diverse cast of people of color, but also gives a spotlight to womanizer Big Boo played by Lea DeLaria – a self-described "big butch dyke" – and Sophia Burset, played by Laverne Cox who has become an indomitable champion for trans rights. We are also in an age in which filmmakers are empowered on platforms such as YouTube, where they can share their powerful stories. Her Story is a six-episode web series that "looks inside the dating lives of trans and queer women as they navigate the intersections of desire and identity." It is both heartbreakingly raw and unprecedentedly relatable – a true representation of the elaborate spectrum of the queer experience.
Beyond television and media, the landscape is also vastly different from the start of the aughts. Same-sex marriage is now legal across all 50 states. The year 2018 has largely become remembered within pop culture as #20GayTeen, a term disseminated by young queer icons such as Hayley Kiyoko and Troye Sivan. One of the most celebrated triple threats on TV right now (as a screenwriter, producer and actress) is black, out lesbian Lena Waithe, who attended the Met Gala in an oversized rainbow cape. If there's one thing that has becoming deafeningly clear, it's that audiences crave representation. They yearn for diversity and hope for nothing more than to see themselves experiencing love, loss and everything between, on the screen. It's no longer enough to simply create entertainment – these stories need to address the triumphs and tribulations of LGBTQ+ people in a way that will resonate with the individuals that actually make up the community.
???
THE L WORD
IS CASTING
TRANS MEN#TheLWord
RT #ToLandBack pic.twitter.com/vilnYS6R91

— alex schmider (@anderfinn) April 24, 2019
So what do we hope for Generation Q? For one, it is encouraging to see that Chaiken et al are making efforts to recompense for the mistakes of the show's original run, in the form of an open casting call for two trans males. One of those characters is also supposedly going to be Asian. I, for one, am looking forward to potentially seeing a character who explores the intricacies of being queer with immigrant parents from an Asian lens. I remember the first time that I saw Saving Face and found the struggles of the characters painfully relatable. What a triumph it would truly be if the revival series could successfully bring this to television.
Aside from that, will we finally be able to see a more diverse variety of lesbians – not just wealthy gay women with bad fashion sense? Will we see gay women who are struggling to pay rent? Will we see strong sartorial moments? Will we see butch women? Will we see a healthy long-term relationship that we can actually aspire to? Will we see trans characters that defy stereotypes? Will we see characters that make LGBTQ+ audiences feel pure, unadulterated pride? I'm really not sure, but the show's new tagline is, "New generation. All new drama," so I better have my expectations completely shattered. Otherwise, may Lesbian Jesus protect Chaiken from the full force of the Internet that will surely raineth down upon her.
The L Word: Generation Q is slated to premiere this coming fall.
---
Share this article