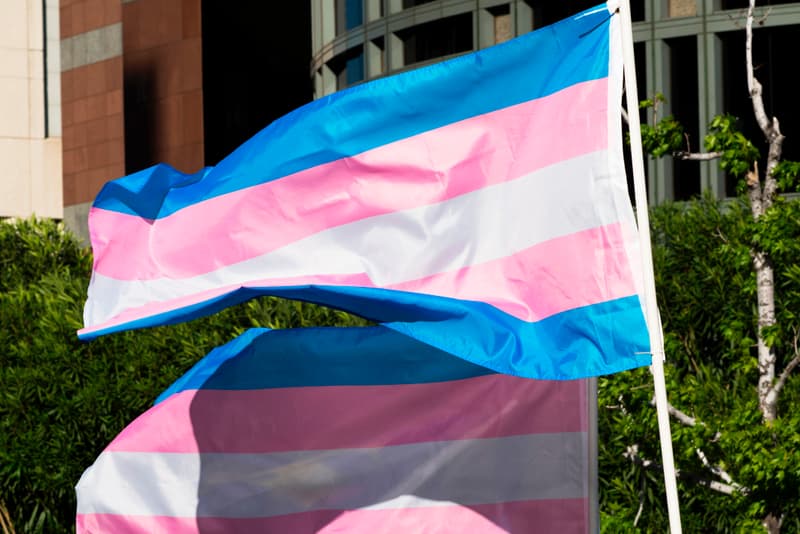 The History of the Transgender Flag
And how it came to be a symbol of the trans community.
June is Pride month, and we're celebrating the LGBTQ+ community across the world. Pride is often synonymous with the rainbow flag which the wider LGBTQ+ community has adopted as a representation, and the flag has a long history which dates back to its creation by Gilbert Baker in 1978. It has since undergone a makeover from its previous seven-color design, and now sports six colors with different meanings: Red – Life, Orange – Healing, Yellow – Sunlight, Green – Nature, Turquoise – Magic/Art, Indigo – Serenity and Violet – Spirit. Although the vibrant flag has become a source of inspiration and representation, there are various communities around the world that have also adopted their own flags.
The transgender community has embraced an alternative design sporting light blue, pink and white tones, which is highlight the pride, diversity, rights and more of the wider community as well as its allies. Created by American trans woman Monica Helms in 1999, the flag was first displayed at the Pride parade in Phoenix, Arizona in the year 2000. "The stripes at the top and bottom are light blue, the traditional color for baby boys. The stripes next to them are pink, the traditional color for baby girls. The stripe in the middle is white, for those who are transitioning or consider themselves having a neutral or undefined gender," said Helms about the design, explaining that the flag represents all individuals that identify with the transgender community.
The flag has since become known throughout the world, being used in the United Kingdom on Transgender Day of Remembrance. In 2012, the flag was flown from the public flagpole in San Francisco's Castro District for the first time on November 19 and 20 in 2012. The history-making ceremony was presided by local drag queen La Monistat. In addition, Philadelphia became the first county government in the United States to raise the transgender pride flag in 2015, where it was raised outside its City Hall during the 14th Annual Trans Health Conference. Since, more and more people have adopted the flag and continue to display them during Trans Visibility Week and International Transgender Day of Visibility.
The original flag designed by Monica Helms was donated to the Smithsonian National Museum of American History on Auguest 19, 2014, where it is still displayed today. "The pattern is such that no matter which way you fly it, it will always be correct. This symbolizes us trying to find correctness in our own lives," she said about its now iconic design. As we continue to celebrate Pride month, make sure to catch our feature on the history of the signature rainbow flag here.