The History of the Iconic Pride Rainbow Flag
How the flag came to be the symbol of the LGBTQ+ community.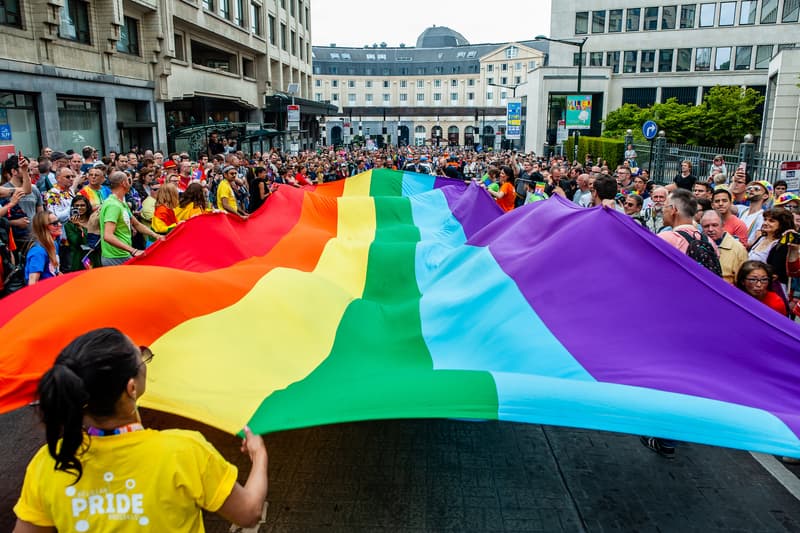 Pride month is in full swing, and countries all over the world are being lit up in bold and vibrant hues, spreading love and happiness all around. The rainbow motif can be seen all over the place, from flags to apparel, to colorful makeup looks – the six-band rainbow has become the symbol of LGBTQ+ pride, but have you ever asked yourself why that is?
In 1978 artist and gay rights activist Gilbert Baker designed what came to be perhaps the most iconic flag of our time, as a symbol for the gay community. Featuring the colors red, orange, yellow, green, blue, indigo, and violet, the different hues symbolize the diversity within the LGBTQ+ community. Originally, the flag featured a total of eight colors, but two were removed due to production purposes. Not only do the vibrant shades symbolize diversity – each color also comes with a symbolic meaning. Red means life, healing is orange, sunlight is yellow, nature is green, harmony is blue and spirit is violet.
1994 marked the anniversary of the Stonewall Riots – a series of rebellion and demonstration by members of the LGBTQ+ community, which is seen as the most important event that lead to the gay liberation movement as well as the modern fight for LGBT rights in the U.S. To celebrate the anniversary, a mile-long rainbow flag was created and was cut up in section after the parade, and have since been used throughout the world.
The flag has become a recurring motif for LGBTQ+ pride, and in the late 1980s and early 1990s, a black stripe was sometimes used to represent AIDS victims. The designer, Gilbert Baker also revealed that before designing the flag, the first openly gay elected official in the U.S., Harvey Milk, had encouraged him to create a symbol of pride and gay community. "Our job as gay people was to come out, to be visible, to live in the truth, as I say, to get out of the lie. A flag really fit that mission, because that's a way of proclaiming your visibility or saying, 'This is who I am,'" said the artist on his choice to create the flag that would later become one of the biggest symbols of hope and love.
Until this day, the rainbow flag remains as the most recognizable symbol for LGBTQ+ pride, and continues to be a beacon of love and hope for people all around the world. This month we're celebrating pride, and the rainbow will be brought out stronger than ever. If you're looking to celebrate, make sure to research where your closest pride parade is taking place, and meanwhile, check out five LGBTQ+ stars that we love here. If you missed it, we also rounded up our favourite LGBTQ+ movies to watch throughout the month.