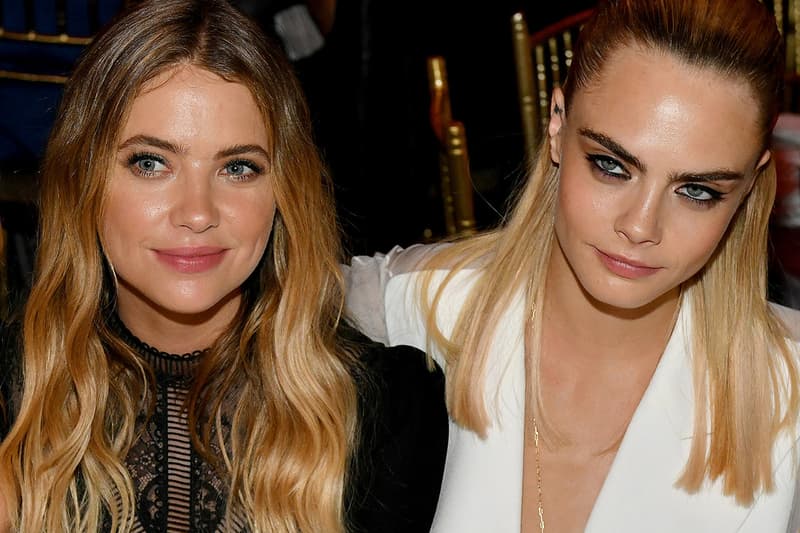 Are Cara Delevingne and Ashley Benson Engaged?
The Internet seems to believe so.
Photos of Cara Delevingne and Ashley Benson vacationing in Saint Tropez have led fans to believe that the couple is engaged. According to The Cut, the engagement rumors sparked after the 26-year-old British supermodel and 29-year-old American actress were photographed wearing matching bands on their ring fingers earlier this week.
Numerous fans have taken to Twitter to share their excitement and speculations. One user wrote,
"So Cara Delevingne and Ashley Benson was hanging out on streets holding hands, visited their friend's museum, took out some money from ATM and then got engaged!?!? Goals…Literally goals."
At this point, Delevingne and Benson have not confirmed that any proposal has taken place. The couple, however, was recently spotted attending Zoë Kravitz and Karl Glusman's pre-wedding celebration together in Paris.
At the TrevorLIVE Gala back in June, Delevingne opens up about why she decided to go public with her relationship with Benson:
"I don't know [if it's] because it is Pride, it's been 50 years since Stonewall happened and I don't know. It's been just about our one year anniversary so, why not?"
The model was honored The Hero Award at the gala, and in her acceptance speech, publicly expressed her love and gratitude for her partner:
"I also have another very special woman in this room to thank and you know who you are. She's one of the people who helped me love myself when I needed it most and I really needed it. She showed me what real love is and how to accept it, which is a lot harder than I thought."
Below, take a look at some of the fan reactions to the engagement speculations.
Cara delevingne & Ashley Benson are officially ENGAGED..!!!?!?!

can you hear me crying!?!?!??? pic.twitter.com/g4sO5RnQ5Z

— Sal ? (@_captdanvers) July 9, 2019
Ashley Benson and Cara Delevingne got engaged and i'm officially dead pic.twitter.com/R4pFr5hmY5

— ᴅᴇʟɢᴀᴅᴀ ɪɴ ᴘʀᴀᴅᴀ (@skinnyvalentine) July 9, 2019
So Cara delevingne & Ashley Benson was hanging out on streets holding hands, visited their friend's museum, took out some money from ATM & then GOT ENGAGED!?!?
GOALS…LITERALLY GOALS!!!! pic.twitter.com/gKMI9Lzxmq

— Sal ? (@_captdanvers) July 9, 2019
ashley benson and cara delevingne got engaged, we won again gays

— L (@heartcamiIa) July 9, 2019
SHUT UP ASHLEY AND CARA MIGHT BE ENGAGED

— em (@ashIeyscara) July 9, 2019