Celebrate Krispy Kreme's 82nd Anniversary with Its Limited Edition Birthday Batter Donut
Stuffed with cake batter, dipped in strawberry icing and topped with sprinkles.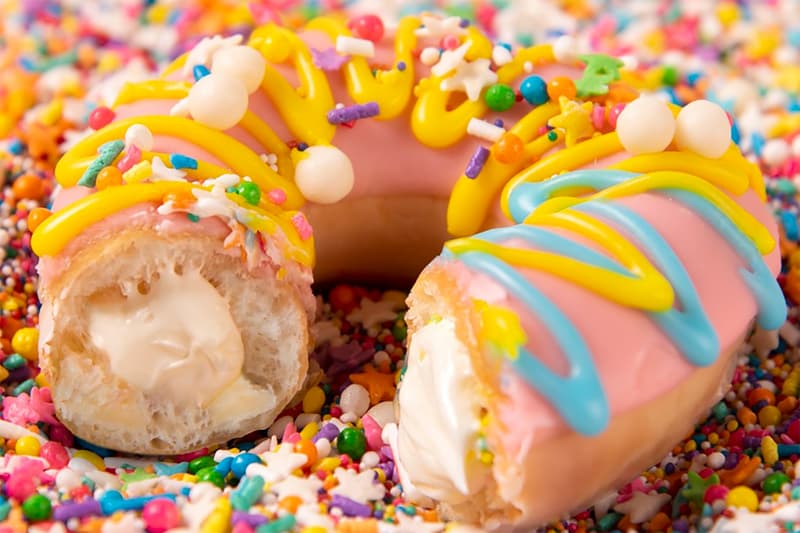 The famed American donut company Krispy Kreme turns 82 this year and in celebration of its long-time success, it has released a new limited-time-only birthday donut available from now until July 19. The newest Original Filled edition uses its famous traditional dough base and has been stuffed with sweet birthday cake batter, dipped in strawberry icing and topped with colorful sprinkles.
On the promotion's final day, the donut company will allow customers to buy a dozen Original Glazed donuts for just $1 USD with the purchase of any dozen other products at participating shops across the US. "Krispy Kreme fans love to celebrate our birthday. They really make it their party, which is good for us. We're continuing our birthday tradition of the $1 dozen deal, which is great. But this year for the first time we are filling an Original Glazed donut with birthday cake batter… and that's even better," Krispy Kreme marketing chief Dave Skena stated.
Grab your filled donut now before the end of the week. While we're on the topic of sweets, did you hear that Starbucks added a "Peach on the Beach" Frappuccino to its summer menu?
We're that friend who goes all in on their birthday. ? Starting Monday, July 15th, for one week only we're launching an all new #OriginalFilled doughnut for our birthday, filled with Cake Batter! ?? More info at https://t.co/DZC7BFwLAS. #KrispyKreme #OurBirthdayYourParty pic.twitter.com/D2Tl0PYkPQ

— Krispy Kreme (@krispykreme) July 13, 2019
Happy Birthday to us!! ? Get a $1 OG dozen w/any dozen purchased on Friday! At participating shops while supplies last AND Try our new #OriginalFilled Cake Batter Doughnut, from 7/15>7/21 at participating shops! ?? More info at https://t.co/DZC7BFwLAS. #OurBirthdayYourParty pic.twitter.com/si5lDwpzOW

— Krispy Kreme (@krispykreme) July 14, 2019