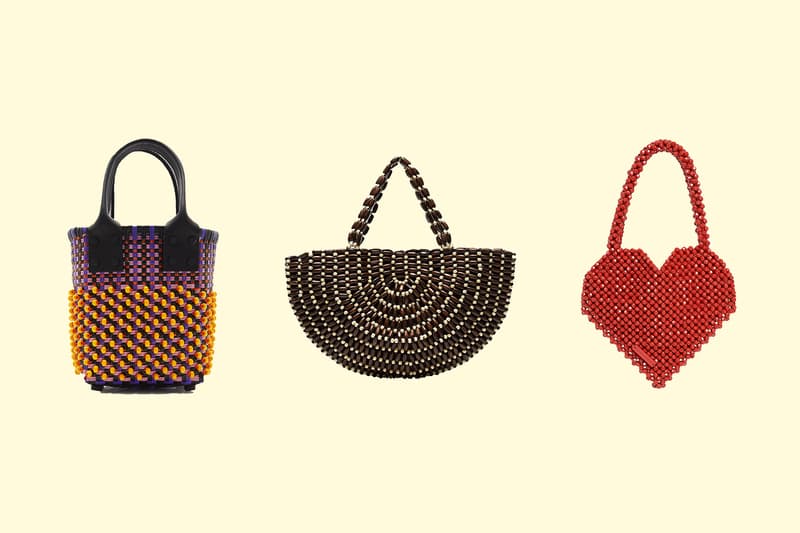 Here Are 10 Affordable Designer Beaded Bags to Elevate Your Summer Look
All under $300 USD.
Just because we've entered the last month of summer doesn't mean that should stop us from adding to our collections of apparel and accessories. With the heat still in full force, we're finding ways to embrace the warm season so we thought we'd elevate our designer bag lineup. Since the late 1800s, women have been fabricating the finest beaded bags incorporated with intricate and unique designs. Back in the day, reticules – a purse with drawstrings or chatelaine handbags – were often decorated with glass beads that came in a variety of shapes and sizes.
In today's fashion community, designers from all over the world have incorporated their own styles into the iconic beaded bag. From alice + olivia's Zoey Wooden Beaded Bag to Cult Gaia's Cora Beaded Bag, the options are endless when it comes to this type of silhouette. In our latest roundup, we've narrowed down the best affordable designer beaded bags under $300 USD.
Scroll down below to discover our top 10 options.
MATERIAL: Woven wooden beads.
STYLE NOTES: The piece has been designed in a black-and-white stripe pattern with an open-top. This is perfect for a trip to the beach or something to put all your essentials in during a quick day trip.
MATERIAL: 100 percent wood.
STYLE NOTES: Crafted from smooth dark wood beads with cream highlights, this tote bag features two beaded handles and an open top with a press-stud closure.
MATERIAL: Glass beads and leather.
STYLE NOTES: This colorful open tote will pair perfectly with a flowy summer dress and strappy sandals. The piece has been fabricated with protective bottom studs and contrasting dual handles.
MATERIAL: Geometric beads.
STYLE NOTES: Woven with smooth tan wood geometric beads, you'll definitely be reaching for this retro belt bag constantly on your next vacation.
MATERIAL: Woven beads.
STYLE NOTES: This confetti-inspired beaded pouch will definitely make you stand out at your next summer pool party. The piece comes with a magnetic snap on the top, a shoulder strap and a dust bag on the inside.
MATERIAL: 100 percent acrylic.
STYLE NOTES: Go transparent with Cult Gaia's clear bag which has been crafted from large clear beads and features round beaded top handles.
MATERIAL: Woven beads.
STYLE NOTES: This sparkly number will make you shine on your next night out. Pair it with a classic black cocktail dress and black heels because less is more.
MATERIAL: Resin and acetate.
STYLE NOTES: This green number features glossy resin beads with contrasting threads in its compact box silhouette. The piece has been incorporated with sturdy top handles along with the label's logo emblem dangling along the front.
MATERIAL: Woven beads.
STYLE NOTES: This ruby red beaded bag with snaps at the interior is perfect for date night or a fun girls' night out in the city.
MATERIAL: Straw and beads.
STYLE NOTES: This cute little bucket bag is the epitome of summer and is perfect to take on a morning stroll or to Sunday brunch. The pastel hues contrast well with the black and olive green tones against its white canvas.
Share this article