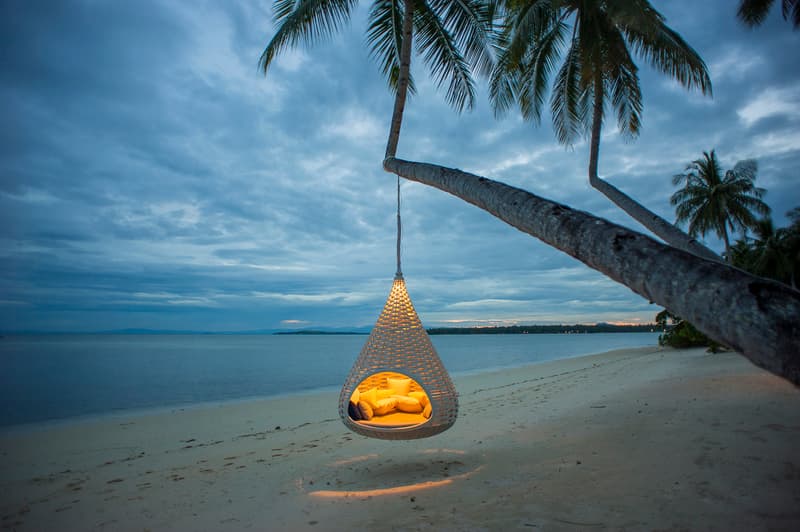 Travel
Here Are 10 of the Most Exclusive Islands in South East Asia to Vacation at This Summer
Beachfront villas and floating limos included.
Here Are 10 of the Most Exclusive Islands in South East Asia to Vacation at This Summer
Beachfront villas and floating limos included.
In case you haven't already been spending your summer full of travel envy, South China Morning Post just helped us round up some of the most Instagram-worthy vacation spots in South East Asia. From secluded beaches to paradises for divers, the list includes the best private island getaways for jet setters who don't want to visit the usual travel destinations. Take a look at the list below featuring resorts in the Philippines, Cambodia, Indonesia and Thailand, and start dreaming about your next adventure.
The Philippines
Banwa Island
If you're looking to spend a cool $100,000 USD per night, Banwa Island is the place for you. The Banwa Private Island Resort takes up the entire island located in the Palawan region and features villas that have their own infinity pool and jacuzzi deck. Guests can enjoy a dedicated team of butlers, chefs, bar staff, spa therapists and "juiceologists," as well as a floating limo.
Pamalican Island
Amanpulo Resort takes up the entire Pamalican Island grounds. The resort features four miles of white sandy beaches, villas staffed with a private chef and butler and luxury spas. Don't forget to book hiking, kayaking, tennis or windsurfing activities if you're itching to do something other than lying down horizontally.
Siargao Island
Nay Palad Hideaway is about an hour's flight away from Siagao's famous Cloud 9 surf spot. Nestled between soft beaches and luscious jungle, the all-inclusive resort boasts thatched-roof villas, an open-air cinema, island hopping and boat tours and classes ranging from cooking to yoga. Of course, you can't miss out on relaxing in a teardrop-shaped hanging pod.
Cambodia
Krabey Island
Just a 15-minute boat ride away from Cambodia's southwest coast, Six Senses Krabey Island has a 40 villa room selection, including the multi-room Oceanfront Pool Villa that features its own private sundeck. The retreat has an emphasis on wellness so make sure to check out the multitude of Cambodian healing treatments, rejuvenation programs and yoga workshops.
Koh Rong
Located on the picturesque Koh Rong Island, Song Saa is not only serene and beautiful, but it's ethical and eco-friendly. Guests can book snorkelling and kayaking trips led by marine biologists as well as local tours led by the resort's Conservation team. There are also in-villa movie experiences and spa offerings if you're looking to relax after the day's activities.
Koh Russey
Koh Russey, also known as Bamboo Island, is a 20-minute ride away by private car and speedboat from Sihanouk International Airport. Alila Villas Koh Russey is the perfect destination if you're looking for a mix of beachfront and greenery. The resort's architecture is inspired by Krama, a patterned cloth used in Khmer culture. Book a tour to the Ream Pagoda for a cultural experience or hang out at the Beach Shack for a beachside drink.
Indonesia
Nusa Lembongan
Nusa Lembongan is part of a group of three islands and is dubbed "Bali's little sister." Make sure to try out Villa Voyage, a glamorous five-bedroom villa created for designer beach retreats. If you're wondering exactly how luxurious this villa is, they have their own jukung — a traditional outrigger fishing boat — decorated with Emilio Pucci-print cushions and completed with gourmet picnic baskets.
Misool Island
Have your selection of stilt cottages, beach or lagoon villas at Misool Eco Resort, as well as maximum customer service with the resort's staff-to-guest ratio being four-to-one. Surrounded by a pristine reef system, the island is one of the few places left on earth where biodiversity is improving rather than declining, and your stay will directly support local conservation initiatives. The resort includes a Dive Centre with three guided boat dives per day, but make sure to book well in advance as it's a very remote location.
Bawah Island
Although Bawah Island is situated in Indonesia, it's best to travel to the remote location from Singapore where you can take a short ferry ride and then a seaplane flight. Bawah Reserve's resort spans over six islands, three lagoons and 13 beaches so you have more than your fair share of choices on where to stay and what to do. From overwater bungalows to jungle lodges, there is a little something for everyone. One bonus is that no single-use plastic is allowed on the island so the resort provides things like rattan backpacks throughout your stay.
Thailand
Koh Kood
Soneva Kiri Resort is the island's only accommodation, but it's really all you need. You can take date night to new heights with treetop pod dining and if you're still hungry, the resort has its own ice cream shop, a cheese room and a chocolatier. There's also an observatory, diving experiences, trekking tours, spa treatments and a natural cave dining experience where you lunch is prepared tableside.
Koh Yao Noi
Just a stone's throw away from Phuket, Six Senses Yao Noi is a haven in paradise. The resort offers panoramic views of Thailand's Phang Nga Bay and a personal Guest Experience Maker to help you design your perfect retreat.
Share this article