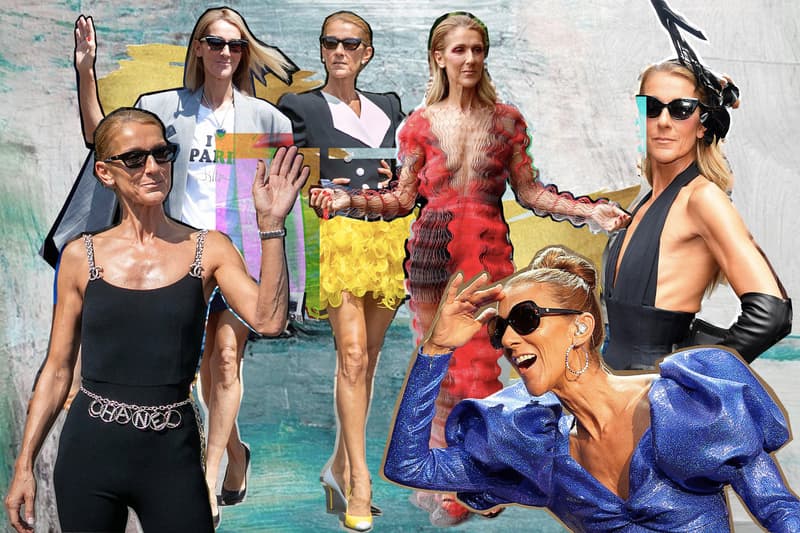 Fashion
How Céline Dion Became the Unlikely Fashion Icon of 2019
From Off-White™ to Balenciaga, Céline Dion is the inspiration you need.
How Céline Dion Became the Unlikely Fashion Icon of 2019
From Off-White™ to Balenciaga, Céline Dion is the inspiration you need.
A woman sits crouched on a white box. Her hair is pitch black, short and slicked to her face. She's wearing bold, black eyeliner, a neon green coat, blue denim and a pair of statement heels from Balenciaga. The woman is Céline Dion on the cover of Harper's Bazaar.
We are living in a world where we are continuously exposed to information through the internet, and because of the immense intake of content, we often lose interest. The fashion industry is the same. Trends come and go, it is predictable and consists of a small, tight-knit group of people that decide what will be the next big thing. That was, until Céline Dion became the unlikely fashion icon of 2019.
The 51-year-old singer has always been an icon because of her incredible voice, music and performances, but something shifted in 2017 when Dion hired Law Roach as her stylist. Roach, who frequently works with big names like Zendaya and Ariana Grande knew that Céline's interest in fashion would become her secret superpower, and all of a sudden the singer stepped out wearing brands like Vetements, Balenciaga, Dior and Marc Jacobs.
Céline Dion is dramatic, loves to be the center of attention, and has an 'I don't give a f**k' attitude that can't be matched. She is extra, and isn't afraid to step out of her comfort zone when it comes to creating show-stopping looks for everything from magazine shoots to Paris Fashion Week. Her love for fashion shines through, and because of her confidence, she's become the unlikely icon we didn't deserve, but the one we need.
During Paris Couture Week the singer stepped out in an Off-White™ bodysuit with a matching blazer, wearing no pants and huge shades. The outfit had previously been modelled by Gigi Hadid during the brand's Spring/Summer 2020 Menswear, only a few weeks prior. All of a sudden the star was all over the internet, and we couldn't get enough. She showed up wearing a bright red dress from Iris Van Herpen with matching red eyeshadow, a sleeveless blazer and an "I Love Paris Hilton" shirt from Vetements and a black, tight number with a bold Chanel belt across the waist, serving look after look all week long.
In James Corden's segment Carpool Karaoke, Céline Dion sported a statement suit from Marc Jacobs, and has continued to surprise us with outfits from Christian Siriano, Stella McCartney and more since. Then came the Vanity Fair cover, where the singer was a part of the magazine's "Icons" issue, looking almost unrecognizable in her short, black hair and edgy fringe.
The point is that Céline Dion has never been afraid of being herself. She has proved that fashion has no age, and that nor does your age define your fashion. With her genuine interest, passion and love for style, Dion has not only become an icon, but she's also become a much needed breath of fresh air in the ever-so repetitive industry. So wear that bold makeup look, rock those high heels, step out of your comfort zone and channel your inner Céline Dion. You only live once, so make sure to serve your best looks while you can.
Share this article