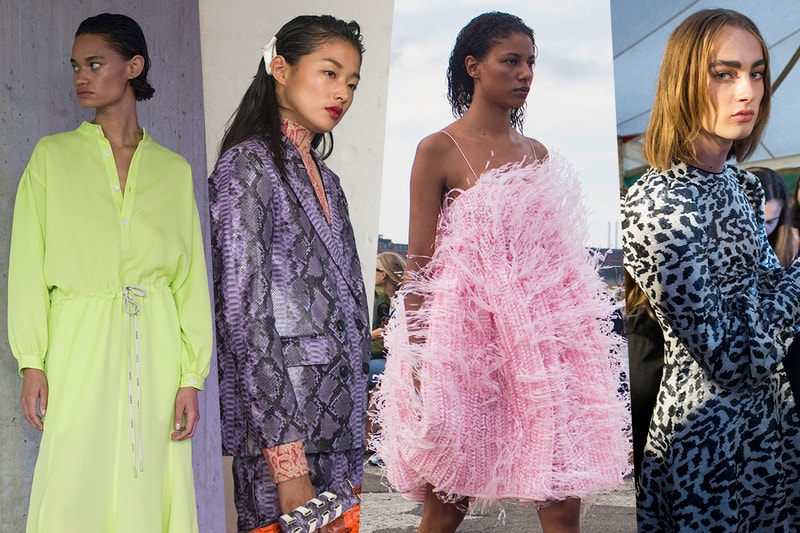 Fashion
The Biggest Runway Trends From Copenhagen Fashion Week SS20
Key takeaways from shows including Cecilie Bahnsen, ROTATE and more.
The Biggest Runway Trends From Copenhagen Fashion Week SS20
Key takeaways from shows including Cecilie Bahnsen, ROTATE and more.
Over the past few years, Copenhagen Fashion Week has established itself as one of the most refreshing and tasteful fashion showcases in the world. With homegrown brands like Stine Goya, GANNI and Cecilie Bahnsen gaining mainstream popularity, not only locally but also among global style enthusiasts, the bi-annual event is only becoming increasingly buzzy season after season.
Danish designers aside, the Spring/Summer 2020 edition of CPHFW also welcomed a number of brands from nearby Scandinavian countries. Between Norway's family-run label Holzweiler and two of Sweden's finest, HOPE and STAND, the schedule was populated by a roster of top Nordic brands every fashion-obsessed needs to know.
Continue reading to see what went down during CPHFW SS20, as well as some of the biggest trends that emerged on the runway this season.
Simplicity is key at REMAIN Birger Christensen's first-ever presentation. Displayed alongside a photo series shot by Casper Sejersen that portrays five different women, the collection titled "A Female Portrait" is made up of timeless silhouettes ranging from leather trench coats and high-waisted shorts, to boxy button-up shirts and ribbed dresses — all dipped in a versatile color palette of cream white, houndstooth, pistachio green, burgundy and cotton candy pink.
Rather than driven by the latest style trends, the brand is more concerned with the longevity of its clothes. As REMAIN's CEO Denise Christensen told us, these minimalist, quality wardrobe staples will "remain" in your closet for years to come. Available at an affordable price point, the collection allows you to elevate your everyday look without breaking the bank.
For those who enjoy spending time in nature in the summer heat, get your outfit inspiration from Holzweiler's SS20 collection. Styled by Alexandra Carl, the runway show saw an array of outdoorsy ensembles made up of voluminous shirt dresses, windbreakers, biker shorts and chic knitted pants paired with practical footwear like rubber boots and chunky sandals.
Complementing the clothes, which are predominantly covered in buttery yellow, mushroom-like brown and shamrock green, are fisherman-chic accessories coming in the form of dad caps, mini belt bags, as well as crossbody crochet bags and floppy sun hats sustainably hand-knitted from leftover yarn and scraps.
Following the runway show, we caught up with Norwegian actress Ulrikke Falch and her Skam co-star Josefine Frida Pettersen backstage, both of whom are friends of the Holzweiler family and sat front row.  "[The show] was very dreamy. I love the fresh, spring and summer vibe, as well as how they experimented with male and female expressions," Falch told us. "I love the emotions they made us feel with the music and the lights," Pettersen chimed in.
Cecilie Bahnsen: Fashionable Hiking Sandals 2.0
Since her breakthrough SS19 season, Cecilie Bahnsen has become synonymous with her ethereal, romantic frocks. But besides reimagining her signature silhouettes with macaron-like hues of baby pink and yellow, for SS20, the designer has introduced a bunch of new pieces like ostrich-feather dresses and sheer, two-piece suiting to her collection.
Arguably responsible for the velcro sandal trend that's taking over Instagram this year, the brand has continued its partnership with SUICOKE, presenting a customized version of the KAT-2 adorned with flower-like ornaments in black, pink, yellow and white. Unlike most designer brand hiking sandals that are currently available on the market, the KAT-2 is characterized by its flip-flop-meets-sandal hybrid design, and we wouldn't be surprised to see more luxury walking sandals coming in similar form next summer.
Samsøe & Samsøe: Lingerie as Daywear and Mini Bags
Inspired by the guiding principles of the Danish Modern design movement — including clean lines, high quality materials and functionality — Samsøe & Samsøe's SS20 collection is equal parts sensible and stylish. Mixing neutrals with brighter shades and classic patterns to create an unexpected yet aesthetically-pleasing color palette, the runway show offered effortlessly cool styling ideas where swimwear and lingerie are worn as daywear. Wearable shirt-and-pants and dress ensembles were tied together by modern statement accessories like mini pouches, vacation-ready headwear and scarves wrapping around low buns, while heeled Western boots and mules completed these understated looks.
HOPE: Genderless Tailoring and Cowboy Boots
For SS20, Swedish brand HOPE has stepped outside of Stockholm to present its collection at Copenhagen Fashion Week for the first time. Staying true to the brand's genderless aesthetic and contemporary tailoring, the new range is filled with unisex suits, loose-fitting tops and trousers as well as relaxed tunics designed with pleats and stripes. From cowboy boots and loafers, to sandals and sneakers, the footwear styles are stars of the collection as well.
STAND: Snake Print and Oversized Clutches
Haven't you heard that snake print is here to stay? At STAND's SS20 runway show, the reptilian pattern found its way onto a number of shiny, vinyl jackets, tops and bottoms coming in fluorescent yellow and orange. Other bold prints, ranging from floral to paisley, were sprinkled throughout the catwalk as well. On the accessories front, the models carried with them oversized clutches made from a variety of materials including faux fur and metallic fabric. Designed with a matching wristband, these pouches are perfect for holding all your essentials.
Stine Goya: Prints on Prints and Color-Blocking
The vibrant-hued and whimsical collection of Stine Goya is made for dancing the night away. With members of international ballroom communities as well as Bumble-scouted models strutting down the runway, the show had perhaps the most diverse cast and the most uplifting atmosphere out of the entire Copenhagen Fashion Week SS20 calendar. Staged in an old gymnasium, the runway-turned-dance floor saw looks that scream individuality, with dresses printed with extra-large polka dots and tights featuring all-over hearts clashing with bright pinks and vivid tangerine. Did we mention that we're also in love with the tasseled drawstring bags and sparkly platform sandals seen throughout the show?
GANNI: Power Dressing and Animals Prints
The stormy situation didn't stop the GANNI crowd from having a blast at the brand's 10th anniversary show. Returning to the tennis court of Hotel Mercur where Ditte and Nicolaj Reffstrup presented their memorable SS15 collection, the runway show was a celebration of the brand's archive and identity. With MØ performing some of her hits live, the models walked in the drizzly rain wearing feminine-masculine silhouettes like blazers, retro knit sweaters and leather shorts. Accessories like the futuristic sunglasses and animal-printed footwear pictured above are also to die for.
Drawing inspiration from Mexican-American Tejano singer Selena Quintanilla-Pérez, Cathrine Saks and Barbara Potts have dreamed up one of their strongest collections to date. From a hot pink leather suit styled with a bolo tie, to a Kirakira-worthy cowgirl moment, to the brand's first denim styles, Saks Potts' SS20 collection is filled with references that are simply unmissable if you've been following the Western trend.
Closing out Copenhagen Fashion Week was another Birger Christensen label, ROTATE. Led by creative directors Jeanette Madsen and Thora Valdimars, the brand delivered a circus-themed show that got attendees ready to party. With Madonna's "Material Girl" and "It's Raining Men" by The Weather Girls playing in the background, the catwalk saw models all dolled up in night out-ready dresses constructed with sequins, shiny satin, animal prints and more.
---
Share this article