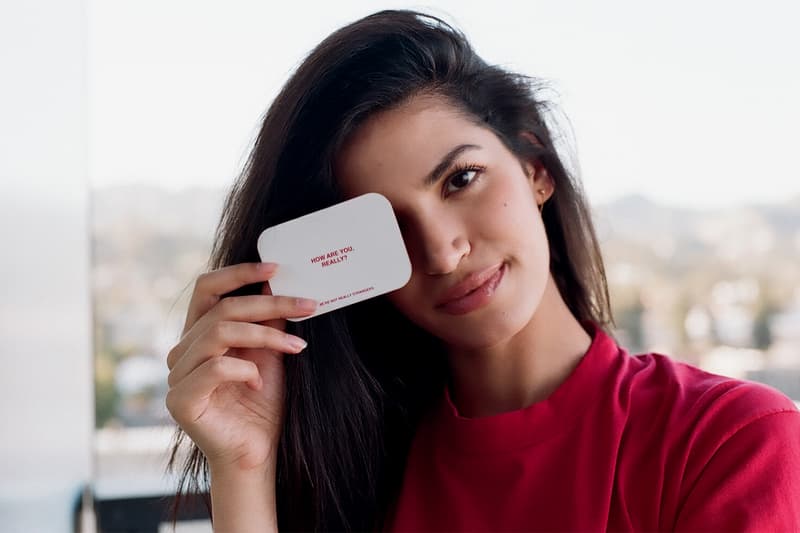 Culture
How Koreen Launched the Thoughtful Card Game and Instagram Movement, 'We're Not Really Strangers'
The 25-year-old entrepreneur shares the importance of vulnerability and meaningful connections.
How Koreen Launched the Thoughtful Card Game and Instagram Movement, 'We're Not Really Strangers'
The 25-year-old entrepreneur shares the importance of vulnerability and meaningful connections.
Chances are you've come across the red and white question cards of We're Not Really Strangers on social media. Created by Koreen in 2018, the card game was born out of the idea of fostering meaningful connections with ourselves, our loved ones and complete strangers. Strategically designed to help spark sincere emotional dialogue between players, the card deck features different levels of thought-provoking questions. Coupled with a simple yet distinctive aesthetic, it is not surprising that WNRS has quickly become a viral Instagram movement, with thousands of followers often re-sharing and reacting to its posts.
Prior to launching the game, Koreen has been modeling since she was a teenager (she is signed to talent agency The Society Management). However, her true calling has always been photojournalism. During her free time between bookings, Koreen would take photos of people she didn't know and interview them at the same time to get to know their story. This became her gateway to approaching strangers.
After one of Koreen's spontaneous shoots in 2014 with a man she spotted reading poetry on the street, that person predicted she would write a book, titled We're Not Really Strangers, based on these conversations. "It was at that moment where I realized I wanted to find a way to make it easier for people to start having deeper and more vulnerable conversations," Koreen told HYPEBAE.
We spoke to Koreen to learn more about her passion for photography, WNRS' mission, her hopes for her brand's future and more. Read on for our full interview.
Can you tell us a little bit about yourself and your career journey that ultimately led you to create We're Not Really Strangers?
I moved from Israel with my mom to Los Angeles when I was five years old. I was very passionate about photography at an early age, so much so that I was placed on the yearbook committee in high school.
In high school, I was scouted at a Starbucks to work as a model, which I used to help fund my love for photojournalism. I knew modeling wasn't my life calling, so I would always bring my camera along to take pictures in between jobs. My camera became my gateway to approach strangers, which led to my first serendipitous encounter, sparking the idea for WNRS.
Where did the idea of WNRS originate from and what inspired you to name it so?
I've always been passionate about photography and asking questions during interviews with whoever I was photographing. When I was walking to my car after finishing up a modeling job in 2014, there was a man sitting reading poetry who I approached to photograph and interview. We chatted for a while and when we wrapped up the conversation, he predicted that I would someday write a book based on my conversations called We're Not Really Strangers.
It was at that moment where I realized I wanted to find a way to make it easier for people to start having deeper and more vulnerable conversations. Thus, WNRS was born. At that time, it didn't look like the Instagram and card game that WNRS is now, but that planted the seed and empowered me to move forward with this mission.
How does your passion for photography complement the mission of WNRS?
At the age of 16, I went through my first heartbreak and started asking strangers if they ever got over their first love. I was seeking perspective on what I was feeling and going through, and that is exactly what I got – I began healing. From that point on, I continued to use my camera as a passport to ask anyone anything. I couldn't just go up to anyone and ask: "Tell me the last time you cried." But with my camera, I was able to do so. WNRS has evolved since, so while I'm not regularly photographing strangers, I am still asking those questions to get people around me to open up and share their experiences and feelings.
Can you explain to us how exactly the game is played?
The game features three levels of questions and wildcards, which allow players to deepen existing relationships and create new ones. Level one is "Perception," level two is "Connection" and level three is "Reflection." The only way to "win" is through open dialogue and to deliver honest responses to each question in the game.
Your cards have a distinct look. Can you walk us through the design process?
Life was visually a huge inspiration. The red and white bold lettering felt timeless. I'm usually very indecisive, but the red and white color scheme along with the Helvetica font was something I decided early on (after switching from Gotham) and I never looked back since.
How did you and your team come up with the cards' thought-provoking questions?
I wanted to create something that was more than a deck of cards with questions. I wanted to create an experience. There are a lot of "question" games out there, but I wanted ours to be more than that. The game can make you cry and laugh, and can change you at the end of it. I wanted it to feel like a unique experience with levels, wildcards, a final card and a "dig deeper" element. After years of asking questions to strangers and friends, I brought together all of my knowledge and created the first iteration in 2018. My personal questions and conversations are what inspire each card.
How do you think WNRS can help improve people's relationships considering the fast-paced and technology-driven world we live in now?
I hope it can be an invitation for people to connect to other than just Wi-Fi – a way to practice being present with one another, phones put to the side. A big reason I wanted this game to exist as a physical deck of cards was to allow us to revisit a time where connections weren't interfered with notifications.
You've been able to build a large community online, especially on Instagram. Do you feel any pressure when it comes to producing content every day?
Creating new content each day does feel daunting at times, but what helps me is staying present and finding the lesson(s) every day. I treat the WNRS page as a public diary, so as long as I'm practicing self-awareness, the content tends to flow. And on days it doesn't, that's okay too.
What do you hope to achieve with your brand in the long run?
I see WNRS as a global movement. The intention of it is to empower meaningful connections. Our metric of success is to increase the amount of those we can create in the world. Each day I ask myself, "How do we best connect people with others around them and with themselves?" and pursue that answer.
Are you working on any new projects that you can talk about?
We recently came out with a new edition, the Self-Reflection Kit. The tool is intended for you to make connections with yourself. By learning more about ourselves, people can show up better for others.
---
You may shop from a selection of six different packs, including the newest Self-Reflection Kit, at We're Not Really Strangers' web store
---
Share this article