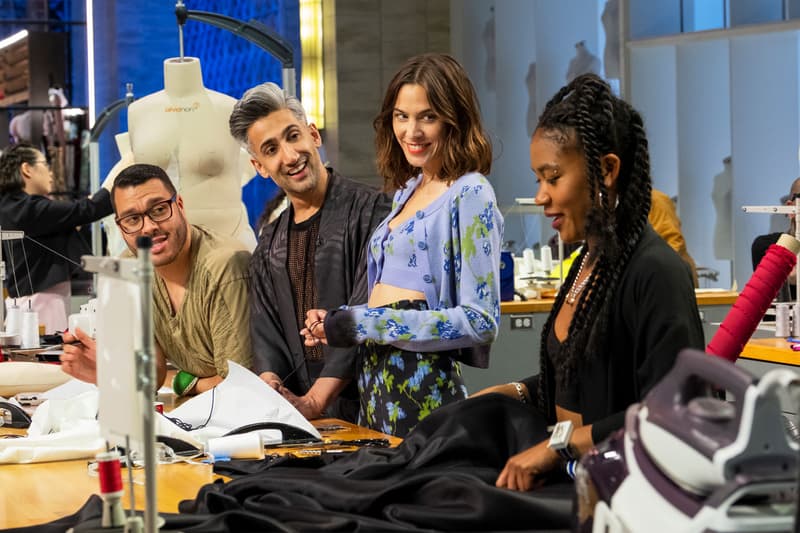 Film & TV
5 Ways 'Next in Fashion' Reimagines the Reality Competition Show
The Netflix series presents a joyful alternative to reality television rife with drama.
5 Ways 'Next in Fashion' Reimagines the Reality Competition Show
The Netflix series presents a joyful alternative to reality television rife with drama.
When Netflix initially announced Next In Fashion, the streaming platform's take on a reality competition show helmed by Queer Eye stylist Tan France and model Alexa Chung, the news was met with mixed reactions. Critics approached the upcoming release with cautious excitement, citing once-fresh Project Runway and its gradual decline to a Tim Gunn-less mess.
Though the premise of Next In Fashion may seem familiar — one winner receives a hefty cash prize and partnership with established luxury retailer Net-a-Porter — the series turns the traditional reality competition model on its head. France and Chung are a joy to watch as they playfully deliver fashion tips à la Fab Five, and a seriously enviable closet of luxe materials (no budgeted trips to Mood Fabrics here) allows competing designers to take their work to the next level.
Whether you've already binged the show or have yet to hit play, read on for all the reasons Next In Fashion is the most exciting reality competition show yet.
It's heartfelt.
While reality TV often banks on drama and controversy to entice viewers, cattiness is nowhere to be found on Next In Fashion. Judges are fair in their critiques, and competing designers seem to truly care about each other. The show begins with a series of team challenges (competitors are grouped into pairs), an element that one assumes would result in battling egos and potential sabotage. However, disagreements are handled in a mature fashion and competitors cheer each other on during each challenge's runway presentation.
It addresses important industry issues.
Minor spoilers ahead:
It's time to talk about
that 
moment with
Kerby Jean-Raymond
. The 
Pyer Moss
designer was invited to judge the show's streetwear challenge, which surprisingly saw
FUBU
veteran
Kiki Kitty
and fellow streetwear specialist 
Farai Simoyi
land in the bottom. Though France cited the pair's construction issues (it was their third time receiving low scores), Jean-Raymond defended their look for its original concept. Frustrated, Simoyi made a thought-provoking statement during elimination:
"…brands and designers are taking ideas from us every single day, and it only becomes cool when it's high end. For a lot of us minorities and the underprivileged, we want you to see us, but it's so hard to be seen. It's really frustrating because I look to designers like Kerby."
Jean-Raymond empathizes with Simoyi, and even calls out Louis Vuitton for taking more than inspiration from his designs. Though it seems the judges previously agreed to eliminate Simoyi and Kitty, Jean-Raymond appears visibly uncomfortable about delivering the news, so much so that he walks off camera. Viewers can assume that Jean-Raymond delivered some brutal honesty behind the scenes, as France returns in tears and announces that no one will be going home for the time being.
The issues raised over the course of the episode are nuanced and highly sensitive, and we applaud Next In Fashion for approaching them with empathy and honesty.
It doesn't overlook established designers.
Though competition shows tend to focus on emerging talent, Next In Fashion isn't afraid to include designers who have been shortlisted for the LVMH Prize (Minju Kim), worked with Beyoncé (Ashton Michael) and appeared on the Business of Fashion 500 (Angel Chen). Of course, competitors are far from household names, but talent skews older and more established than, say, Project Runway and some of its fresh-out-of-design-school faces. Despite the fashion industry's premium on youth, building a career and following doesn't happen overnight — and it's time we stopped overlooking creatives in their 30s and 40s.
It features an impressive roster of judges.
Over the course of 10 episodes,
Next In Fashion
introduces a range of established designers and industry professionals as guest judges.
Christopher Kane
joins the show for the rock 'n' roll-inspired challenge while
adidas
designer
Josefine Aberg
brings her highly tuned eye to the
activewear
episode. None other than
Tommy Hilfiger
surprises the designers as they showcase their denim creations and Maxwell Osborne and Dao-Yi Chow of
Public School
share their input on contestants' takes on military wear.
Eva Chen
, the former
beauty
editor who now directs
Instagram
's fashion partnerships, also makes several appearances as a judge.
It makes a statement.
Besides offering contestants a workroom stocked with luxury embellishments and fabrics (in one episode, a designer opts for a fabric pricing at over $600 USD a yard), 
Next In Fashion
brings additional polish to the game with fully produced runway shows for models to flaunt each designer's creation on. Barring the finale, every runway show bears a theme beyond the constraints of the challenge — for example, the
lingerie
episode saw models (many of whom are "plus-size," an opportunity contestants happily embraced) strut against a backdrop of real fire. During the red carpet challenge that kicked off the show, a floor-to-ceiling digital screen displayed tumbling flowers and floating petals.
---
Share this article