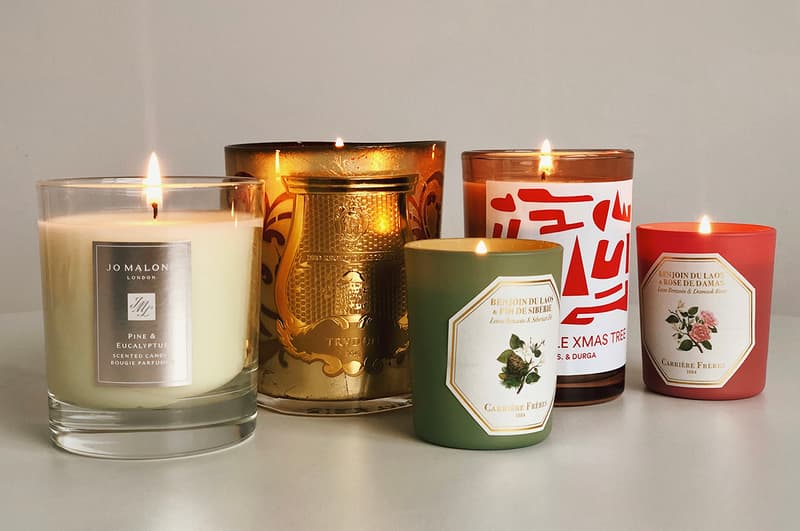 Home
The Best Scented Candles To Get You in the Holiday Mood
Home fragrances that evoke the smells of the season.
The Best Scented Candles To Get You in the Holiday Mood
Home fragrances that evoke the smells of the season.
The sweetness of cinnamon, the woody perfume of fir branches, the warmth of a crackling fire — with December fast approaching, bring the smells of the holidays to your home with these festive scented candles.
From diptyque, the beloved Feu de Bois and Ambre candles are now available as a set, with an elegant, gilded carousel attachment that spins when it meets the heat of the flame. Another French candlemaker, the storied brand Trudon launches a spicy chocolate scent named after the region Bayonne, known as the capital of cacao in France. Not only does it offer an exceptional olfactory experience, but the luxurious, holiday-edition candle is also designed with an ornate glass vessel featuring gold arabesques.
For a mood-lifting green smell, look no further than Jo Malone's Pine & Eucalyptus candle, or D.S. & DURGA's Portable Xmas Tree — the latter combines notes of black spruce, cedar and spiced cones to create an earthy aroma that can almost be mistaken for that of a real tree. Indecisive shoppers, Carrière Frères' trio of mini candles may just be what you need. The set features the Laos benzoin as its hero ingredient, with the three candles boasting a spicy, floral and woody character respectively.
Below, shop some of the best winter scented candles for the holiday season.
NOTES: Bergamot, cardamom, cinnamon leaf, violet, orris, rose, cedarwood, musks, sandalwood, moss.
NOTES
Benzoin and Cacao: Floral, woody and slightly sweet scent associated with gourmet Ivorian cacao notes.
Benzoin and Rose: Floral and woody scent with rose notes.
Benzoin and Fir: Woody scent featuring Siberian fir.
NOTES
Feu de Bois: Dense, smoky wood fire.
Ambre: Woods, vetiver, patchouli, aniseed, cistus, tonka bean.
NOTES: Black spruce, cardamom, forest cedar, spiced cones, Nootka cypress, red cedarwood.
NOTES: Pine, eucalyptus.
NOTES
Tomato Leaves: Tomato leaves essence, cassis berries.
Luscious Pea: Luscious pea essence with delicate aquatic notes.
NOTES: Twilight geranium, patchouli, rosebud.
NOTES: Cocoa, chilli pepper, pine.
Share this article