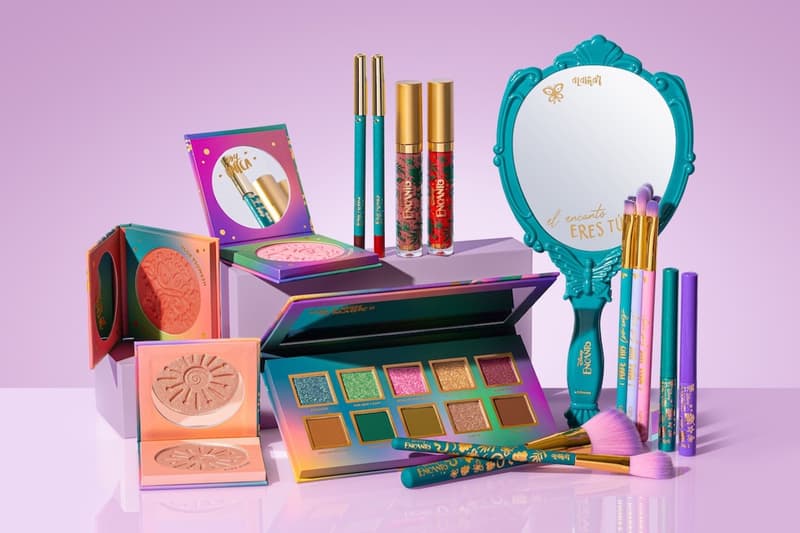 Beauty
Disney Launches Its First Latinx Collab With Alamar Cosmetics
In honor of the studio's new animated film, 'Encanto.'
Disney Launches Its First Latinx Collab With Alamar Cosmetics
In honor of the studio's new animated film, 'Encanto.'
Disney Studios partners with Alamar Cosmetics — an independent, Latina-owned makeup line — in honor of the highly anticipated film Encanto.
The collaboration is a 13-piece collection, which features Alamar's staple lip gloss formulas in two new shades, a duochrome formula highlighter, blushes, lip liners, a signature eyeshadow palette, two brush sets and for the first time ever, liquid eyeliners and a foldable mirror.
It was very important for Alamar Cosmetics founder and CEO Gabriela Trujillo and her team to seek inspiration from the Disney film for the collection. "The house that the characters live in is a really big part of the movie," she told Glossy. "We would pull up pictures of that, put them into Photoshop and then, with a dropper tool, pick out the specific colors we wanted to see represented."
Jan Coleman, VP, global marketing partnerships and multicultural marketing at Walt Disney Studios, felt that choosing to amplify a movie like Encanto was ideal for a joint venture. "Our heroine is a beautiful young Latin woman named Mirabel who is on a journey to find her worth and value in her family and in life. I knew this movie would be the perfect vehicle to magnify Latinx brands such as Alamar Cosmetics," she said. "This movie also shows how our gifts and talents can help our community. We need community more than ever and supporting Latinx brands that are part of our community is powerful."
The collection, which can be seen in the gallery above, is now available to shop for at the Alamar Cosmetics website. Items range from $13 to $32 USD. You can catch Encanto in theaters on November 24.
Share this article