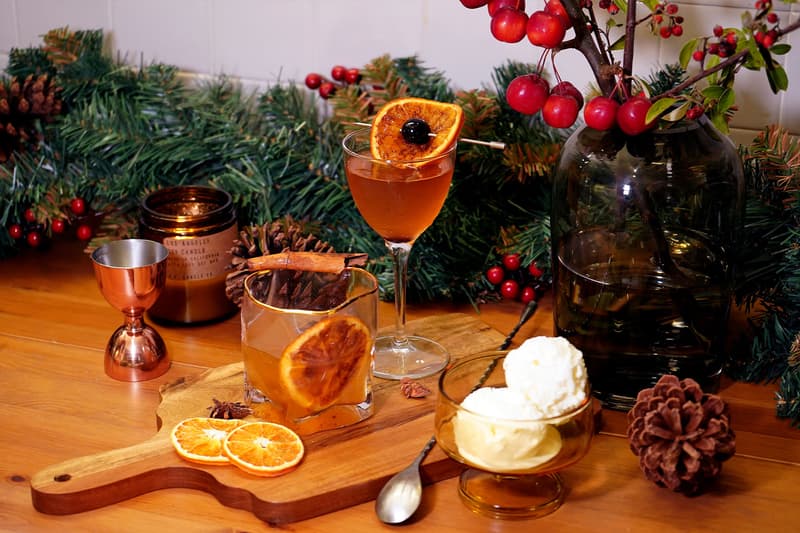 Culture
2 Easy Cocktail Recipes To Try This Christmas
These drinks will keep your festive spirits high this holiday season.
2 Easy Cocktail Recipes To Try This Christmas
These drinks will keep your festive spirits high this holiday season.
There's nothing like celebrating Christmas with easy, yummy cocktails with friends and family. For the upcoming festivities, we spoke with Daisy Quilindo, a marketing professional and the co-founder of glassware brand The Fukuokan, to learn her favorite drink recipes.
"What makes a cocktail a Christmas cocktail, is anything that evokes warm feelings and memories. The aroma of festive spices is great for triggering memories, as well as a creamy liqueur, good whisky, sherry and rum," she tells HYPEBAE. This season, her picks include fat-washed hot buttered rum and mulled Martinez — both featuring creamy and spicy flavors to keep you warm. "Hot buttered rum is a classic and is said to have the same healing properties [as hot toddies] but is silkier, and the scent makes you think of caramel, which is perfect for the holidays," she adds.
Learn how to make the two Christmas cocktails below, and head over to HYPEBAE China to read our full interview with Daisy.
DISCLAIMER: We discourage irresponsible and/or underage drinking. Drink responsibly and legally.
Fat-Washed Hot Buttered Rum
Ingredients
50g unsalted butter
360mL dark Jamaican rum
4oz hot water
Vanilla ice cream (optional)
Fat-Washing the Rum
1. Take 50g of unsalted butter and melt it in a pan until it turns clear and golden brown.
2. Pour around 360mL of dark Jamaican rum into a jar or container.
3. Pour the brown butter into the container and whisk the mixture until completely blended and smooth.
4. Allow the mixture to cool before storing the container in the fridge for at least 4 hours.
5. Remove the container and scoop out the solidified fat on top.
Instructions
1. Scoop 2 barspoons of demara sugar (roughly 2.6g) into your heat-resistant cocktail glass or cup.
2. Use your jigger or measuring tool to pour 2oz (60mL) of the fat-washed buttered rum into the glass.
3. Pour 4oz (120mL) hot-to-boiling water into the glass and stir until the sugar has dissolved.
4. Add a cinnamon stick or star anise to garnish your drink.
5. Optional: You can add the buttered rum (before adding water) to your coffee or ice cream, or you can add a scoop of vanilla ice cream into your Fat-Washed Hot Buttered Rum and mix for a sweet and creamy taste.
Mulled Martinez
Ingredients
2 star anise
5 cardamom
1 cinnamon stick
6 to 10 dried cranberries
5 peppercorns
¼ tsp of ground nutmeg
¼ tsp of allspice
4 to 6 whole cloves
2 dried orange slices
1.5oz gin
1.5oz sweet vermouth
5mL Maraschino liqueur
2 dashes of Angostura orange bitters
Garnish: orange peel or homemade spiced orange peels (optional), Luxardo Maraschino Cherries
Infusing the Sweet Vermouth
1. Pour 400mL of sweet vermouth into an airtight jar (amount will vary depending on how many cocktails you want to create).
2. Add spices into the jar and store overnight or longer in the fridge. The longer you leave the spices in the jar the stronger the flavor, including the amount of spices you choose to infuse the sweet vermouth. This is up to you (I left it for a day and a half as there was less sweet vermouth in my jar).
3. When ready, strain the sweet vermouth to separate the spices and strain again through a cheesecloth for your very own shelf-stable spice-infused sweet vermouth. Store in the refrigerator when not in use.
Instructions
1. Pour 1 barspoon (5mL) of Maraschino liqueur into your stirring glass.
2. Use your jigger or measuring tool to pour 1.5oz of the spice-infused sweet vermouth into the stirring glass.
3. Use your jigger or measuring tool to pour 1.5oz of gin into the stirring glass.
4. Add 2 dashes of Angostura orange bitters.
5. Add an adequate amount of ice cubes to the stirring glass and stir with your barspoon for 20 seconds.
6. Strain the cocktail into your glass and garnish with an orange peel (I used a homemade spiced orange peel and Luxardo Maraschino Cherries).
Share this article