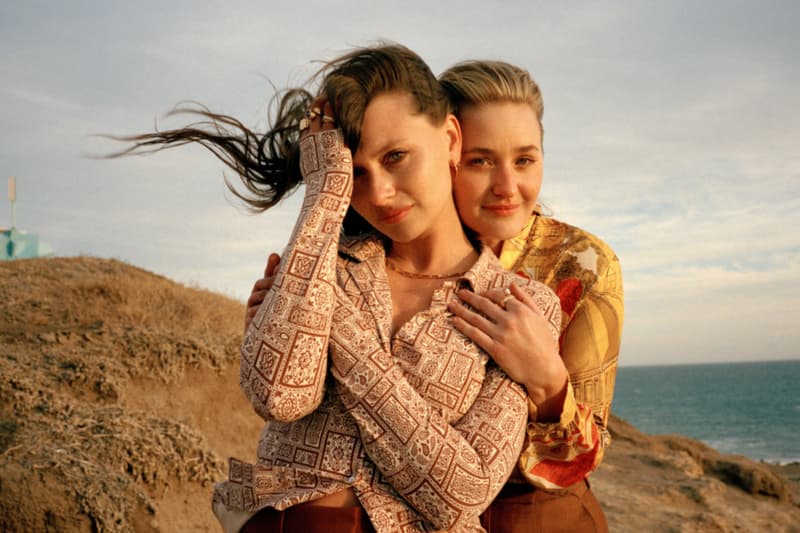 Best New Music of April: Aly & AJ, Rina Sawayama and More
Weekend playlist secured.
We're already at the end of April, which means that summer is right around the corner and new music is dropping left and right. This month we've seen Billie Eilish reveal the first single off her second album, Rina Sawayama and Elton John team up for an emotional performance of their song "Chosen Family," and releases from Deb Never, Becky G, Aly & AJ, Tiana Major9 and more.
Just in time for the weekend, we've put together our favorite releases from the month below. Keep scrolling to listen to the tracks, and we guarantee you'll be adding them to your playlist.
Rina Sawayama, Elton John – "Chosen Family"
Elton John and Rina Sawayama have teamed up for a beautiful and moving track dubbed "Chosen Family," showcasing both of their stunning vocals as well as touching lyrics. "So what if we don't look the same? We been going through the same thing. You are my chosen family," they sing in the powerful track, performing together with Elton John playing the piano. If you're looking to get teary eyed, this is the song of the moment.
Lion Babe – "Frida Kahlo"
We're officially announcing that "Frida Kahlo" will be the ultimate dance track this season. Poppy vocals and funky music create a catchy tune that is impossible to dislike, and the song is also accompanied by stunning and vibrant visuals inspired by famous artist Frida Kahlo.
Hayley Kiyoko – "Found My Friends"
Hayley Kiyoko is back with a new song written throughout lockdown. "'Found My Friends' is a song I wrote during a challenging time when I realized instead of being my own worst enemy, I could actually be my own best friend," the singer explains. "It's about discovering and nurturing a strong friendship with yourself. This song resonates even more so now with everyone experiencing isolation in quarantine, when we still somehow find the resilience to connect with one another and find comfort in each other." The soulful dance track is also set to receive an accompanying music video, releasing tonight.
Tiana Major9 – At Sixes and Sevens Remixed
Tiana Major9 shows off her soulful vocals on her new album At Sixes and Sevens Remixed, which features names like Vince Staples, Jvck James, Beam, Haile and more. The album is a new version of the well-received version released in August last year, but this time features a handful of new versions including acoustic tracks. We're playing it on repeat.
Aly & AJ – "Symptom Of Your Touch"
Sister duo Aly and AJ Michalka are gearing up to release their new album on May 7, and "Symptom Of Your Touch" gives us a taste of indie pop that you'll want to dance to all summer long. The anticipated album is dubbed a touch of the beat gets you up on your feet gets you out and then into the sun, and is guaranteed to showcase the duo's new sound and maturity.
Emotional Oranges & Becky G – "Down to Miami"
Get ready to play this track on repeat all summer long. The catchy tune will have you dancing and moving, combining Becky G's unique voice with a soft beat. The lyrics combines both English verses as well as Spanish verses, making us long for hot summer days.
Billie Eilish – "Your Power"
Following her multi-Grammy winning album when we all fall asleep where do we go? Billie Eilish is back with her new album dubbed Happier Than Ever. "Your Power" is the first single from the anticipated record, showing the singer's new bleach blonde look in a self-directed music video. With her amazing lyrics and voice, we can't wait to hear more.
Dua Saleh – signs
Dua Saleh is set to star in Netflix's third season of Sex Education, playing a non-binary character named "Cal," and is without a doubt a name to watch. Their music is trap-fuelled and fun, and "signs" is the perfect weekend track. As a bonus, the song is loosely inspired by astrological signs and their various levels of promiscuity, and is going to be played on repeat.
Deb Never – "Sorry"
In her latest track, Deb Never refuses to apologise.""Sorry" is vengeance served in its finest form: chilled. Understated and sparse, the hip-hop production cultivates a moody atmosphere as it pits heavy percussion against light, twinkling chimes." Her soft voice is chill yet engaging, and "Sorry" is potentially hinting to an upcoming album that fans are continuing to ask for.
Share this article