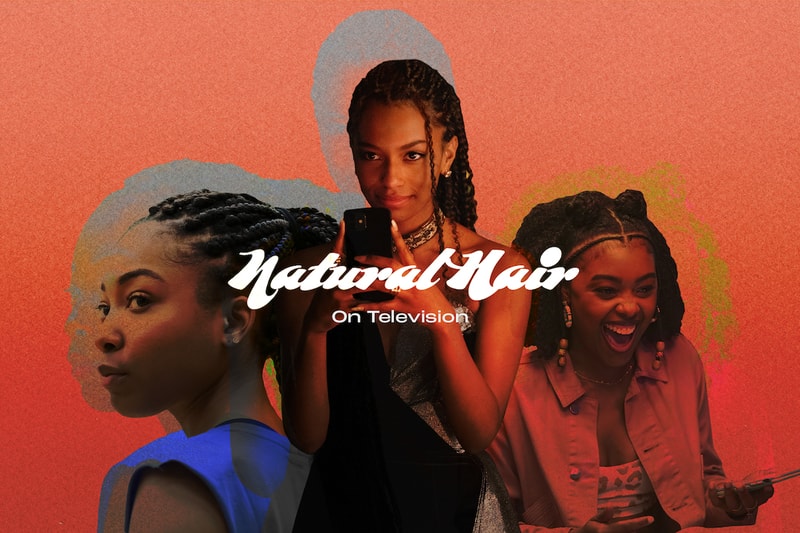 Film & TV
From 'Grand Army' to 'Gossip Girl': The Importance of Representing Black Hairstyles on TV
It's about time we see natural hair more often on screen.
From 'Grand Army' to 'Gossip Girl': The Importance of Representing Black Hairstyles on TV
It's about time we see natural hair more often on screen.
For so long, Hollywood has had a problem with Black hair. When talking about Black hair, we may think of our natural kinks, coils and curls, or our waist-length braids, twists or even wigs. Seeing natural hair on TV screens, however, is like finding a needle in a haystack — it's rarely shown and it's very disappointing. With many Black women and girls embracing natural hair and wearing faux locs or Marley twists, why aren't Black hairstyles seen more often on screen? Why has the state of natural hair representation been dire? What does that mean for those of us who love our hair in its entirety, especially when not all Black women or girls choose to wear wigs or weaves?
Though television has seen productions such as Moesha and That's So Raven that feature hairstyles like microbraids, it's crucial to note that these series aired in the 1990s and the early 2000s. Black women today are versatile in almost everything, be it our fashion, jewelry or beauty looks. With its lack of natural hair representation, Hollywood is doing Black women and girls a disservice. Not all of us wear wigs — sometimes we want to see our favorite characters rocking locs, braids or twists, too.
The portrayal of Black hair on television does not always reflect its diversity in real life. There are characters like Empire's Cookie Lyon (Taraji P. Henson), who consistently wears a weave or a wig throughout the show. Then there are others, like How To Get Away with Murder's Annalise Keating (Viola Davis), who always has a wig on and whose natural hair is only given screen time when she's breaking down, in a state of exhaustion or in a dreadful situation. Though some may find the transition from a wig to natural hair insignificant, symbolically, it tells viewers that a Black woman's natural hair should only be out when she is in distress — far from the truth and quite frankly delusional.
For years, natural hair has faced discrimination globally: from dress code policies in schools and professional organizations, to the Olympics' ban on swimming caps for natural hair, to hair discrimination in the United States (though the CROWN Act is in place) and even in Black majority countries like South Africa and Jamaica. In particular, these bans against natural hairstyles (including locs) in predominantly Black nations stem from colonialism, as its ills continue to linger across different countries. In April, Pimlico Academy, a London secondary school, was met with resistance from Black and Muslim students following its proposed ban on natural hair — the hair that literally grows from our head.
Given the history of how natural hair has been scrutinized, politicized and demonized, it's easy to see why it isn't always represented in a positive way on TV. But this isn't an excuse — it doesn't mean we shouldn't rock our natural hair on or off screen. With the recently released Gossip Girl reboot, it was a delight to see Monet de Haan, portrayed by Savannah Lee Smith, showing off her twists on the show. This specific choice of hairstyle, common among the youth today, gives a realistic portrayal of 16-year-old girls like Monet's character.
Seeing Monet's twists on TV reminded me about the power of representation. I was instantly drawn to her character and how confident she looks with her natural hair, a significant and conscious style decision that reflects HBO's effort to become more culturally competent and thoughtful when it comes to Black hair. In 2021, there is no room for shows that send Black women and girls a negative message about our hair. The cultural impact of natural hairstyles being seen on television is of paramount importance, especially as we live in a time when more and more Black women and girls feel comfortable with their own hair. Scholars Johnson and Bankhead noted in a 2014 research paper that "unlike the natural hair movement of the 1960s and 1970s, today, women of African descent are choosing in increasing numbers to wear their hair naturally simple for the sake of their hair. For many, it is less about a political statement and more about self-acceptance and the opportunity to embrace their natural tresses in its natural, unaltered state."
While natural hair has long been erased on the TV screens, a new wave of high school series targeting Gen Z viewers are changing that. Joining the reimagined Gossip Girl, a number of other teen dramas such as Disney+'s Big Shot, Netflix's Grand Army and CW's All American are also showing the diversity of Black hair — think Olive Cooper's (Monique Green) Afro puff, Dominique "Dom" Pierre's (Odley Jean) long braids, or Simone Hicks' (Geffri Maya) ever-changing hairstyles that include cornrows, buns and slicked back hair. From across the pond, British teen thriller Get Even also sees one of its protagonists, Margot Rivers (Bethany Antonia), wearing fluffed out hair throughout the show.
It is refreshing to see many young Black girls portraying unapologetic characters on TV, all while wearing natural hairstyles — still not enough, but it's a start. This sentiment is perhaps best expressed in an Instagram post by Antonia, the actor who plays Margot. "Getting to play a character who rocks her natural hair has been the dream for the longest time. I grew up chemically straightening my hair, and the desire to destroy my natural curls was only fueled further by the lack of them in my favorite programs," she wrote. "From my very first audition for Get Even, I vowed that If I got Margot she would wear her natural hair with pride. And that she did."
---
Bashirat Oladele is a freelance writer covering pop culture and politics. Her work can be found in Teen Vogue, Stylist, Polygon, Cosmopolitan and more. You can check out her work here.
Image Credit

Yuri Hong/Hypebae
---
Share this article