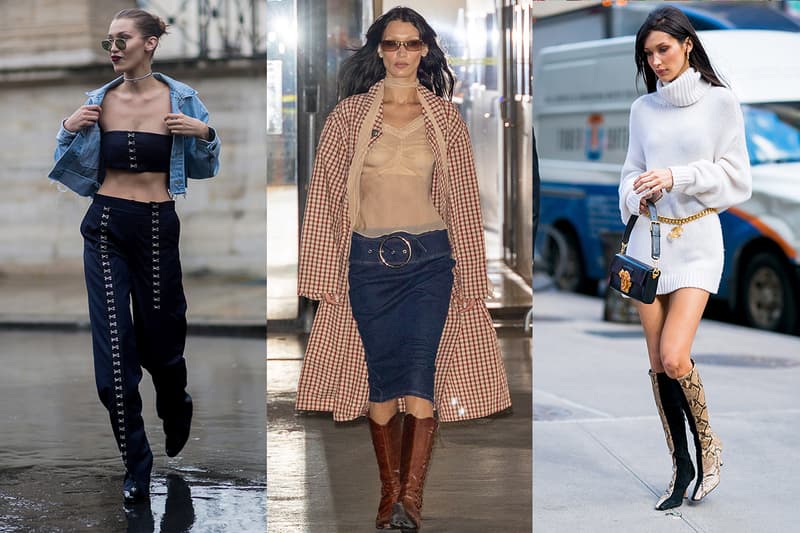 Bella Hadid's Style Evolution: From Sexy Grunge to Quirky Cool
Ciao, Bella.
As one of fashion's most recognizable faces in fashion, Bella Hadid's sense of style has truly evolved throughout her short yet illustrious career.
With iconic supermodel Yolanda Hadid as her mother and of course fellow beauty Gigi as her sister, Bella has had the distinct privilege of growing up in a home where names like Versace and Chanel were commonplace. Despite her fashionable upbringing, the brunette has proven to be a style chameleon as her aesthetic has gotten decidedly quirkier and more bold over the years — and we love her for it. In a candid interview with the WSJ Magazine, Bella famously shut down her haters, saying, "In the last year, it was really important for me to learn that even if people talk about my style or if they like it or if they don't, it doesn't matter because it's my style. When I leave the house in the morning, what I think about is: Does this make me happy? Do I feel good in this and do I feel comfortable?"
Like many young women, Bella proudly prioritizes feeling confident in what she's wearing over adhering to trends and dressing how others may expect a supermodel to dress. Over the years, the Palestinian-Dutch beauty has paired cropped tops with parachute pants, piled on the colorful knits and even embraced the shaved eyebrow trend, demonstrating her sincere love for her industry, never shying away from experimenting with fashion. The It-girl is all over Pinterest boards precisely because of her carefree and unique approach to clothing.
Continue scrolling for a trip down memory lane as we revisit some of Bella Hadid's best looks.
2016 Paris Fashion Week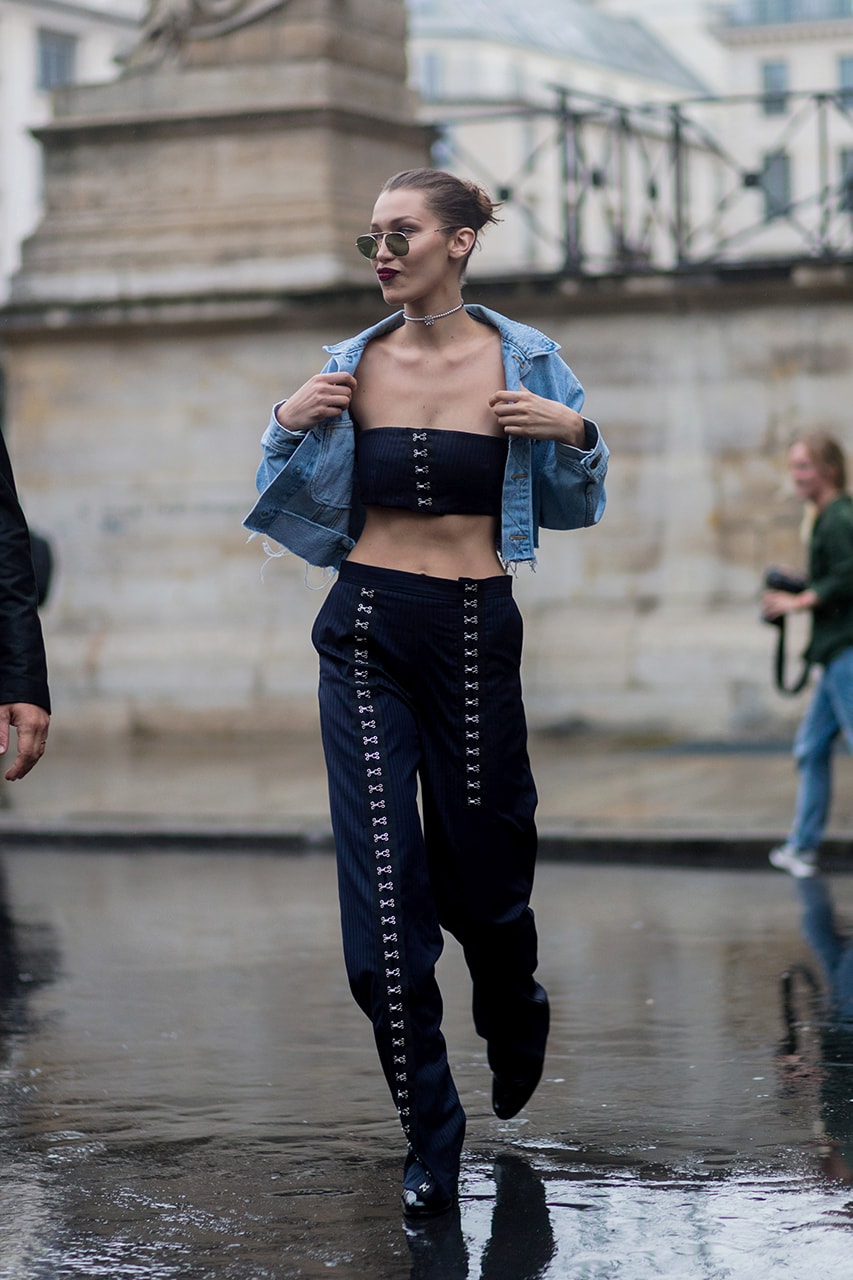 Baby Bella shows off her abs in a sexy goth-inspired two-piece set including a tube top and pants with eye-hook detailing throughout. The then-emerging model complemented her look with a classic denim jacket and dark, vampy lip.
2017 Los Angeles Lakers vs New York Knicks Game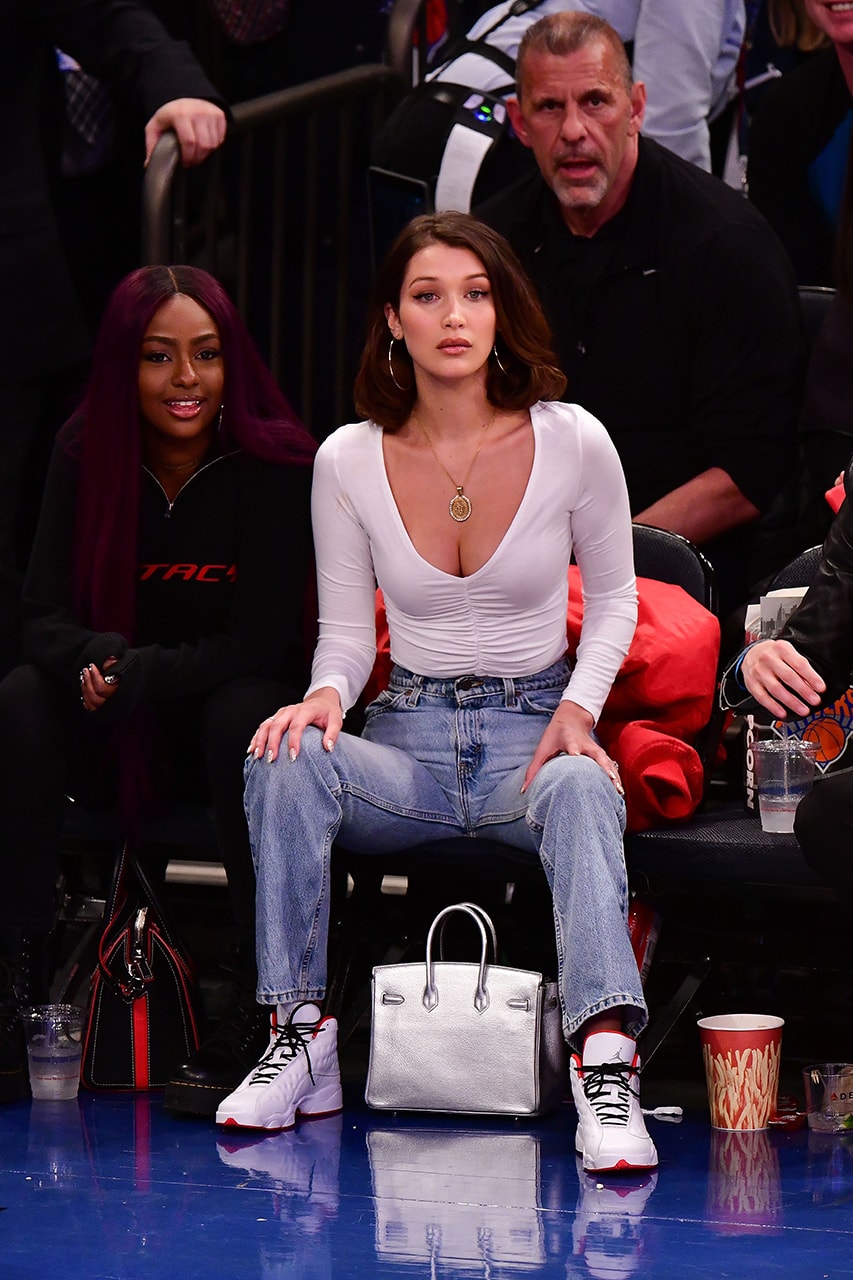 If you were on Tumblr or anywhere on the Internet during 2017, chances are you saw this look. Bella stunned in a simple low-cut long-sleeved white shirt, basic baggy blue jeans and chunky sneakers accented with bold pops of red.
February 2018
The supermodel began experimenting with her style early on as she put together this multi-layered look, comprised of an eye-catching patent leather beret to match her liquid pants and an oversized jean jacket with fall-ready flannel underneath.
April 2018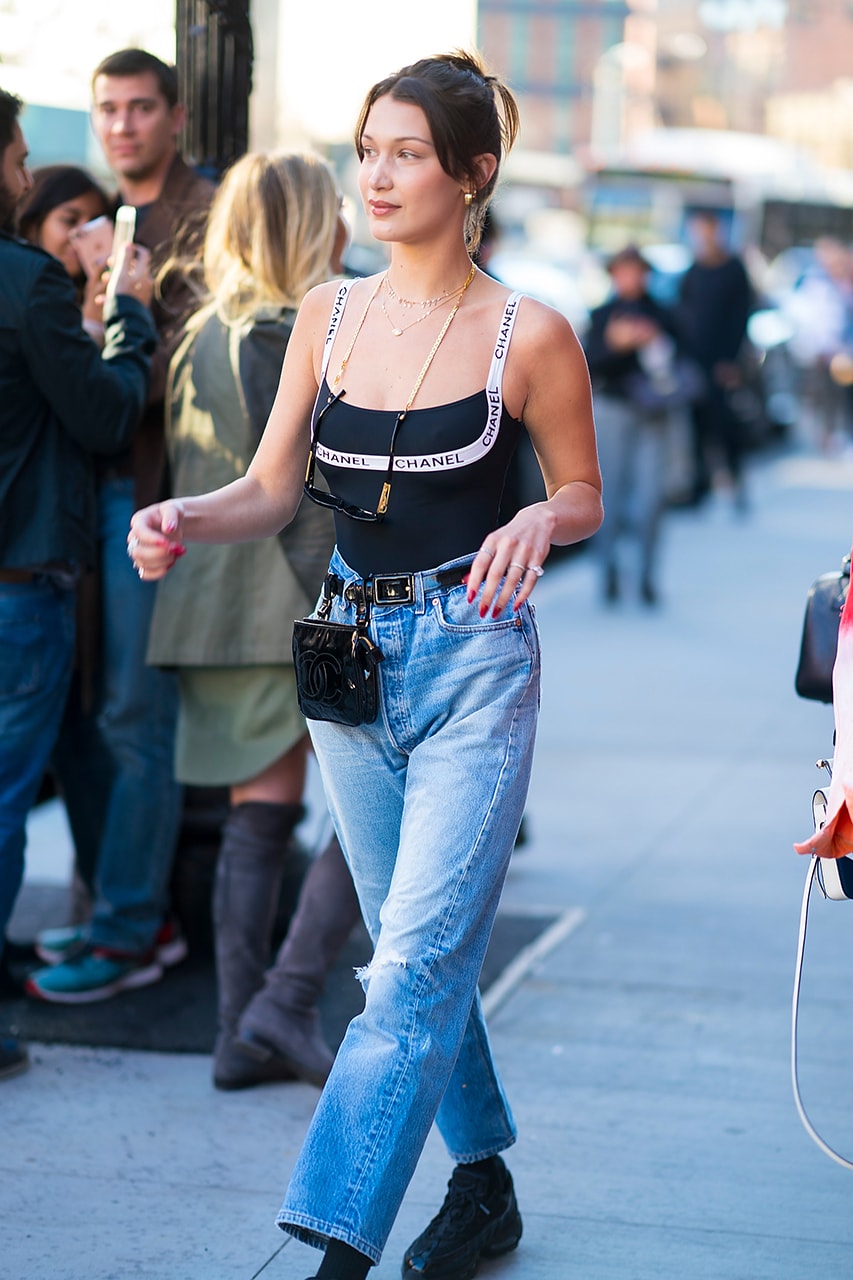 The mental health advocate looked perfect for spring in a bustier-inspired Chanel top and light-washed jeans, paired with a bite-sized black patent leather crossbody handbag from the French fashion house.
November 2018

The politically vocal beauty appears to have a penchant for Chanel as she paired her cozy pure white turtleneck dress with a gold belt from the luxury brand, along with calf-high snakeskin boots.
October 2019

For the then 23-year-old's birthday, Bella donned a Y2K-inspired spiky updo with a keyhole black tank that could easily be worn by Euphoria's Maddy Perez. Never without her wide-legged pants, Hadid completed her birthday suit with a leopard print bag.
November 2019 CDFA/Vogue Fashion Fund

Ever the sartorial innovator, Bella rocked a sleek all-black catsuit save for two strategically placed pearls across the chest. Her perfectly flicked hair-do gives off an air of innocence, juxtaposing her subtly sultry ensemble.
November 2020
caption credit="Gotham/Gc Images"]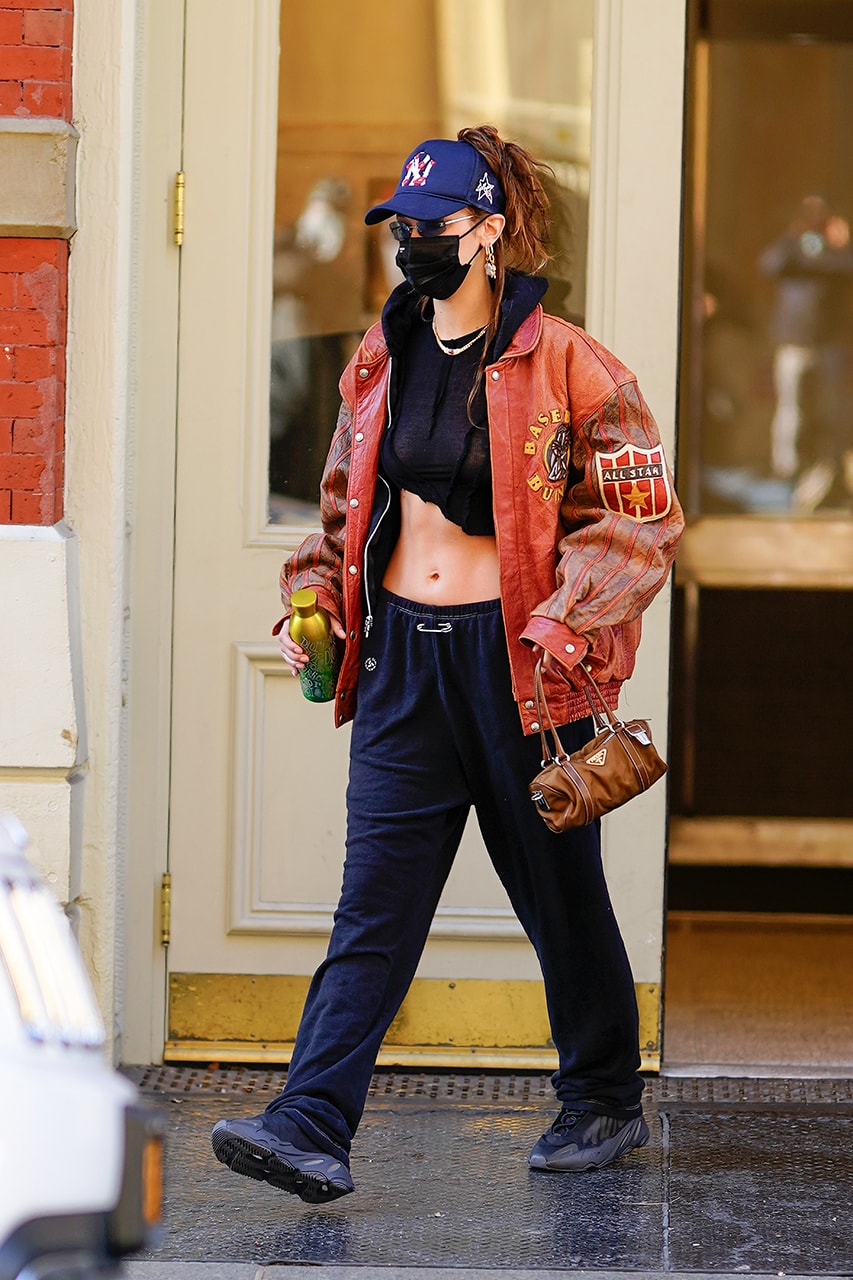 [/caption]
Showing off her sporty-chic side, the supermodel kept it casual in New York, wearing a spacious vintage leather jacket adorned with worn patches over a midriff-baring black crop top. The starlet accessorized with a bright blue New York Giants cap and a micro cylindrical handbag.
December 2020

Bella was way ahead of the copper hair trend as she paired her fiery locks with a red and yellow preppy sweater and heavily printed pants.
2021 Cannes Film Festival

For her 2021 Cannes appearance, Bella absolutely ate and left no crumbs. The chocolate-haired beauty absolutely stunned in a Schiaparelli gown complete with a bronchial-inspired necklace covering her chest.
September 2021

Bringing back low-rise maxi skirts, Bella nailed the '90s rom-com heroine look with her loose waves, nude cami and faded denim skirt.
December 2021

Arguably one of Bella's most eccentric looks to date, the model displayed her love for knits as she accessorized her otherwise dark and baggy look with orange wraparound sunglasses, a kitschy yarn hat and rainbow-colored scarf, complete with electric green pom-poms.
April 2022

Leave it to Ms. Hadid to pull off the early aughts secretary look. The supermodel wore a mostly monochromatic chocolate brown look as she wore a fuzzy sweater vest over a white T-shirt, rich earth-toned leather pants and beige leather loafers. We imagine this was a very serious phone call.
October 2022

Absolutely crushing the latest no-eyebrow trend, Bella continues to show us her love for neutrals and denim as she flaunted a sheer nude lace camisole, houndstooth jacket and denim maxi skirt.
26th Birthday

For her latest birthday bash, Bella delivered nostalgia in spades as she donned a lace black dress, vintage oversized motorcycle jacket and clear sunglasses.
---
Share this article