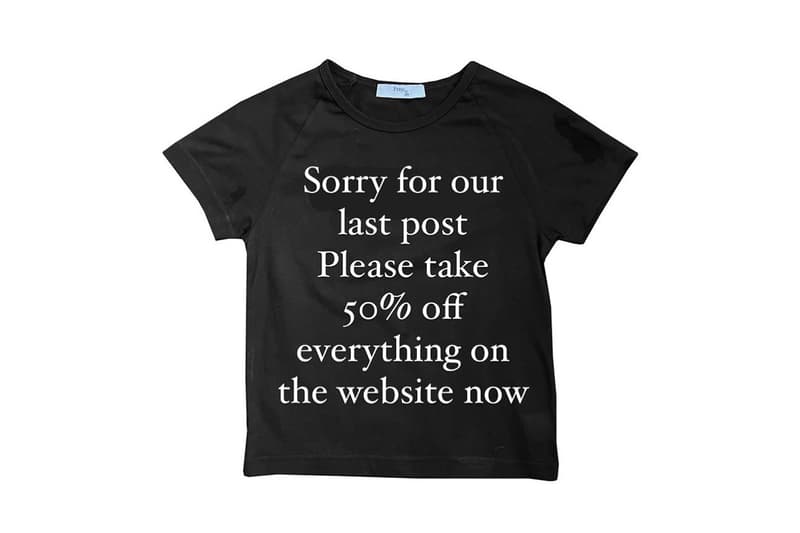 Praying Apologizes for Ableist T-shirt, Sort Of
It's giving tone-deaf.
If you were unlucky enough to catch it last night, you'll have caught a glimpse of Instagram cult-favorite brand Praying's wildly offensive T-shirt.
The Internet born and raised brand released the garment in its typical sparse style, presenting a basic black crewneck T-shirt with white font that read "Special Needs," across the chest. For those old enough to remember, this paltry term was used to categorize all disabled individuals, reducing the nuances of that experience into a term that often belittled and condescended those it applied to. While it is possible to reclaim previously disparaging terms, only those who have been negatively affected by offensive phrases have the power and right to reinterpret them.
After immediately being called out for creating such a piece, Praying thought the next best way to remedy the issue was to host a 50 percent off sale on all of their items. People are clearly not pleased as comments read, "Encouraging people to spend money on your website is always a great apology tactic." Others called the brand out saying, "Using ableism to promote a Black Friday sale that was [definitely] already planned and truly not [expressing remorse] at all."
Artist Daine wrote, "I would've worn the [shirt], but a better way to apologize to the community would be directly supporting disabled people."
Hopefully, Praying will find a way to do better. See the post in question below and stay tuned for more updates.
View this post on Instagram
---
Share this article