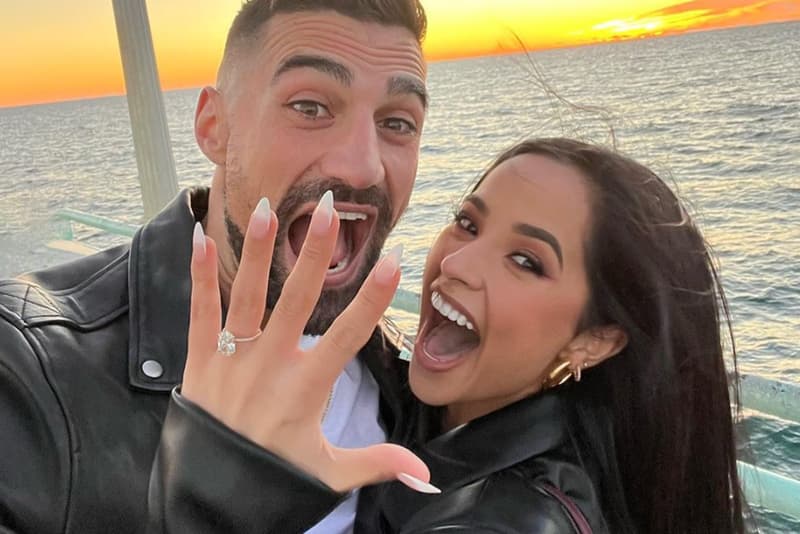 Sex & Dating
UPDATE: Becky G's Engagement Ring Designer Unveils Exclusive Photos of THAT Rock
With an intimate story of working with her longtime fiance, Lletget.
UPDATE: Becky G's Engagement Ring Designer Unveils Exclusive Photos of THAT Rock
With an intimate story of working with her longtime fiance, Lletget.
UPDATE (December 12, 2022): Following the engagement announcement, The Clear Cut jewelers detailed their experience designing musician Becky G's huge rock, gifted by longtime partner and soccer player, Sebastion Lletget.
Olivia Landau, the company's CEO and a member of Forbes' elite 30 under 30, detailed her "amazing" experience, working with Lletget. "Sebastian was so amazing to work with! He knew exactly what Becky was looking for and wanted to make sure it was absolutely perfect for her."
Each of their rings is custom-made, taking approximately three to four weeks, highlighting just how thoughtful Lletget is when it comes to his partner. Landau revealed, "The oval diamond was our top choice because it is finger flattering and brilliant. We went with the two-tone super skinny solitaire with the yellow gold band with pave diamonds and platinum for the prongs to really make the diamond pop and be the star of the show!"
View the dazzling ring from each angle below.
---
Musician Becky G is reportedly engaged to her longtime boyfriend and American soccer player, Sebastian Lletget.
Becky G is having quite the eventful year with the May release of her sophomore album, Esquemas, and now an engagement. In her post captioned, "Our spot forever" she reveals her huge ring — a single rock with a platinum silver band.
View this post on Instagram

Becky and Lletget have been dating for six years now, and according to her interview with People, their bond is unbreakable. "I think a lot of people think relationships just happen — and they don't just happen. To fall in love is one thing, and I think to stay in love is another," she said vulnerably. "I'm so proud of the fact that he's my best friend." 
With six years of romance and connection under their belts, Becky opened up about their cultural connection and the beauty of their community. "Culturally speaking, there's so much that we take away from one another, and learn from one another. He's an honorary Mexican at this point," she joked. "He can communicate with my abuelitos [grandparents]... It's really sweet."
Since sharing the intimate moment, celebrity friends such as Kehlani, Normani and Eva Longoria have shared their congratulations.
View the engagement above and for more, check out our exclusive interview with Becky G.
View this post on Instagram
---
Share this article