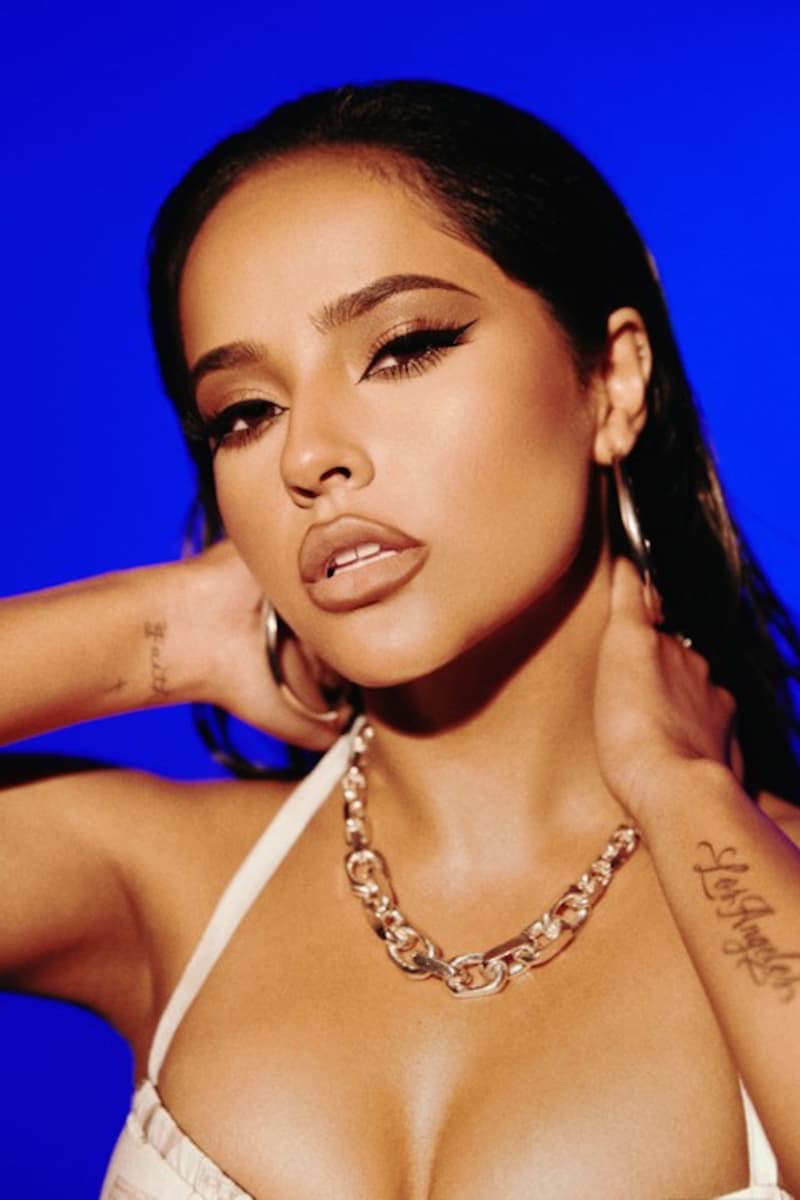 EXCLUSIVE: How Becky G Embraces Her Culture to Break the Mold in Music
The Latina singer discusses her album 'Esquemas' and working with Karol G.
Music
EXCLUSIVE: How Becky G Embraces Her Culture to Break the Mold in Music
The Latina singer discusses her album 'Esquemas' and working with Karol G.
Becky G is moving differently and her latest album, Esquemas, is a testament to that. The sophomore LP, which dropped on May 13, marks a new era for the 25-year-old, who prides herself on simultaneously being fierce, vulnerable and multifaceted.
Being a Latina comes with several challenges, one of them being you don't particularly fit into one label or box. Then, you add the struggles of being a woman in the music industry, and with that combination, it almost seems impossible to win. However, Becky, whose real name is Rebbeca Marie Gomez, is gracefully paving the way for the next generation of Latinx artists.
"I'm doing things on my own terms," she exclusively told Hypebae days before her album dropped. "I mean, creatively and even just like how we're rolling this out, you know? Everything is done with so much intention and so much love and I'm trying to have an 'I don't give a f-ck mentality.'"
Esquemas, which translates to schemes, is a special project in particular because it's Becky's way of breaking the mold.
"I was like struggling to find one word that was representative of what my mission has always been since the beginning of my career, which is to step outside of the boxes that people constantly put me in and to romper esquemas (break schemes), to break the mold, to step out of the boxes us women and Latinos are constantly put in," she said, explaining what inspired the album title. "It's just second nature for me, you know? And if you look up the literal definition of "esquemas," yeah, it's schemes. But for me, it's kind of breaking those things … Breaking the plan that society has for you and making your own. And so that's what the songs are."
Esquemas is made up of 14 tracks — five of which are features — and each song sounds completely different than the last. "It's a genre-less album, I don't think you can put just one genre to a kind of a mix of everything. And that is me. I am a mix of everything," said the singer, who was born in California and has a Mexican background. "I represent two flags. I grew up in a very diverse community in L.A. and Inglewood."
What sets Becky apart from many artists is the way her career has panned out. She's previously described it as a "reverse crossover." She began making music in English, then shifted to Spanish, which comes with its own unique set of challenges.
Although each journey has been different, for decades, we've seen other Latina artists continuously try and break this mold presented by society  — Selena Quintanilla-Pérez, Shakira and Jennifer Lopez, to name a few. While they've made a difference for younger artists that have come after, unfortunately, there is still a long way to go in order to completely break free.
For millennials and Gen Z, women like Becky, Rosalía, and Karol G are redefining the industry and what it means to be a respected artist making mainstream music in Spanish. They are demonstrating there is no one way to look, sound or behave in order to stay true to yourself and your roots. Additionally, they're proving there's room for everyone to succeed. For a while, Becky had been trying to collaborate with Karol, but the Colombian artist would respectfully decline projects until "MAMIII," one of the singles from Esquemas, came along.
To the Mexican-American singer, "MAMIII" is more than just a catchy, empowering song. It signifies almost a sort of positive shift in the music industry. "[It's] two Gs coming together when I think the industry naturally would pit us against each other because we either have the same last initial or we're two Latinas working in both markets and whatnot," Becky explained. "So it's kind of silencing all of those things, as well as just celebrating our cultures together."
Esquemas is available on all streaming platforms. Listen to the album below.
This interview has been condensed and edited for clarity.
Share this article