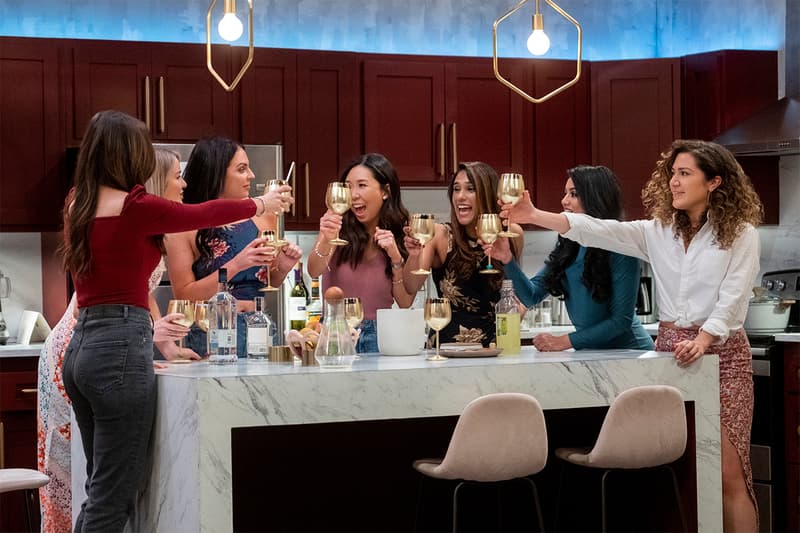 Film & TV
'Love Is Blind' Cast Open Up About Matching Tattoos and Double-Fisting Goblets
The golden wine goblets clearly stole the show this season.
'Love Is Blind' Cast Open Up About Matching Tattoos and Double-Fisting Goblets
The golden wine goblets clearly stole the show this season.
Love Is Blind Season 2 isn't short of any drama, and certainly not of alcoholic drinks. If you've already binged the new episodes on Netflix, you'll probably have already seen a thousand cameos of golden wine goblets. According to the ladies of the experimental dating show, they've agreed to get matching goblet tattoos to commemorate the experience. Talk about great branding.
In almost every frame of the second season, you can see cast members holding their golden wine goblets to the point that fans took their jokes to Twitter. One viewer of the show @J_Keith tweeted, "Golden Wine Goblets: proud sponsor of Love is Blind."
Fan favorite Deepti Vempati shares that the goblets have actually become a staple of the participants' Love Is Blind journey. "We've been through so much … And we would always put all of our drinks in the gold goblets. It's just a symbolic thing for us," she tells E! News. "We wanted to get like a tiny little goblet tattooed on ourselves."
As for what was in their cups, each cast member had their own go-to. Deepti fearlessly says, "I would always double-fist with coffee, water and tequila." Iyanna McNeely stuck with tea "unless there was a drinking game involved." Shaina Hurley preferred to keep her options spicy like Deepti, choosing from either "water, coffee and whiskey or tequila."

For those who love the golden goblets and the drama they serve, tune into the season finale of

Love Is Blind

February 25 on

Netflix

.
'Love is Blind' producers this entire season, no matter the location:

"WAIT WAIT WAIT WAIT, DON'T ROLL CAMERAS YET!!"

*places golden goblets on table*

"Okay and ACTION!!"

— Washington Post TikTok Guy ??‍♂️ (@davejorgenson) February 19, 2022
Share this article