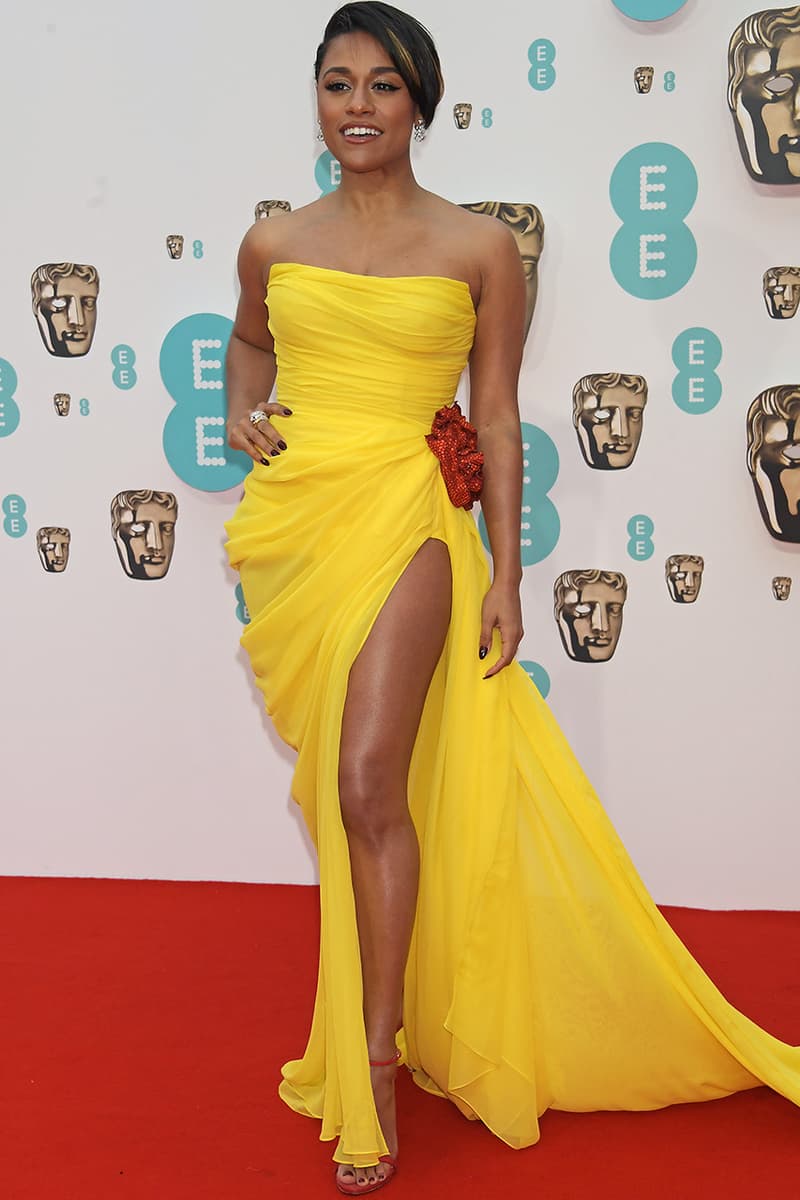 Inside Ariana DeBose's Red Carpet Hair Prep for the 2022 BAFTAs
The 'West Side Story' star gives us an exclusive look.
Beauty
Inside Ariana DeBose's Red Carpet Hair Prep for the 2022 BAFTAs
The 'West Side Story' star gives us an exclusive look.
At the 75th BAFTA Awards on Sunday, HYPEBAE got a behind-the-scenes look at the beauty prep of Best Supporting Actress winner Ariana DeBose.
DeBose, who played Anita in Steven Spielberg's adaptation of West Side Story, looked stunning in a form-fitting, canary yellow custom Oscar de la Renta dress with a striking thigh-high split, styled by Zadrian Smith and Sarah Edmiston. For glam, hairstylist Takisha Sturdivant-Drew was the mastermind behind DeBose's elegant short haircut.
"Ariana's Oscar de la Renta dress was so beautiful and chic. She wore this gown as an homage to Anita, West Side Story and her Latin heritage,"Sturdivant-Drew told us. She explained how she created the hairstyle: "I went with an edgy haircut and shaved down her sides on the right, and went in the back with some lowlights and left hair cascading over her left eye. It's the BAFTA Awards, baby!"
"This sexy high slit on her dress reminded me of Angelina Jolie, so I wanted to add that sexy and edgy vibe with this short cut," Sturdivant-Drew said.
Below, Sturdivant-Drew gives us a full breakdown of DeBose's BAFTAs hair prep.
How to get the look
"I gently cleansed her hair with Act+Acre's Cold Processed Hair Cleanse, which strengthens the hair and nourishes the scalp. Then, I followed it up with Act+Acre's Restorative Hair Mask, which gave her hair protein and vitamins.
On her damp hair, I applied four to five drops of the Act+Acre Cold Processed Hair Oil (launching March 31), which nourishes and protects her hair from heat damage. Then, I smoothed her strands out with my Dyson brush, which made her hair straight.
I cut her hair down on the right side and then in the back of her head as well, to give it that layered look, and added some layers around the front. I taped in blonde and brown hair extensions in the front to open the face up and give it that pop.
Next, I smoothed her short hair down on the sides and back, used my mini flat iron to straighten her short hair on the sides, and used my curling iron to add some volume to the left side and on top.
I finished off the look by adding Act+Acre's Cold Processed Hair Oil to her dry hair, which left the hair smooth, frizz-free with no flyaways and a beautiful shine."
See below for more footage of Sturdivant-Drew getting DeBose ready to hit the red carpet.
View this post on Instagram
View this post on Instagram
---
Share this article