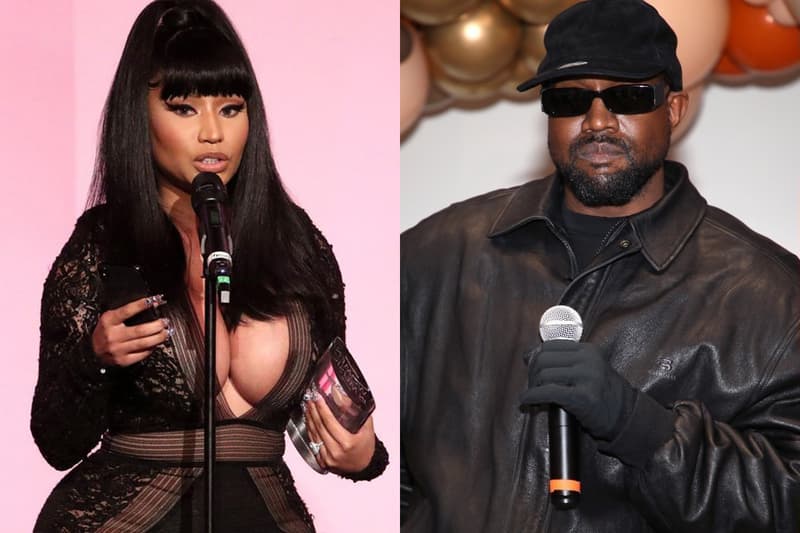 Entertainment
Kanye West Turned Down Potential YEEZY Deal with Nicki Minaj
The rapper didn't want to disrespect then wife Kim Kardashian.
Kanye West Turned Down Potential YEEZY Deal with Nicki Minaj
The rapper didn't want to disrespect then wife Kim Kardashian.
There could have been a YEEZY x Nicki Minaj collaboration, yet Kanye West declined a potential fashion partnership with the female rapper out of respect for his ex-wife, Kim Kardashian.
In a Youtube interview with fellow lyricist Joe Budden, Minaj revealed that the rapper turned down the idea of a collaboration between herself and YEEZY, stating she approached West, saying, "'Hey look, I'm about to do something and I just wanted to make sure I spoke to you first,'" referring to her Fendi deal. The "Monster" rapper shared that West wasn't as interested in the idea, saying,"he was like, 'Well, if I did something with you, I think my wife probably wouldn't love that idea because I should be giving that to my wife instead. If I was doing a female version of the Yeezys or whatever, it should probably go to my wife.'"
While this conversation took place before West and Kardashian's divorce, Minaj was surprised by West's response as he publicly fought his way into the fashion industry, which at the time, was innovative for a member of the hip-hop world. Minaj went onto tell Budden, "so if a black female rapper who you know has just shown herself to be sellable in that space — and this is not from Joe Schmoe from down the block, this is from Fendi saying 'right, all of these things fall right off the shelf' — then when I come to you as a black man that I look up to, I'm doing that because you inspired me, because you said the fashion industry didn't want to let us in, even though we're so influential."
There doesn't appear to be a feud brewing as Minaj doesn't believe the KKW Beauty mogul was even aware of the conversation and wore the SKIMS and Fendi's collaboration on her Instagram earlier this year.
View this post on Instagram
Share this article