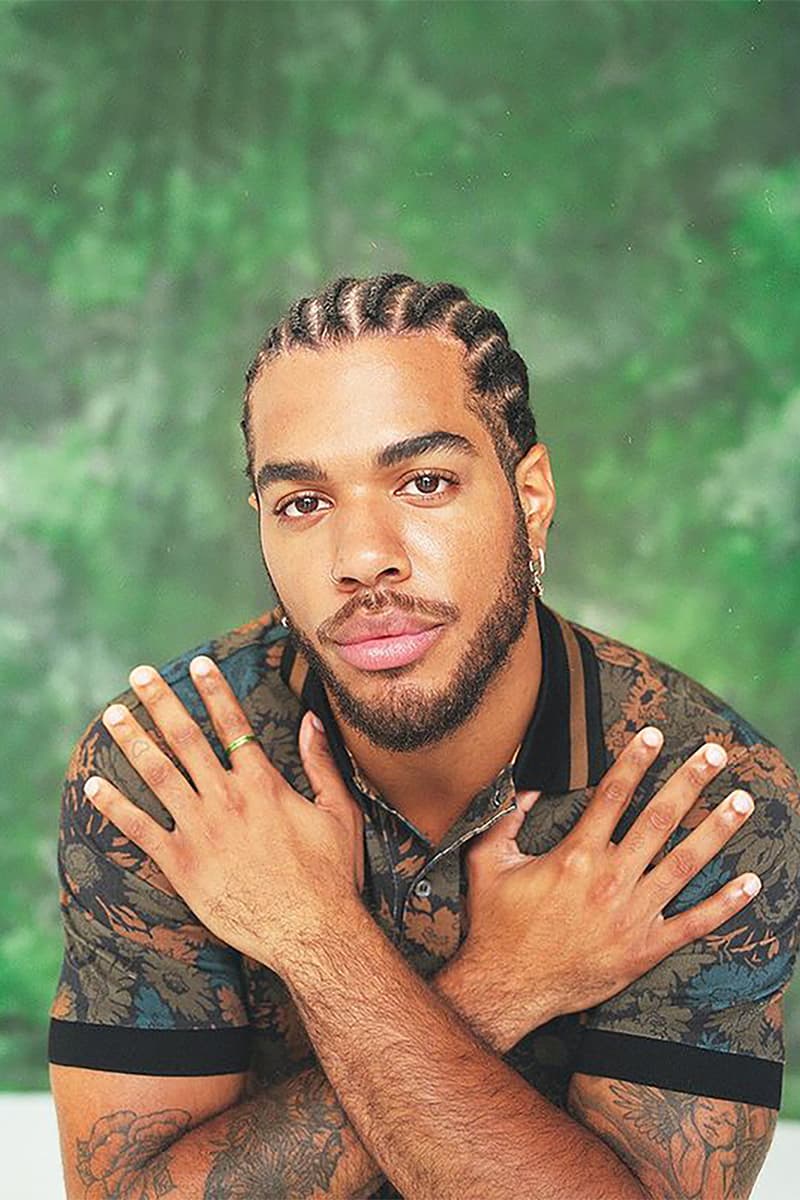 Embrace Radical Black Boy Joy With Dancer Donté Colley
The Canadian TikToker navigates mental health through dance.
Culture
Embrace Radical Black Boy Joy With Dancer Donté Colley
The Canadian TikToker navigates mental health through dance.
When you think of the phrase "Black boy joy," a mental image of a dancing Donté Colley comes to mind as the Canadian dancer and TikToker has used the art form as a means to heal and express himself. With over 400,000 followers on TikTok and 700,000 followers on Instagram, the 25-year-old has cultivated an online community of like-minded creatives who are searching for a bit of artistic relief in our chaotic and overwhelming landscape. 
Colley's timeline is comprised of his absolutely captivating and twirling ever-moving form, which can be slightly envy-inducing if you grew up watching the Step Up trilogy videos. As a Black gay man proudly displaying his expertise in a traditionally female-dominated field during a time in which trans children are being prohibited from engaging in playful team sports, Colley's visual and lived proclamation of joy is an act of resistance.
While on a European escape in Ibiza for the Pandora This is Me Festival, Hypebae had the privilege of speaking with the TikTok dancing sensation. Continue scrolling to read our interview with Donté Colley.
Can you talk about your connection to fashion and what led you to partner with Pandora?
Fashion is wonderful because it's a great way to creatively express yourself. Pandora truly represents complete authentic self-expression and representation. I love that it is navigating a world that hasn't really been tapped into yet with this new generation that is more concerned and attuned to what's going in in the world. It's just amazing to have all of these immensely talented and beautiful people celebrate after a very hard two years.
When did your love for dance begin?
I've been dancing since I could stand. It's my "why" and the motivation behind everything I do. It truly makes me happy and keeps me going. I'm mostly self-taught and have used the internet as a way to learn and grow. That's how I've also fallen in love with the Internet. I've taken a few dance classes, but my experiences with them have been so interesting, especially as a Black man existing in a sea of misogynistic ideas. I'm really trying to push boundaries and break barriers in terms of what it means to move your body. It's important to just be yourself and allow yourself to channel your emotions and feelings. Dance is definitely my tool to take care of my mental health and keep me going.
What pivotal moment in your life made you solidify dance as your coping mechanism?
Growing up in Scarborough, which is an incredibly diverse borough of Toronto. At the same time, it can be somewhat unsafe. You have to really be careful with how you show up because it can sometimes be unsafe to be your true self. When I was younger, I was bullied and I had to rethink what I thought dance was. I've always been immersed in the online world. Being from Canada, I would watch American music videos. I've always admired the dancers and wanted to be a part of that world in whatever capacity.
I found an opportunity to audition for a performing arts high school, not far from where I lived and went for it. It was the best decision I could have ever made because it was a sea of people that were like me and shared the same ethos of being yourself. It gave me tools that weren't necessarily cookie cutter. I think having that support system really uplifted and encouraged me and gave me just a great foundation. I was able to adapt in a way that felt most authentic and genuine to me, where I fell in love with new things as I grew up, like photography and videography. My love for art and using it as a coping mechanism stemmed from those moments. I feel very grateful to have been able to manifest special things that people told me I wouldn't be able to do.
Ultimately, you are in the driver's seat of your life, so you can't let other people's self-limiting beliefs stop you from doing what you want and shining your light.
Can you talk about the online community you've built on TikTok and Instagram?
Social media has definitely become a big part of my life. I started on Tumblr, which was and still is a wonderful way to peek into someone's brain. At that time, it was just about creating a space where I could express myself completely and authentically, without rules or boundaries.
There can definitely be a lot of pressure creating content, but the opportunity to educate others through my art wakes me up every day and I'm grateful to share it with others and help them feel seen and comfortable in their own skin. Something that I try to impress upon the next generation is that they can do whatever they put their minds to. You have to ignore other people's perceptions of you. What they think of you is not your business.
As I get older, I still sometimes struggle with wanting to feel understood by everyone, but there are going to be some people who are just gonna misunderstand you and it's not your responsibility to correct them. Ultimately, you are in the driver's seat of your life, so you can't let other people's self-limiting beliefs stop you from doing what you want and shining your light. Being online can help you feel more seen and feel a little bit less alone. There's obviously the dark side of the internet, but my goal was always to try and find some way that we can stay connected and really build a community of people to do that. My mission is to pass along that baton to other people that can do the same.
How do you practice joy as an act of resistance and what does Black boy joy mean to you?
There's something that's so beautiful about being black in that we've been able to generationally and ancestrally get through hardships and through tough times that we weren't supposed to. I think that we're a leading example of that no matter what people think and no matter what ideas people have of us, we're able to shatter them and break those perceptions of what people try and push onto us.
Being a Black gay man that loves expressing himself through all of these different art forms — I'm often looked at as if I'm doing something wrong when that's obviously not the case. Facing a lot of rejection, you just have to be comfortable within yourself because it's you versus you and only you can save yourself, but it's in that process that you make space for the people that are supposed to be around you. Through healing and finding yourself, the experiences you deserve will start to appear because you've done the work. I don't feel bad about what I've gone through. I've definitely forgiven myself for the ways that I've treated myself in those times, but I think the flip side of that is okay, "What can I do now to move me forward and push me forward?" Having lost many people to mental illness, it's important for me to share joy online.
We've all experienced forms of grief, especially during the pandemic, but when you go through those hardships, you have to take care of yourself with what you love because it's easy to go in a totally different direction and live in another world of lack and sorrow when there's so much to be grateful for. like we needed another day. The biggest blessing to me is waking up to see another day because you're here for a reason and you have something to share. We all have that magic inside of us.
---
Share this article