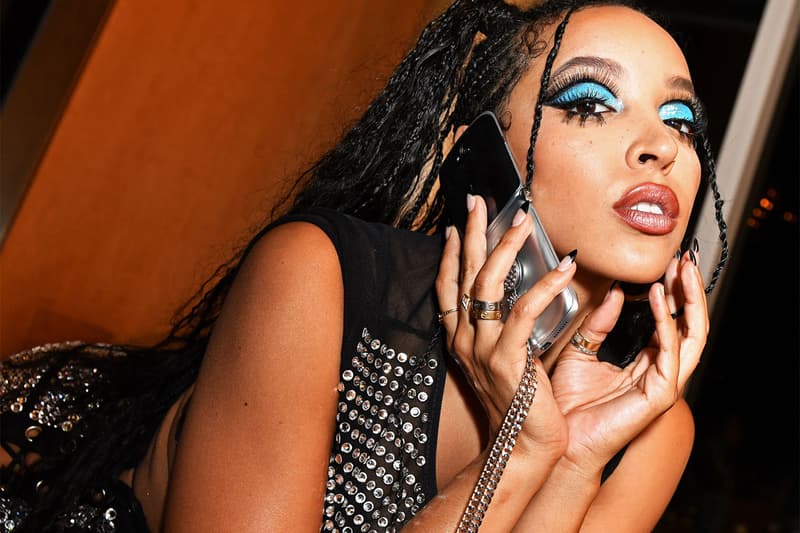 Music
Tinashe Celebrates the LGBTQ+ Community With The Blonds X Motorola Razr
The singer performed during NYC Pride weekend.
Tinashe Celebrates the LGBTQ+ Community With The Blonds X Motorola Razr
The singer performed during NYC Pride weekend.
R&B singer and icon Tinashe celebrated pride in style as she performed during NYC Pride Weekend at The Blonds x motorola razr event on June 25.
Styled by the ever-fashionable golden haired duo, the songstress lit up the stage with her single, "HMU For A Good Time," wearing a sparkling rhinestone-covered short set with electric blue makeup and '90s-esque hair. As The Blonds x Motorola co-hosted the Pride Extravaganza, the inclusive event featured brand new disco fashions from The Blonds, a custom limited-edition accessory with 100% of proceeds benefitting the New York City Anti-Violence Project.
Hypebae spoke to Tinashe about the impact of performing at a Pride event as a queer woman of color and what's next for her. Continue scrolling to read our interview below.
What does it mean for you to be performing at a Pride event? What does the LGBTQ+ community signify for you and how have you used your platform to shed a light on the issues attacking the community as a queer woman?
The LGBTQIA+ community has overcome so many obstacles to live their honest truths, and Pride is about inviting the community to be authentically themselves and embrace all aspects of life. As a member of the community, I am honored to have partnered with motorola razr and had the opportunity to perform at The Blonds x motorola razr co-hosted Pride event and provide a moment for all to dance and celebrate. Plus, the #HangUpOnIt campaign from motorola razr, which puts an end to the status quo and celebrates individually, really spoke to me. Queer women are some of the strongest, most resilient people I know and I choose to hang up on negativity and violence in all forms against them. We as a community need to uplift and encourage each other to live our lives loud and proud, reminding all when one of us thrives, we all thrive.
As an artist, how have you continued to carve out your own truly unique path into becoming a true champion of individuality and self-expression?
Since the start of my career, I have always had to fight to carve out paths of opportunity for myself and not let self-doubt or negative, outside noise affect my self-confidence or talent. I have been steadfast in staying in the driver's seat of my career and believing in my gut and vision to create art and music that resonates with people and especially, the queer community. Getting to work with a brand like motorola razr, who encourages all to embrace their differences and individuality, makes me so grateful to have the platform to amplify our shared message of acceptance and inclusion for all.
Can you expand on your relationship with The Blonds and Motorola razr, particularly in connection to the limited-edition collab accessory that supports the Anti-Violence Project?
I was dressed by The Blonds and have been a huge fan for years. When I learned of their extended partnership with motorola razr, the iconic flip phone, and the duo's celebration and support for the LGBTQIA+ community , it was the perfect fit for me to return to NYC Pride. motorola razr and The Blonds teamed up to create a custom, limited-edition lanyard available for purchase on theblondsny.com for $150 USD with all proceeds benefitting an organization close to my heart, the New York City Anti-Violence Project and their mission to promote equality and safety for all, especially within the queer community. The couture lanyard is a chic and functional hands-free phone accessory that can elevate any look. It was so fun to utilize the motorola razr during my performance as it relates so well to my new single, "HMU for a Good Time," while capturing selfies and one-of-a-kind moments on stage with The Blonds.
How can music and fashion be used as a tool to bring people together, as well as a means of resistance?
Music and fashion have the ability to help people feel seen and understood. They create communities that are strong and can help communicate powerful and impactful ideas. When it comes to resistance, I think art is one of the best ways to express that.
Can you share the inspiration behind your latest single and any tidbits on new music to come?
"HMU for a Good Time" is meant to be just that — a good time. I wanted to create something that people could dance to and be free this summer.
This interview has been edited and condensed for clarity.
---
Share this article