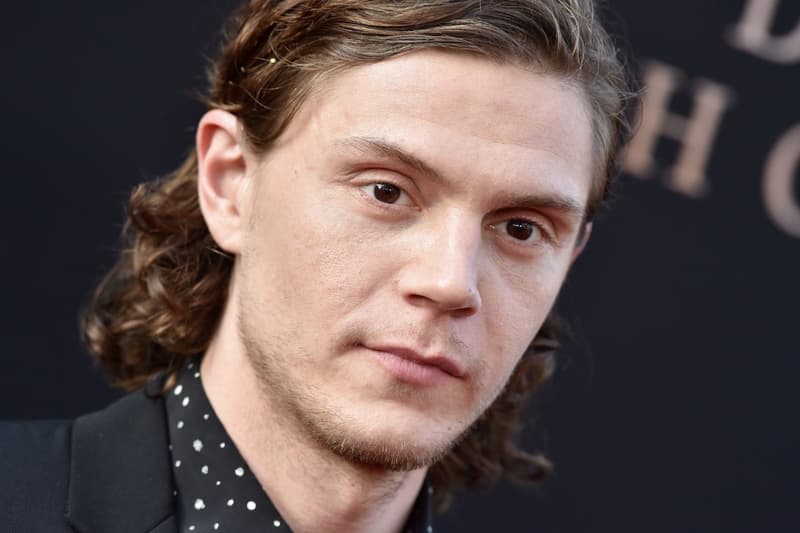 Entertainment
5 Things You Didn't Know About Scream King Evan Peters
From acting on Disney and 'AHS' to portraying serial killer Jeffrey Dahmer.
5 Things You Didn't Know About Scream King Evan Peters
From acting on Disney and 'AHS' to portraying serial killer Jeffrey Dahmer.
Evan Peters has had all sorts of roles over the years, but if there's anything he's best known for, it's the darker, mysterious characters he brings to life. The 35-year-old has portrayed some pretty challenging and evil characters in American Horror Story; however, it's his recent portrayal of Jeffrey Dahmer in the new Netflix series Monster: The Jeffrey Dahmer Story that has recently taken the cake. Keep scrolling to learn more about America's favorite scream king.
1. What is Peters' birthplace, zodiac sign and height?
Peters was born in St. Louis, Missouri. His birthday is January 20, 1987, which makes his sun sign Aquarius. According to various online sources, he is somewhere between 5 feet 9 inches to 5 feet 11 inches tall.
2. How did he become interested in acting?
It all started thanks to Mary-Kate and Ashley Olsen. During a 2008 interview with MLive, Peters admitted his interest in acting sparked from crushing on the famous sisters. "I got bit by the acting bug," he told the publication at the time. "But mostly I wanted to meet the Olsen twins. They were 15, I was 15 … the acting thing seemed like the best way." Years later, he ended up playing opposite of the twins' younger sister, Elizabeth Olsen, in WandaVision.
3. What has he previously acted in?
Peters has over 40 credits across film and TV. Plenty of his early roles featured him playing teen characters on Sleepover, One Tree Hill and Disney Channel's Phil of the Future. Other shows and movies he's appeared in include Clipping Adam, X-Men: Apocalypse, WandaVision, Never Back Down, Kick-Ass and Mare of Easttown.
It wasn't until Peters was cast on American Horror Story that he landed his breakout role, playing Tate Langdon in the series' first season, Murder House. He then became a regular on the anthology horror television series, appearing in all seasons except Season 9 AKA 1984. His most recent acting gig is on Netflix's Monster: The Jeffrey Dahmer Story, which further showcases Peters' incredible acting skills as he offers his unique take on the infamous serial killer.
4. Does Peters become affected by playing sinister characters?
Yes, which has impacted his work and mental health. In season 7 (Cult) of AHS, Peters portrayed fictional cult leader Kai Anderson, as well as real-life cult leaders, which was difficult to deal with. As a result, he needed to take a break from filming AHS; it's the reason he didn't appear on Season 9. "He really suffered while making it," Ryan Murphy, who co-created AHS and Monster: The Jeffrey Dahmer Story, told Entertainment Weekly in 2019. "It took him, I don't know … Two years to recover? … It got under his skin in a really hard, long way. I loved him in it."
In a 2018 interview with GQ, Peters opened up about playing sinister characters. "It's hurting my soul and Evan as a person," he said at the time. "There's this massive amount of rage that's been called upon from me … It's just exhausting. It's really mentally draining, and you don't want to go to those places ever in your life. And so you have to go there for [some] scenes, and it ends up integrating it somehow into your life. You're in traffic and you find yourself screaming and you're like, 'What the hell? This isn't who I am.'"
Peters also admitted to having fears playing Dahmer, who committed acts of murder, cannibalism and necrophilia from 1978 until his final arrest in 1991. "Honestly, I was very scared about all of the things that he did, and diving into that and trying to commit to that was absolutely going to be one of the hardest things I've ever had to do in my life because I wanted it to be very authentic," he said in an interview shared by Ryan Murphy Productions' official Twitter account. "But in order to do that, I was gonna have to go to really dark places and stay there for an extended period of time."
Thankfully, the series' crew has helped him by "keeping me on the guardrails."
5. How did he prepare for his portrayal of Jeffrey Dahmer?
Peters did extensive research for his portrayal of Dahmer. He started with watching the Stone Philips interview in which the reporter interviewed "the Milwaukee Cannibal" in prison alongside his dad, Lionel Dahmer, in February 1994, making it Dahmer's final interview before his death in November of the same year. "I watched that and then proceeded to read biographies," said Peters. "I [also] found some audio of what sounds like a psychologist interviewing him or even a detective who's sort of relaying what he went through, and the way that he's speaking is very candid and very normal."
Monster: The Jeffrey Dahmer Story is currently streaming on Netflix.
---
Share this article