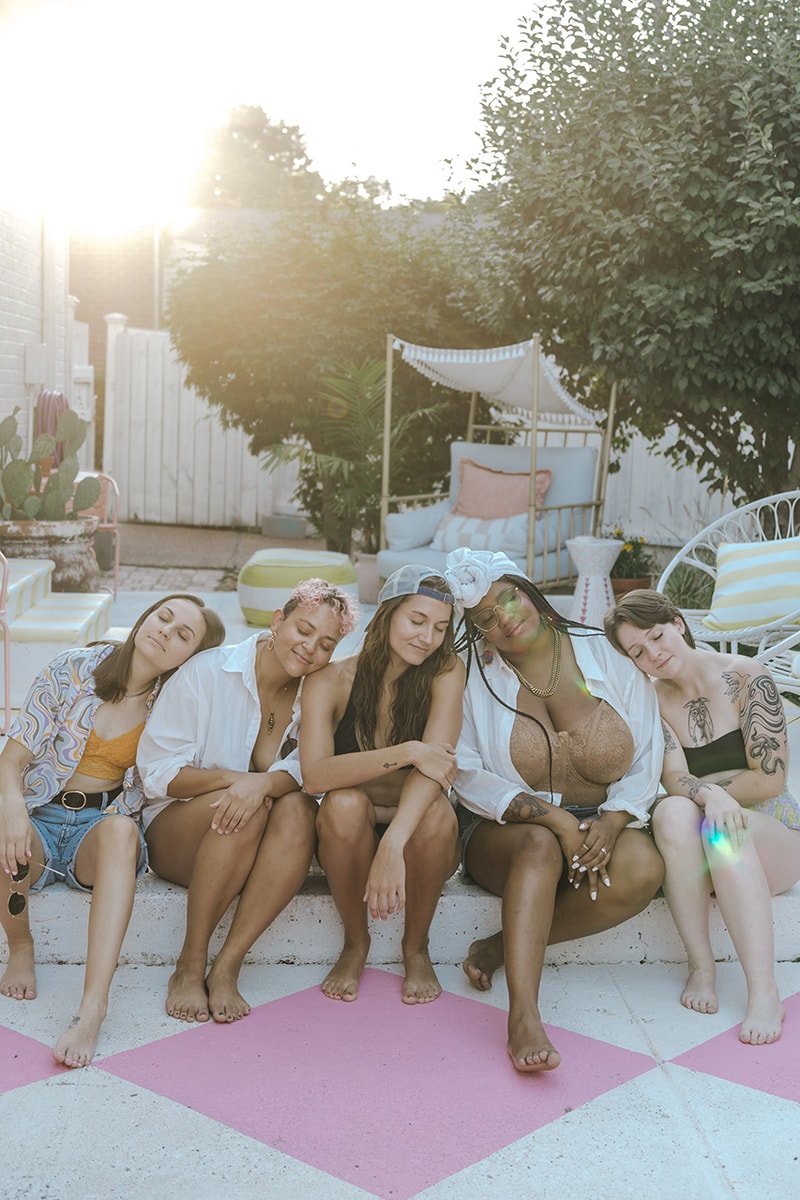 We're All Just Teenage Girls in Our 20s
How girl culture became a tool for taking back our power.
Culture
We're All Just Teenage Girls in Our 20s
How girl culture became a tool for taking back our power.
2023 is the year of the girl.
With the Y2K resurgence and Barbie's inexplicable healing powers, it feels like we're all just teenage girls in 20 and 30-something year-old bodies. It could be the raw energy we felt singing along to Taylor Swift and Beyoncé this summer, but it's become clear that we've shifted into a Freaky Friday timeline where we are unafraid to be perfectly grown women wearing bows and plaid mini skirts.
With the girls of the early 2000s now coming of age, many of us are looking back and realizing we were robbed of our childhoods. We hid our love for the color pink so no one thought we were stupid. We were rewarded for not being like other girls who cared about dolls and makeup. We were shamed and sexualized for our developing bodies and taught to be responsible for the actions of boys and men by the time we were ten.
Girls were never allowed to just be girls.
The recent rise of girl culture is a reclamation of the girlhood we lost. "I'm just a girl" memes and coquette blogs transform the stereotypes invoked to demean us, indulging in a sickly sweet, all-pink femininity for the pure fun of it. The cheeky humor holds deeper meaning as girl blogs breathe new life into the formats used to harm us.
View this post on Instagram
Before the height of Instagram and TikTok, there was Tumblr. Amidst the fairy lights in jars and Arctic Monkeys' lyrics, many of us found community, but were also exposed to ultimately detrimental content, whether it be hard-core porn that damaged our sexuality and groomed us or thinspiration that promoted eating disorders.
Blogger Zoe London reminisces on the 2014 Tumblr days sharing, "The artsy, aesthetic side of it was beautiful. A lot of us who felt like weird kids growing up thrived on the platform because it brought together predominantly vulnerable teenagers who couldn't connect with others in real life, creating this island of misfit toys. However, it had a way of normalizing self-destructive habits. Everything was so in your face, just like Euphoria. You're not really thinking about the fact that you're not eating or that you're smoking cigarettes. It's initially masked as a secondary part of the subculture and a "f–k" you to your parents, but we don't really address where the actual self-loathing is coming from and how it's expressed. There's this celebration of complete and utter disregard for your health and well-being that is embedded within Tumblr."
View this post on Instagram
The reinforcement of toxic beauty standards ruined the health of generations of women as London goes on, "When you're a woman, you're a girl first and a person second. Because the more attractive you are and the more enjoyable it is for other people to look at you, the better. You're perceived as holding value for your body and for your aesthetics rather than for what your actual thoughts, feelings and opinions are."
"With Tumblr culture, a lot of distorted body images are covered under the guise of art. It's always the pastel grunge post of a thin white girl with bruised knees, smoking, flowers placed in gaunt collarbones or painfully visible ribcages. It creates the false narrative that your body is art and that it's meant for others' consumption. We're taught to disassociate from our physical forms."
View this post on Instagram
Mollie Adler of Back From The Borderline can attest to the toxicity of Tumblr culture, adding, "In those early days of Tumblr, you could really feel that sad girl aesthetic taking off. I was around 12 when I first discovered the pro-anorexia and pro-bulimia community and I think that's a really good early example of how Internet subcultures created social contagion and emphasized mental illness. The pro-ana and pro-mia movements promoted and celebrated eating disorders as lifestyle choices like going vegan rather than recognizing them as genuinely severe and life-threatening conditions."
Unsupervised Internet exposure also played a huge part in harming our sexuality, especially in the early 2000's when the adults around us were unaware of the dangers of then-emerging technology. Adler recalls discovering adult content while in school at the age of ten. "It was really the Wild West of the Internet. We were in instant chat messaging rooms with random adults and no firewall protection. There's an entire generation of women who were preyed upon by men online as teenagers because we were taught to see predators as creepy dudes in vans rather than attractive men in their late 20s to 40s."
View this post on Instagram
"Before accessing porn, I'd only seen romantic and intimate depictions of sex in R-rated movies. Seeing these really jarring and violent images was the beginning of the end because I was no longer in control of my own sexual development. I was robbed of the opportunity for my sexuality to unfold naturally. Many millennials, particularly young women were likely impacted in a similar way because we were flooded with images of video vixens, low-rise jeans, spray tans and huge boobs. It was the era of Girls Gone Wild, so to be sexy and desired by men was the goal."
Many of us will remember one of the first few episodes of Keeping Up With the Kardashians, in which a pre-teen Kendall and Kylie Jenner parody Girls Gone Wild while their older brother Brody Jenner is babysitting. To aspire to these highly sexualized images of women, whether its college girls on spring break or Holly Madison from The Girls Next Door was the next stage of playing house. Young girls are trained to be sex objects in the making.
In order to buy back the years we lost striving to be older and sexier, we're turning away from the male gaze, relishing in a distinctly female point of view as we blast Olivia Rodrigo's GUTS while getting ready for our 9 – 5s. London is reclaiming Tumblr culture through her own Instagram, pauvreoison, while Adler's Back From the Borderline podcast is unafraid to shine light into the dark corners.
"For this new generation, I have to do my part as an adult to make sure that the subculture is healthy. You don't have to be perfect, it's okay to be messed up, but we're not going to continue the cycle of celebrating f–ked up-ness," London continues. "All of the time that you spend being apathetic and allowing these disordered disruptive behaviors to continue, you're just putting yourself in this situation where it's going to be harder and harder for you to build the life that you want when you have to come out of it. It's completely valid to be working through these uncomfortable feelings, but what is not okay is punishing yourself for them. Girl blogs are a way of gently guiding young women into a positive direction by framing recovery as chic."
View this post on Instagram
Adler adds, "It can be really easy to throw the baby out with the bath water and just assume social media is bad. I think reclaiming the tools and formats that were used to harm us involves girls developing their critical thinking skills and maintaining a healthy level of skepticism when they're online rather than just mostly consuming and being so easily swayed by anyone with a large following or who happens to share your exact point of view."
Girl culture ultimately serves as a means of taking up space and finding enjoyment in the things that we were shamed for, which is sometimes just simply existing as women. As Jazmine Rogers says, "It's the wholesome things we did as kids and being able to play again. For women of color especially, we're forced to conform, look and act a certain way. At a certain point, you hit a wall and you realize that life isn't meant to be lived like that. We can relax."
The past year has been unapologetically feminine as so many of us are proudly taking back the girlhood that was stolen from us. While some might call this generation of women selfish for spending our 20s and 30s focusing on healing and discovering who we are rather starting families or growing up, all we can say is, "I'm just a girl."
View this post on Instagram
---
Share this article