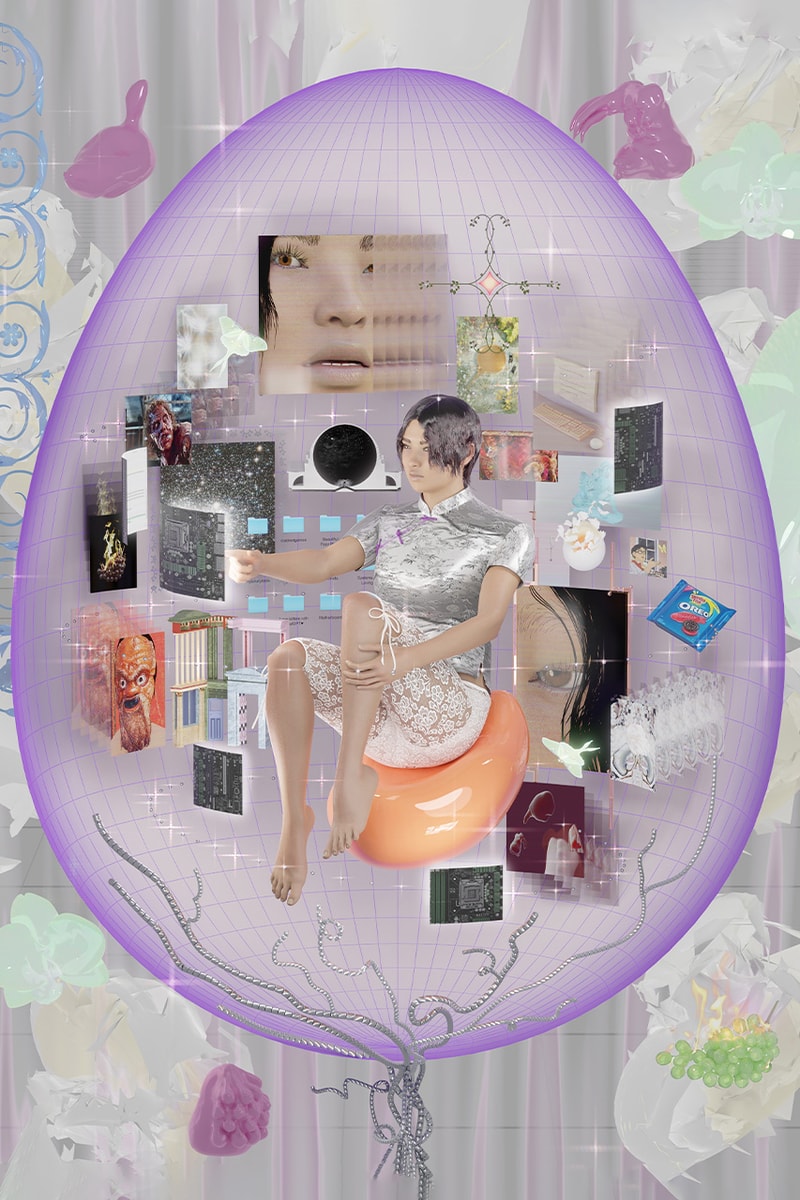 Diving Into Digital: Our Favorite Fashion NFT and Web3 Projects of July 2023
From IoDF's London's Queer nightlife-inspired Barbie collection to the fierce RSTLSS collaboration between Paris Hilton and Charli Cohen.
Fashion
Diving Into Digital: Our Favorite Fashion NFT and Web3 Projects of July 2023
From IoDF's London's Queer nightlife-inspired Barbie collection to the fierce RSTLSS collaboration between Paris Hilton and Charli Cohen.
The fast-evolving digital landscape is the gift that keeps on giving. Brands are now carefully considering how to leverage technology to activate their offerings while still prioritizing the fostering of community. This digitalization of culture seems to be on every industry's agenda.
As we celebrated Pride month, IoDF launched a Barbie collection inspired by London's Queer nightlife and in honor of the Women's World Cup, Klarna developed an in-app tool to encourage cheering. Notably, the music industry is delving deeper into the digital realm, with Superplastic partnering with Virgin Music to launch a new music division. Additionally, Roblox hosted the first-ever music documentary watch party.
The art sector is also thriving, adding a higher dimension to creativity. Multidisciplinary artist Marisa Müsing presented her latest film, Stuck in the Motherboard, where she explores her identity as a Queer Asian woman in the digital age. Furthermore, Christie's and Gucci joined forces for a collaborative auction titled Future Frequencies: Explorations in Generative Art and Fashion.
July's Diving into Digital offers much more to explore, so continue scrolling to see our favorite cyber collections and Web3 initiatives from this month.
Klarna Unveiled "Scream for Your Team," an In-App Game to Support the Women's World Cup
Klarna, the AI-powered global payments network, launched the "Scream For Your Team" in-app game, rewarding sports fans during the women's world soccer championship. The game measures fans' cheers and screams, entering them into a draw for weekly prizes worth up to $500 USD. It is available to all U.S. Klarna app and web users and players must scream to shoot a soccer ball into a goal. Scoring three goals gives them a chance to win Nike gift cards. Klarna has also partnered with Angel City FC to provide free swag at watch parties, promoting women's soccer.
Maison Valentino Delved Deeper Into the Digital World With Meta
Valentino partnered with Meta to launch special branded digital avatar outfits. The collaboration aims to promote individuality and community building within digital communities. Valentino's designs have been integrated into Meta's avatar program, available for users on the Meta Avatars Store. Now, users can dress their avatars in Valentino apparel across Meta's platforms, including Instagram, Facebook, Messenger and VR experiences. The initial drop featured six curated looks, showcasing vibrant pieces like Pink PP, the Toile Iconographe pattern with the Maison's logo, the newly-released Rockstud ballerinas, the historic Panther print and Maison Valentino Essentials.
Multidisciplinary Artist Marisa Müsing Presented Her Latest Film, Stuck in the Motherboard
Stuck in the Motherboard is a film by Marisa Müsing belonging to the project Mimicry & The Villa of Mysteries, which re-analyzes ancient frescoes in Pompeii using AI to generate new identities for the depicted women. The project aims to create Queer cyberfeminist architectural perspectives beyond the confines of the frescoes. By collaborating with AI programs, the methodology embraces Homi Bhabha's concept of mimicry to reinterpret narratives from archaeological and technological viewpoints while acknowledging AI biases. The film focuses on a Queer cyborg artist trapped in an egg-shaped computer, communicating with it as her mother. Through digital screens, she envisions alternate versions of herself, exploring her identity as a Queer Asian woman in the digital age.
IoDF Launched a Barbie Collection For, and Inspired By, London's Queer Nightlife
The IoDF, known for innovation and promoting inclusivity in the fashion industry, launched an exciting and inclusive Barbie "Concept" collection inspired by London's Queer club nights. The collection pays tribute to the vibrant and diverse energy of the Queer community in London, celebrating its rich culture and dynamic atmosphere. Each Barbie doll has been meticulously crafted, dressed in subversive androgynous fashion, vibrant colors and latex, embodying the spirit of freedom and self-acceptance. The collection aims to harness the power of Barbie to educate and promote self-representation, inspiring young people to embrace their identities and challenge traditional conventions of self-expression.
Ahluwalia, Microsoft and Eon Revealed a Partnership to Share the Untold Stories of Clothes Using Technology
Ahluwalia's latest collection blurs the lines between technology and fashion by using EON's Product Cloud Platform, connected to Microsoft's Azure cloud platform. The Symphony Unlocked project featured unique Digital IDs on each garment, allowing customers to scan them with their smartphones for detailed information about the collection. This technology offers insights into the collection's inspiration, garment production details and care instructions. The smart garments were showcased at London Fashion Week in February 2023 and are now available for purchase from Ahluwalia's website.
Christie's and Gucci Announced Future Frequencies: Explorations in Generative Art and Fashion Auction
Christie's and Gucci presented a collaborative auction called Future Frequencies: Explorations in Generative Art and Fashion, featuring 21 NFTs created by leading talents in the digital art space, focusing on generative systems and artificial intelligence. Notable artists like Claire Silver, Emi Kusano, Emily Xie, William Mapan, Zach Lieberman, Botto, Helena Sarin and DRAUP were among those who contributed to the collection. Their works explore the intersection of fashion, art and technology, with themes ranging from generative textile studies to algorithmic interpretations of the iconic Gucci Bamboo 1947 handle. The auction highlighted the pioneering contributions of female artists and aimed to inspire avant-garde thinking and radical ideas for the future of fashion and supporting technologies.
INJURY, in Collaboration With REAL PARENT, Presented Its 2023/2024 Fashion Collection, "0000"
INJURY, in collaboration with REAL PARENT, presented its 2023/2024 fashion collection "0000" in a hybrid-phy-gital runway show, blending real-life models with avatar models on screen. The show explored the interplay between beauty and the grotesque, showcasing INJURY's signature "Belle-laide" style. The hybrid format seamlessly merged physical fashion with digital fashion, metaverse and wearable NFTs. Augmented Reality activations engaged guests with QR codes for an interactive Instagram experience. As a sequel to brand's trilogy films, The Butterfly's Dream and Rare Reality, 0000 incorporates symbolic visuals that evoke the origin of life itself, masterfully woven into the narrative, underscoring the film's exploration of the human experience.
Hip-Hop Officially Entered Its Anime Era With Coi Leray's "Make My Day" Music Video
Coi Leray unveiled her music video "Make My Day," featuring David Guetta, as part of Meta's campaign, "It's Your World." The campaign celebrates the positive impact of using Meta's tech universe in daily life. For the kawaii-infused project, Leray collaborated with Meta, manga illustrator Acky Bright, anime artist Isago Fukuda and Emmy award-winning director Fx Goby. Together, they created high-energy content exploring Leray's passions for hip-hop, anime and basketball. "It's Your World" aims to inspire individuals to follow their interests and carve their own path using Meta's products.
Women's Health Startup, Daye, Launched the World's First Virtual Period Pain Clinic
Award-winning gynecological health startup, Daye, launched the world's first virtual Period Pain Clinic, catering to women and assigned female at birth (AFAB) individuals. The clinic collaborates with NHS GPs, gynecologists and pelvic pain specialists, offering comprehensive assessments and private consultations with experts, including sexual health nurses, nutritionists and acupuncturists. The primary goal is to expedite the diagnosis of conditions such as endometriosis, PCOS, fibroids and chronic pelvic pain, addressing associated symptoms like infertility, hair loss, obesity and severe acne. Patients receive personalized pain management plans encompassing holistic and pharmaceutical treatments, along with lifestyle modifications. Daye has also partnered with pain management pioneers like Myoovi, providing patients with discounts on recommended products.
Paris Hilton and Charli Cohen Unleashed a Fierce RSTLSS Collaboration
Charli Cohen, the visionary behind RSTLSS, and Paris Hilton, the founder of 11:11 Media, joined forces for an exciting digital collectible collaboration known as "Project Pocket Monsters." The result is a collection featuring "Elemental creatures," inspired by their shared love for fashion, pop culture and their Pomeranians. Their collaboration goes beyond business, aiming to shatter barriers, drive innovation and ignite artistic creativity. The partnership brought forth fresh intellectual property and harnessed cutting-edge technologies like composable digital collectibles, AR, VR and interoperable avatars. "The Cube," an open edition mystery box, made its debut on July 18, priced at 0.0333 ETH, offering trinkets from the RSTLSS universe and holding the heart of an unknown entity.
Maybelline Has Brought Virtual Makeup to the Workplace Through Microsoft Teams
Maybelline teamed up with Microsoft to introduce virtual makeup options in Microsoft Teams video calls for users with a Microsoft Teams enterprise license in the Hong Kong market. The Maybelline Beauty App in Teams allows users to adjust their personal style during meetings, empowering them with self-confidence, especially at work. The integration, powered by Modiface AI and developed in collaboration with the Geena Davis Institute, offers a range of makeup looks to suit users' preferences and represents a diverse population. Users can choose from 12 makeup looks to complement their natural appearance and explore different styles.
DRESSX Collaborated With French Record Producer and Web3 Artist Agoria for Limited-Edition Wearable NFT
Producer, DJ and owner of Sapiens record label, Agoria, collaborated with DRESSX to venture into the NFT art scene with an exciting project. The NFT drop featured AI-generated artwork animated to sync with Agoria's latest music release. The drop included a limited-edition shirt, priced at $125 USD each, with only 100 editions available. Additionally, Agoria's Web3 community members, known as Agorians, received a complimentary mint cap. To make the experience even more immersive, DRESSX's digital dressing technology allowed owners to wear the artworks in real-time using the DRESSX app through augmented reality (AR) wearable utility. As a special touch, each NFT came with Agoria's custom soundtrack file, adding a unique audio dimension to the collectibles.
Legitimate Partnered With PUMA and Roc Nation to Launch Second Mixtape Series, Blockchain-Powered Sneaker Collection
Legitimate, in collaboration with the global sports brand PUMA and the entertainment agency Roc Nation founded by Jay-Z, launched the "Evolution of the Mixtape," the second installment of the Mixtape Series. This series celebrates the 50th anniversary of hip-hop and includes a collection of three limited-edition sneakers embedded with Legitimate's "LGT Tag," an NFC-powered chip. Scanning the chip unlocks a digital portal with exclusive content, weekly mixtape releases, and behind-the-scenes access to life as a Roc Nation artist.
Razer Merged Gaming and Streetwear With the New Xanthus Apparel and Gear Collection
Razer introduced its latest in-house apparel and gear collection, Razer Xanthus, designed to offer personalized and exclusive gaming lifestyle gear. Combining functionality with style, the Xanthus collection seamlessly transitions from intense gaming sessions to everyday outdoor activities, while allowing gamers to carry their peripherals conveniently anywhere. Razer Xanthus boasts bold designs and utilitarian features using high-quality, breathable materials. The collection offers a variety of styling and customization options, enabling gamers to showcase their unique style and individuality at their gaming setup and beyond.
Superplastic Partnered With Virgin Music to Launch New Music Division
Superplastic ventured into music with an explosive performance by 3D animated hip-hop duo Ghost Kidz at Rolling Loud Miami 2023. Lil' ILL and Filth-E of Ghost Kidz hacked the festival's sound booth, taking control of the main stage and IMAG screens. They improvised a freestyle rap before premiering their first music video for "Goin' Off," featuring Vince Staples, to a massive audience. The song showcases the duo's fast-paced verses and Staples' scorching contribution. Ghost Kidz, signed by Superplastic Records and distributed by Virgin Music, embarked on a haunted road trip from LA to Miami before the festival. The animated identities of Lil' ILL and Filth-E were revealed for the first time during this event, with their real-life voices remaining anonymous.
Roblox Unveiled Immersive Watch Party to Celebrate Upcoming Imagine Dragons Feature Documentary
Super League, in collaboration with Interscope Records, announced the launch of Imagine Dragons: Live in Vegas, Hulu Watch Party on Roblox. This event was the first-ever music documentary watch party on Roblox, the immersive global platform connecting millions of people daily. The experience celebrated the upcoming feature documentary Imagine Dragons: Live in Vegas, which premiered on Hulu on July 14. Fans and players could engage in a unique concert watch party and have the opportunity to interact with the Grammy award-winning Imagine Dragons. This groundbreaking event aimed to promote the documentary and offer a one-of-a-kind digital experience for fans.
IMVU and Freak City Brought the Los Angeles Underground Scene to the Metaverse
IMVU, the world's largest web3 social metaverse powered by MetaJuice, partnered with LA fashion collective Freak City for a metaverse-based after-party coinciding with Freak City's real-life runway show. The virtual party space featured graffiti from the LA underground, neon furniture, telephone booths and a city street runway. The collaboration brought together culture, technology, fashion and art in the metaverse. Freak City gifted an animated spray can to nearly 1 million users, allowing avatars to add graffiti to their virtual spaces. Additionally, they crafted a limited edition NFT collection called NEW LA, inspired by their iconic streetwear style. The NFT outfits embraced diverse experiences from the inner city to suburbia, celebrating all races, classes, genders and genres.
---
Share this article