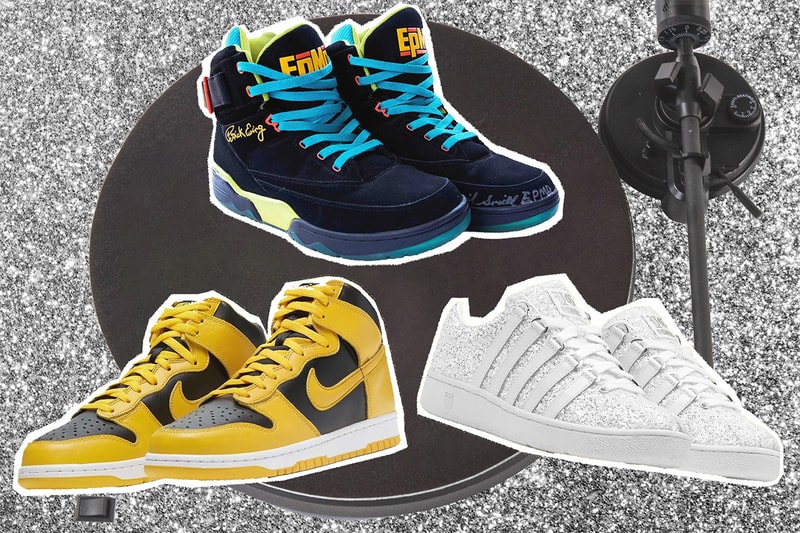 Footwear
Our Favorite Hip-Hop Sneaker Collaborations of All Time
From YG 's K-Swiss Classic VN "Disco" to Wu-Tang's Nike Dunk High "Black/Goldenrod."
Our Favorite Hip-Hop Sneaker Collaborations of All Time
From YG 's K-Swiss Classic VN "Disco" to Wu-Tang's Nike Dunk High "Black/Goldenrod."
August 11, 1973 stands as a cornerstone in music history, commemorating the birth of hip-hop. This pivotal moment materialized at 1520 Sedgwick Avenue during the iconic "Back to School Jam," an event that not only united music creators and fans but also set in motion the transformative journey of the hip-hop movement as we now perceive it.
Inextricably woven into the tapestry of hip-hop's narrative is the role of footwear, which has consistently transcended its utilitarian purpose to become a resounding proclamation of style and individuality. From the timeless adidas Originals Superstar to the ever-iconic Nike Dunk High, we delve into a curated selection of the most sizzling sneaker collaborations with hip-hop legends.
adidas Originals Superstar x Run-DMC (2011)
In 1986, Run-DMC released their groundbreaking track "My adidas," paying homage to sneaker culture while challenging delinquency stereotypes. Their achievements, including a landmark Rolling Stone cover, inadvertently transformed the adidas Originals Superstar into a symbol of creativity and resistance. In 2020, Adidas Originals commemorated the Superstar's 50th anniversary by reissuing the Run DMC Superstar sneaker in a limited edition. Over time, the adidas Originals Superstar has undergone various transformations, including vibrant designs by Pharrell Williams and classic gold and silver decals by Bad Boy Records. Its influence on hip-hop culture is undeniable, with references to the sneaker appearing in rap tracks—showcasing its enduring impact on modern hip-hop culture.
Ewing Athletics 33 Hi x EPMD Strictly Business 30th Anniversary (2018)
The Patrick Ewing 33 Hi, though not as mainstream as its counterparts, boasts deep connections to hip-hop culture. A pair of Ewings epitomizes the late-80s and early-90s NYC attitude—substantial, bold and prepared for action, mirroring its namesake's persona. In homage to the 30th anniversary of EPMD's debut album "Strictly Business," Ewing outfitted the iconic 33 Hi with a perforated black suede/nubuck upper adorned with neon accents reminiscent of the album cover's colors. Swapping the typical Ewing tongue logo, which features Patrick Ewing's signature, for the EPMD logo, the sneaker retained its heavily cushioned ankle and tongue, embracing the essence of classic craftsmanship. eBay's "50th Anniversary of Hip-Hop Auction" will include the silhouette.
K-Swiss Classic VN x YG (2021)
"You gotta have confidence to wear 'em how I wear 'em. You gotta have swag, you gotta have sauce," YG remarked upon introducing his inaugural K-Swiss sneaker. Launched in 2021, this shoe marked the rapper's first-ever collaborative venture in the world of footwear. The "Disco" iteration took K-Swiss' iconic white leather design from their Classic tennis shoe and elevated it with dazzling silver sequins. Delving deeper, K-Swiss tennis shoes achieved fame through West Coast hip-hop artists such as Snoop Dogg. Embracing their role in hip-hop culture, K-Swiss embarked on a documentary journey titled "K-Swiss California Love," exploring the impact of hip-hop from California to the UK.
Nike Dunk High x Wu-Tang (1999)
The 1999 Wu-Tang Dunk High, currently fetching $121,292 USD in the resale market, stands as a pivotal piece of sneaker history, with only 36 pairs ever produced. Emerging in the iconic "Black/Goldenrod" colorway, this sneaker was designated for the Wu-Tang Clan as part of Nike's special "Be True" release, perfectly complementing the 1998 album "The Swarm" by the Wu-Tang Killa Beez. The collaboration was timely, as Nike's Dunk series was rising concurrently with Wu-Tang's dominance. The premium leather upper in yellow and black, while typical for Dunks of the '90s and '00s, remains exclusive due to its limited release. As hip-hop, even 50 years since its inception, continues to shape streetwear, Nike shoes remain intrinsic to this culture, both influenced by and influential.
Reebok S. Carter 3 Audemars Piguet Promo Sample (2005)
In 2003, Reebok partnered with rapper and business mogul Jay-Z, signing him to a multi-year endorsement deal and granting him his own signature apparel and sneaker line. The first and most memorable release was the S. Carter, believed to be inspired by the Gucci 84 tennis sneaker. The production of this promotional pair coincided with Jay-Z's 2005 inaugural collaboration with Audemars Piguet, the world-renowned Swiss watchmaker. The pair features a white leather upper with black suede accents. The box's sample tag indicates AP EVENT PROMO. A size US 9.5 is currently available via Sotheby's for $7,500 USD.
Air Jordan 1 High x Teyana Taylor (2023)
Teyana Taylor's penchant for style at the intersection of music has led her to collaborations with the likes of Reebok and adidas. Yet, 2023 proved to be her best partnership to date as she unveiled her coveted Air Jordan 1 High. The shoe, which arrived in a "Gym Red," paid homage to the signers sophomore album with "A ROSE in Harlem" stitched across the collar. When asked about representation across sneakers, sport and music, Taylor tells Hypebae that the industry must "Protect our space and protect women. I'm gonna fight for what I believe in, and that's the only way that any of us would be able to continue to protect one another." The Jordan is currently sold out on Nike retail sites but can be found among retailers ranging from $150-$300 USD.
---
Share this article