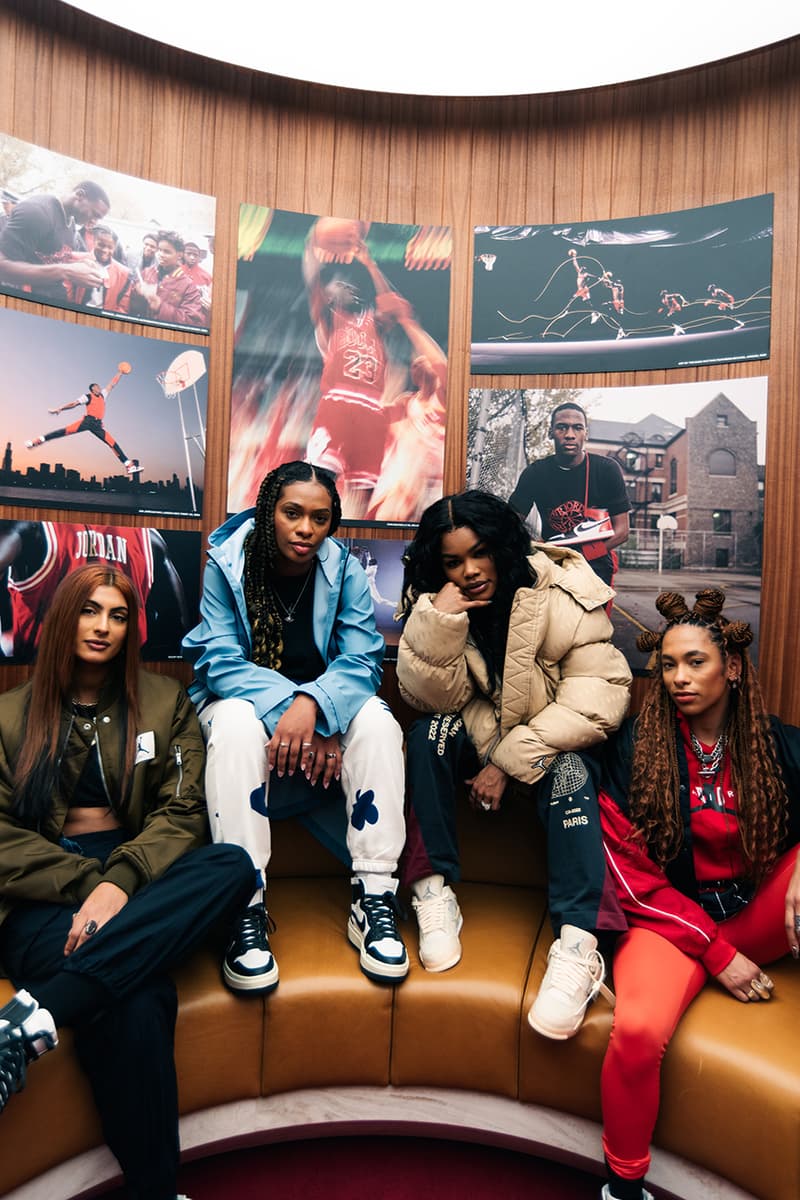 1 of 6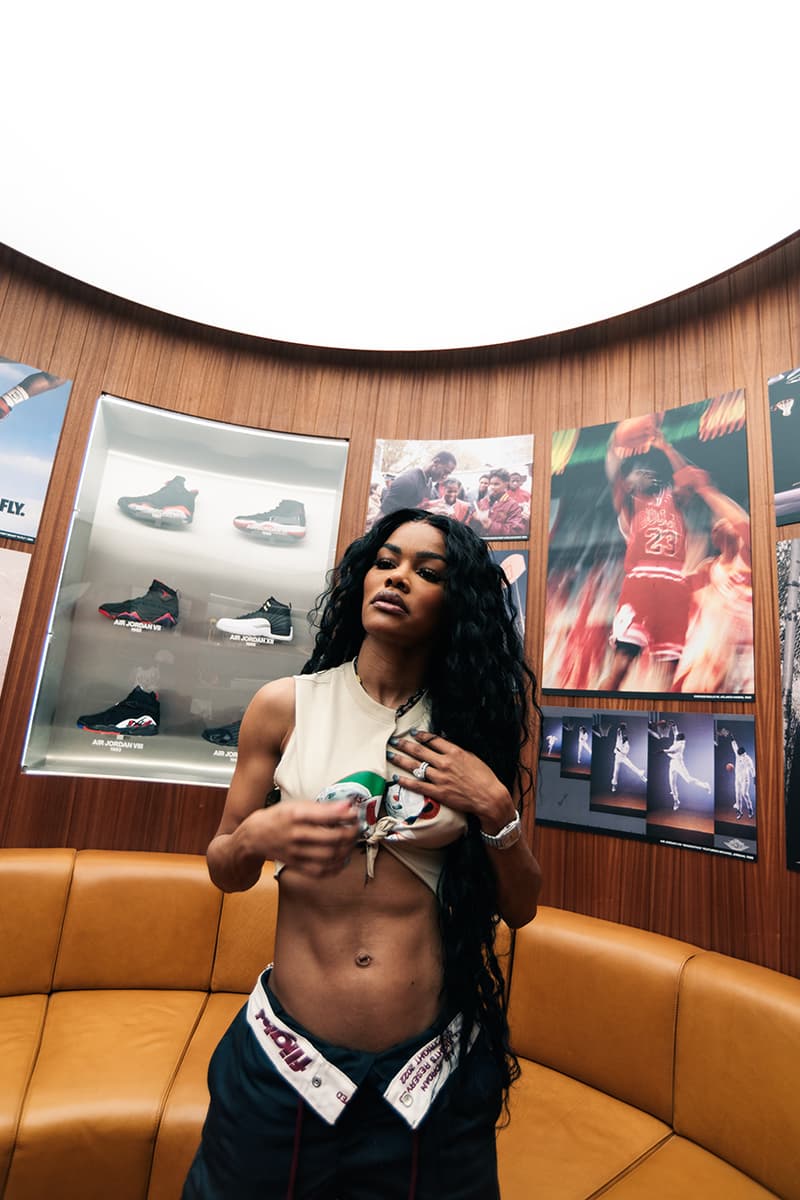 2 of 6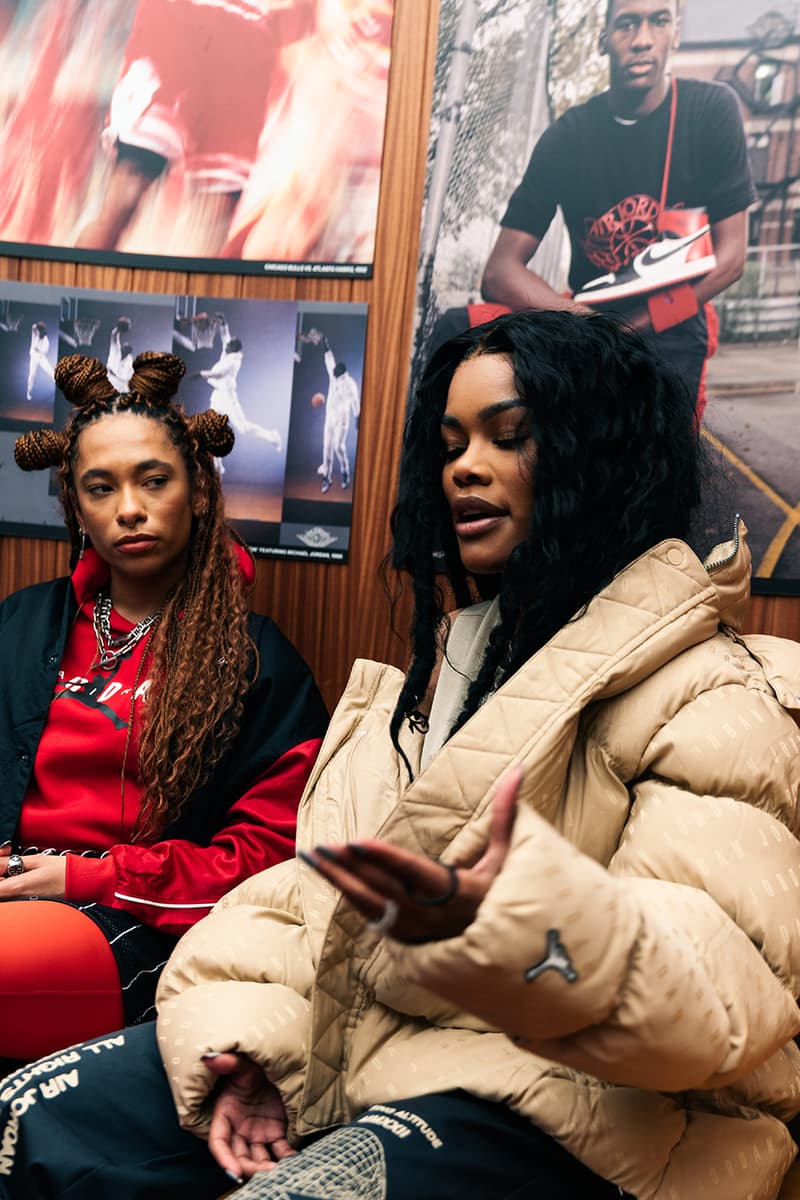 3 of 6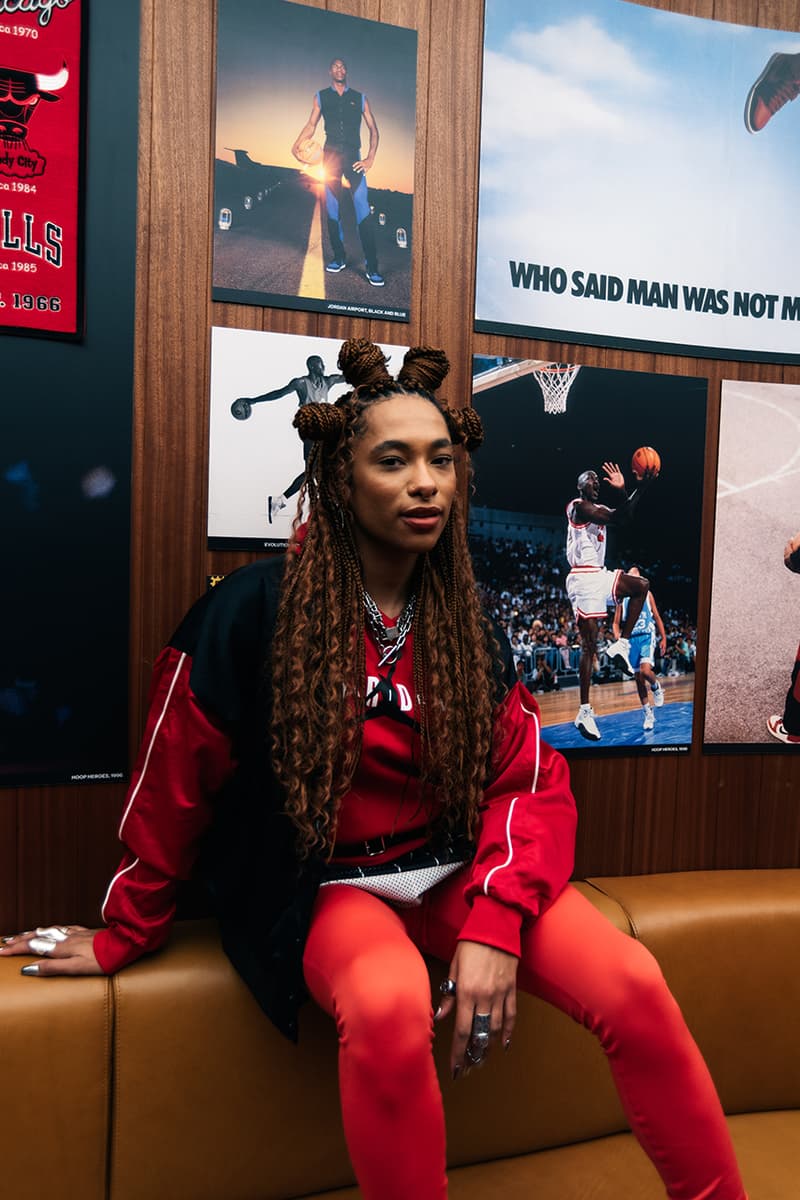 4 of 6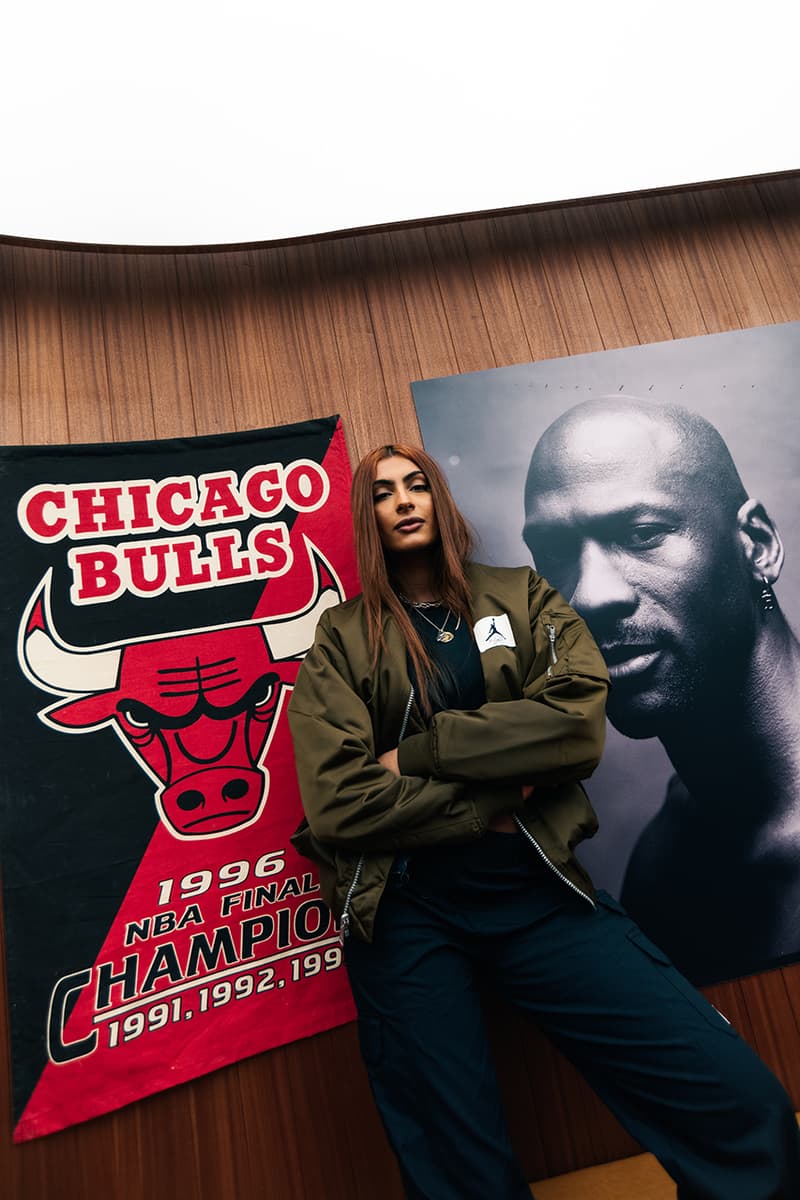 5 of 6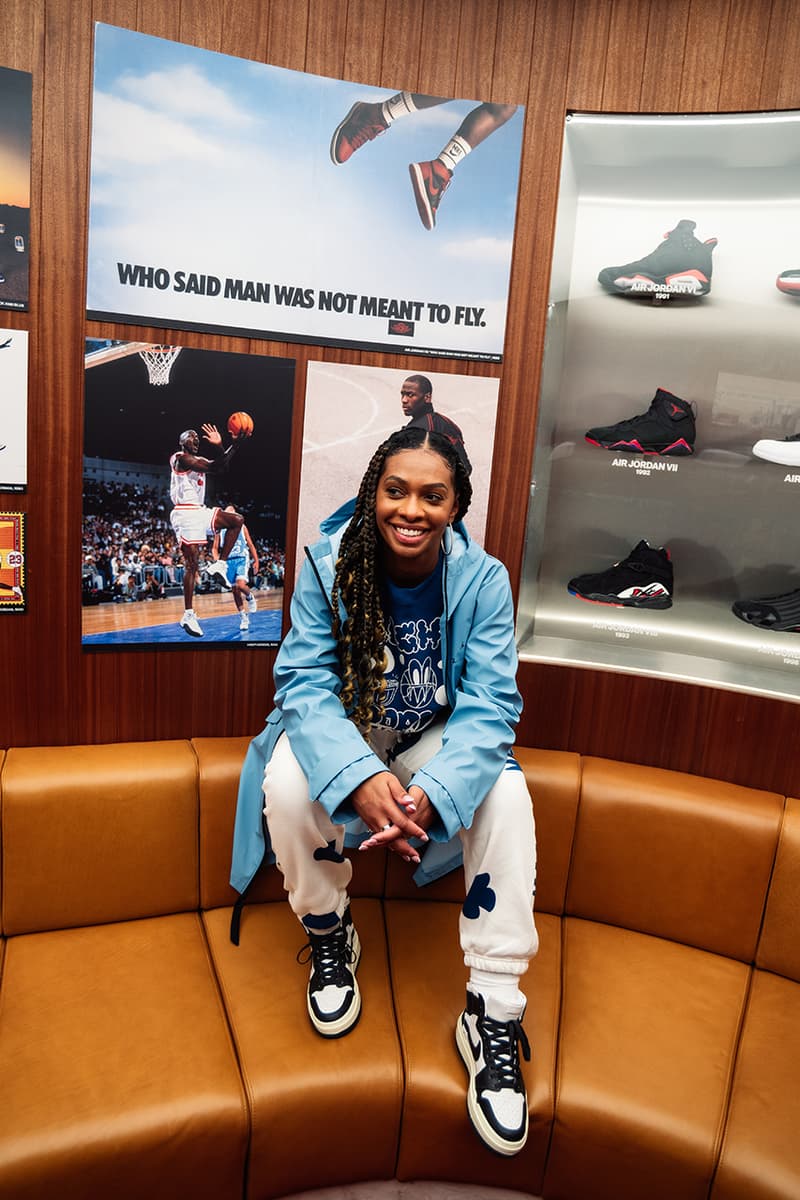 6 of 6
Culture
INTERVIEW: Teyana Taylor and Jordan Brand's Women's Collective on the Power of Women in Sport
"It's important for us to be here and have representation," says Teyana Taylor.
INTERVIEW: Teyana Taylor and Jordan Brand's Women's Collective on the Power of Women in Sport
"It's important for us to be here and have representation," says Teyana Taylor.
Teyana Taylor is an artist who doesn't take no for an answer. From performing and directing to choreographing and dancing, she's paved her own way since the beginning of her career and her tenacity infiltrates everything that she does – even her passion for sneakers. A once typically male-dominated industry (and for many women, one that still is), the world of sneakers is benefiting from some much-needed female representation, with one particular brand at the heart of it all: Jordan Brand.  
Alongside Jordan Brand's Women's Collective, which consists of Simran Randhawa, Jess Lawrence, Sevian Witter and Sophia Thakur, Taylor – the newest member of the Jordan family – teamed up with Jordan Brand for the launch of its first-ever Jordan 'World of Flight' store in Milan. The store aims to offer a dedicated space for its community, putting women at the forefront, both on and off the court. "It's important for us to be here and have representation," Taylor tells Hypebae. "It's moments like these and events like these that give us further confirmation that this change is here to stay." she continues.
We caught up with Taylor, alongside the influential Jordan Women's Collective, to find out more about the importance of female representation in the industry, how they developed their self-belief and how basketball has helped to shape their careers.
Read on for the full interview. 
Jordan Brand has just opened its first World of Flight store. Why was that something that you all wanted to be a part of?
Teyana: I personally love Jordan, I support the whole legacy, so I felt like it was really important to be there for it. As females, we've come a long way. I love sneakers, which was a super rare thing at one point in time, so I think it's important for us to be here and have representation. For a long time, we'd have to get bigger sizes just to get the good sneakers but now we get all the fire colorways and it's becoming very inclusive. I used to have to wear three pairs of socks just to fit into the men's sneakers. I was that thirsty. It's moments like these and events like these that give us further confirmation that this change is here to stay.
Jessy Law: To be brought into the Jordan family, it's so fulfilling. To be brought along to the new innovations and the projects that they're working on is incredible. It's a brand that is inside all of us in the Women's Collective for so long and we've all loved it for so long. it keeps pushing the bounds of innovation and culture and especially from a sneaker perspective, it is still the go-to brand for sneakerheads.
Simran: We've been a part of the Jordan family for a minute, but I feel like every single time, we do something new and it still feels fresh, it still feels exciting. Our presence is important because it means that you're able to just be like a physical reference point for other women, in an industry that has traditionally not been very female-centric. 
What can you tell us about the role that basketball specifically has played in your life?
Sevian: Looking up to a player like Michael Jordan, that's where the passion really started. To see someone who's got that level of greatness, but mixed with the charisma and swag, there's so much inspiration. For me, being able to see someone who's so great, that's how I ended up on the basketball court and it's shaped me in so many ways. Basketball embodies a culture on the court, but off the court as well. It's a whole family and it means everything to me.
Jessy Law: My basketball career ended maybe seven years ago, but it brought me to something that will be in my life forever and that is my passion for sneakers. I was that four-year-old who started playing basketball at a young age and came from a basketball family. Without that introduction to basketball and that love of it, and that stillness of it in my soul, I wouldn't have got my passion. I think that it is a beautiful thing that the sporting side may release me but the cultural side continues, and it will always continue, I think it's really beautiful.
Teyana: At that point, it goes beyond basketball, beyond dance and beyond moving. This is a culture, and it's a comfort. Because I'm not a heels girl. So praise God, that really set the tone for a comfortable kick that you can wear with anything.
Simran: I grew up in an area that wasn't the wealthiest. In my high school, basketball was like the only option, we didn't have money for things like hockey equipment. We naturally went to the basketball court and it was like such a formative part of my teenage years. It taught me so much about teamwork, my body, about female friendships and the power of solidarity on a team. Then going through my life, it's just always been like a go-to, from my friends for example and uni. I met my boyfriend through basketball so it's actually given me so much that's still a part of my life.
How important is it for you all to feel like women are represented in these different spaces of music, dance, of basketball and sneakers?
Jessy: I can only speak from my own experience, but growing up around sneakers and basketball, I didn't have that representation to look up to. There's that saying, what you see you can become, and I think without seeing people or women in those spaces, specifically women of color, younger generations don't feel like they belong there. That's why it's crucial that we're here, that people are flying their own flag for their people so that they can inspire the next generation and also just build community. There's beauty in shared experience, we're all women and we want to be here together, sharing the joys of life and our passions.
Simran: It's also not just about the outward focus. I think it's important for us to be here for the Jordan side as well and have the ability to say "actually, we've all grown up with this culture, this is what we need," or the fact that I grew up buying men's l pants because there wasn't any of that in women's and to say "Ok, this is what I need on a functional level, this is what I need on a lifestyle level." It's important to be able to feed that back to the Jordan Brand internally so then they can serve us better, helping to create tangible change internally.
Teyana: Yeah, and also fighting for what you believe in, for the rights and to protect our space and to protect women. It may come across as harsh or we may be considered difficult but I'm fine with that, because if we don't fight it, who else is going to? Just standing up for one another and being there, being that voice and being okay with whatever is gonna come with that, rather than backtracking or playing it safe. I'm gonna fight for what I believe in, and that's the only way that any of us would be able to continue to protect one another.
What does self-belief mean to all of you? What would you say has helped you get to that point, where you're in those rooms and you feel confident? 
Sevian: A phrase I always stand by is "practice = confidence = success." This was shared with us by Coach Dean Smith at Bucknall Essential Skills camp when I was younger. For me, that's been one of the formulas for self-belief. To believe that when you're in these rooms and have the confidence to know that you belong in those spaces. Knowing that you're setting a precedent for the next person to walk into these rooms, and the doors are still going to be open for them. It's like now I'm here representing you. Now it's easier for those who come next that look like me.
Simran: Knowing it's not a one-sided thing. I'm in that room because I want to be there, but also because they want me to be. I know that I have an intrinsic value, I have so much pride in my work and so much pride in the things that I produce and who I am as a person. I have so much respect for myself. So why would I go into a room and not feel that? It's so easy to be intimidated because you think, "Ok, I don't look like a white man," or "I'm not this or I'm not that" but at the end of the day, that's not really for me anyway. I can be aware of that stuff, but then I can also advocate for myself and say that I know my value. Things often get framed as "I'm so grateful to be in this room," but actually it's like "why are they grateful that I'm in the room?"
Jessy: For me, the journey of self-belief is about dismantling the idea of perfection. That's something that is put on, specifically, for women of color. We have to stand up and work twice as hard to be in the same spaces and so I think as Teyana said, it's about dismantling other people's projection onto you and just thinking, "I'm human. My best is enough. I believe in myself and doing what I can and might not be perfect and might not be correct. But you know, I'll try my best." To me, that's what my self-belief is about, rather than perfection or other people's ideas of what it should be. That's a journey and it comes with time. We're not necessarily taught how to believe in ourselves and I think that's why the connections that we make with each other are so important. We literally uplift each other and support each other, and that helps me believe in myself, through my peers as well.
Teyana: It's also about believing in [the idea that] what's for you, will be for you. What God has in store for you is already written. When you walk through that door, either you're gonna walk out and that thing will be yours or you're gonna walk out and it won't be yours and you're okay with it not being yours because that just means it wasn't for you. I take my L's as a win as well. That plays a big part in self-belief and not looking at a situation like, "Damn, I wasn't right, I wasn't working," because everything I did was right. I did what I needed to do, because once again if it wasn't meant for me to be in this room, I would not be in this room. Once I realized that every time I followed my heart and nobody else's, I was always right, that's when it changed. Even down to when I first got impregnated and it wasn't okay to be a working mom and be pregnant.
Becoming a mom, you've got to have the most confidence because things change. I didn't even really know how to drive before I had my baby but I knew that if anything happened to her, I needed to be able to get to the hospital. When you start thinking about the bigger picture, you'll learn to respond on-site. We're learning every single day. And as long as we're going toward being the greatest version of ourselves that we can possibly be, we're always going to continue to get better. It's an ongoing thing that never stops, you should always be focusing on how to be a better version of yourself. I think that's what helped me gain my self-belief, being a mom and becoming a wife and not letting these things get the best of you or bring you down.
Teyana, outside of being a mom and a wife, you've got so many different facets to your life and career. How have the different parts of your career impacted the person that you are today?
As a young Teyana, I always wanted to do it all. At that age, that wasn't acceptable. Everything was impossible. I was always told that something was impossible. As I got older, I told myself that I would get into a position where I was my own boss, where everything would be possible. I've never forgotten those times when people told me no, and I kept working until everybody had no choice but to tell me yes. If they couldn't tell me yes, I'd tell myself yes. If you can't make this happen, I'll do it myself. I took a lot of those 'No's' and turned them into Yes. Being in the industry at such a young age, I've seen a lot and it's a dirty game but I always say "grace over grudges." I've always turned all the negatives into a positive and that's what molded me. I will take different people's mistakes and know that this is what I'm not going to do with the generation after me. You told me, no, but I won't do that. I won't make this a generational thing.
What advice would you give to young Black girls who see you and want to emulate the career path that you've had to get into the entertainment industry?
I really do want to give advice to the younger ones coming into the game at such a young age, at 15-16 who are being signed. I took a lot of things personally, at a young age. I don't regret anything in life because I wouldn't be able to sit here to have the story to tell if everything went the way that I wanted to go, but at a young age, everything felt personal because all I knew was love, family, school, my skateboards and my sneakers, not realizing that this is a business.
For more information on Jordan Brand's new World of Flight store, head to Nike's website.
---
Share this article