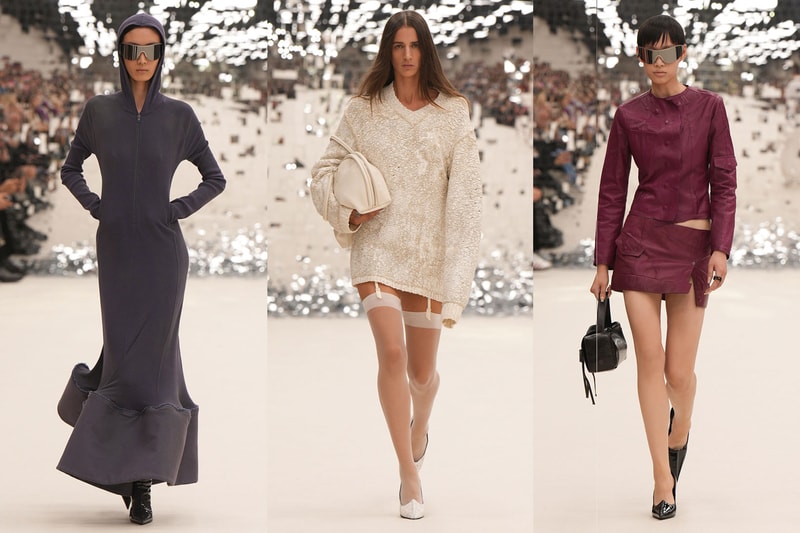 Fashion
Acne Studios SS24 Explored the Essentials of Modern-Day Women
With Kylie Jenner and Rosalia sat front row.
Acne Studios SS24 Explored the Essentials of Modern-Day Women
With Kylie Jenner and Rosalia sat front row.
Acne Studios presented its Spring/Summer 2024 collection at Paris Fashion Week this season, inspired by a sense of "after-hours liberation." As guests sat on top of soft cushions, created by Austrian artist Lukas Gschwandtner, models paraded down the runway in classic Acne silhouettes against a backdrop of a deconstructed disco ball.
"The industrial mood this season comes mostly from my passion for denim and the many ways we can manipulate this amazing fabric. It also comes from the idea of a construction site: things are unfinished, a work in progress. I wanted to convey the beauty of that," explains Jonny Johansson, creative director of Acne Studios.
He adds, "We also worked with Katerina Jebb's scan-biography series 'Physical Evidence of a Woman.' These artefacts are something that I feel is almost lost today, they feel dated, yet they are still there. So we used them as prints and subverted them. This exploration felt timely with where we are in fashion right now: lines between genders are blurred, there are no labels any more."
Read on for Hypebae's summary of Acne Studios SS24.
WHO: Kylie Jenner, a star of the brand's recent FW23 denim campaign, sat front row alongside guests like Rosalia, Issa Rae, Taraji P. Henson and Emma Chamberlain.
WHERE: The show was held at L'Observatoire de Paris, a historic astronomical observatory in the heart of the city.
SEE: Jebb's work underpinned the raw and understated collection, with scanned iterations of "feminine dress codes" like red stilettos and false eyelashes juxtaposed by an avant-garde style. This season's color palette saw a fusion of vivid blues, greens and reds, toned down by hues of cement grey and white. Elsewhere, this season saw the introduction of a new kind of low-rise silhouette, one where skirts appeared to be levitating and hanging off the body.
TOUCH: As is signature for Acne Studios, denim was a key component within the SS24 collection, updated and reworked with white paint and crackled clay. Elsewhere, SS24 favored crinkled and moulded leather, paired with layered translucent fabrics and delicate silks. Finally, glossy red, icy blue and shiny brown leathers characterized this season's it-bag, the Multipocket, alongside shimmering disco ball bags.
HEAR: The pounding, club-like show music was the handiwork of electronic duo Giant Swan, with its quaking bass filling the linen-hued room.
TASTE: Every piece within the collection exuded a raw and unfiltered feminine energy, something we'll be carrying with us well into next season. Drawing inspiration from the experiences and "essentials" of womanhood, it appears we'll continue to look within ourselves and subvert norms within SS24 dressing, undergoing an evolution of contemporary womenswear.
---
Share this article