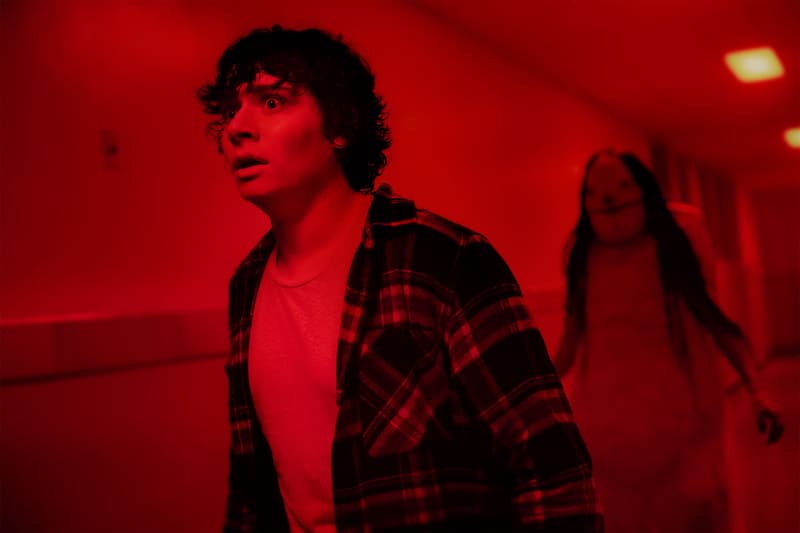 14 Horror Films With Female Villains You Have to Watch This Halloween
Girls being bad.
It's finally here, the day all you ghosts and ghouls have been waiting for: Halloween. Hopefully, you have all your plans sorted out, making a decision at last after going back and forth for days between either the Tiger King costume or the rendition of the fly sitting on Mike Pence's head. Difficult ensemble dilemmas aside, you're now perhaps deciding whether you want to go out or stay in. We can't really help you out with the former but if you're leaning towards the latter, we definitely have a fright-filled evening planned for you.
Whether you're a seasoned horror film aficionado or a scaredy cat who watches the entire film between your fingers, the selection of chilling movies is vast and plentiful. From unholy specters to demonic possessions, the worlds of both Hollywood and independent filmmaking are all too familiar with things that go bump in the night. Gathering up our personal favorites of classics, remakes and modern masterpieces, we've put together our list of horror movies with female villains you have to watch this Halloween (warning: spoilers ahead).
1. Saw III
Jigsaw is largely known to be the central villain in the Saw franchise, but those who are familiar with the cult-status horror series will know that several individuals were actually known to have donned the infamous toy mask. In the third instalment of Saw, we see John Kramer (the original Jigsaw) on his deathbed due to a brain tumor. Planning the "games" for him instead is none other than Amanda Young, who you may remember as a survivor from the first and second flicks. She is introduced as Kramer's successor, the person he has chosen to carry on his legacy. Throughout the film, we see flashes of her sadism and witness the unfolding of a mind truly unhinged. This one is definitely part psychological thriller, but mostly still just a lot of gore – classic Saw.
2. Gretel & Hansel
Taking the classic Brothers Grimm fable of Hansel and Gretel, this 2020 dark fantasy horror film introduces brand new terrors to the already gruesome original. Completely abandoning the fanciful imagery that has often accompanied mainstream versions of the tale, this movie instead amplifies the heinous details of the story's disturbing origins: a witch lures children into her home where her main intent is to devour them à la Hannibal Lecter (albeit more savage cannibal, less refined five-star dining). Creating an atmosphere of disquiet and playing out unsettling scenes, this version of Gretel & Hansel will undoubtedly be supplying plenty of nightmares for weeks to come.
3. The Wretched
If you're like me and tend to stay away from supernatural horror films, definitely do not watch this one. The premise of this film is simple enough: a teenage boy moves into father's house amidst his parents' divorce and discovers that his next door neighbor is, in fact, a witch. However, any semblance to a generic CW Halloween special ends here. This one is disturbing. On top of the sprawling selection of gruesome sequences that are damn near impossible to watch, the depictions of demonic disposition will make squeamish even the most seasoned horror movie watchers. If there was ever a film to bastardize the beloved image of a witch with a pointy hat riding a broomstick, it is this.
4. Us
Audiences were unsure of how visionary director Jordan Peele would be able to follow up to his Academy Award-winning success Get Out, but follow up he did – and then some. Following the story of Adelaide Wilson (played by Lupita Nyong'o), she takes her family to her childhood beachfront home for a summer vacation. As an increasingly ominous feeling of paranoia sweeps over her, events take a turn for the worse as masked strangers soon invade the home. When their masks come off to reveal that the intruders are actually malevolent doppelgängers of each of the family members, a disturbing descent into horror and chaos begins to consume them. Although there is plenty of gore to go around, perhaps the most frightening element of the movie is the unsettling mannerisms of the clones. Barely retaining any semblance of humanity, the attackers are more demonic than anything. If you're not afraid to face some sleepless nights, Us is definitely one to watch this Halloween.
5. Annabelle Comes Home
Does Annabelle count as a female villain? I'm just going to go ahead and assume she counts because regardless of whether evil spirits actually have genders or not, the possessed doll is undoubtedly one of the most recognizable villains of our decade. In the latest instalment of the Ed and Lorraine Warren chronicles, Annabelle returns to wreak havoc on the paranormal investigators' family home. Bringing to life all of the duo's previous cases, the night brings unparalleled horrors.
6. Scary Stories to Tell in the Dark
I grew up reading this book, so to find out that someone had decided to bring the characters from the anthology to the big screen was nothing short of a real-life nightmare. I am talking about feeling actual nervous terror at the thought of having to even watch the trailer for this movie. There is certainly no shortage of grisly villains from the "children's book" (this term has obviously been used very, very loosely) but the one that always left me with the greatest lack of sleep was always The Pale Lady. From a story dubbed, "The Dream," the main character from the tale is a deeply disturbing conjuring of a woman with a grotesquely wide mouth and black stringy hair. In the film, The Pale Lady is shown with a pale, bulbous body – the image of her standing still in the middle of a dim hallway illuminated only with menacing red lights is at once disquieting and sinister. This image alone is enough to keep me up at night. For those who are familiar with Scary Stories, I'm sure you don't need me to warn you to watch this one at your own risk.
7. Dead Silence
You know this movie is going to give you nightmares because guess what, it's directed by James Wan (Saw, The Conjuring, Insidious). The plot itself is grim enough — Jamie Ashen (played by Ryan Kwanten) returns to his eerie hometown of Ravens Fair after his wife dies under suspicious circumstances. Upon arrival, he realizes that the grisly legacy of Mary Shaw still looms over the town. According to the legend, Shaw was once a ventriloquist who was brutally murdered and as a form of vengeance, her malevolent spirit still terrorizes Ravens Fair. If you thought Chuckie was scary, this is next level. The dolls in this movie are beyond terrifying. Their faces are rendered with chilling realism and seem to watch you as the camera pans. Of course, it doesn't help that Wan is a master of suspense — the most unnerving scenes will have you wincing in anticipation, with horrible frights popping out when you least expect it.
8. Evil Dead
Yes, the original is a classic. But if you really want to test your limits with how much blood and gore you can handle, the remake is the way to go. In the 2013 version of Evil Dead, 70,000 gallons of fake blood was used. In fact, director Fede Alvarez revealed in an interview that 50,000 gallons was used for the final scene alone. Keep in mind that only 200-300 gallons were used in the original movie. With that being said, don't say we didn't warn you because this one is definitely going to make you squeamish. Because let's be real, what did you honestly think would happen when a bunch of millennials are trapped in a cabin in the woods while one of their friends becomes possessed by a sadistic demon?
9. The Ring
If you haven't already seen The Ring, you're missing out on a classic horror film. The 2002 cult favorite is largely considered to be one of the only American remakes to have successfully crossed over from its Japanese original. For those who are familiar with Japanese horror cinema (or J-Horror as it's often referred to), you'll know that many of Japan's biggest hits are poorly translated once they go stateside. Thankfully, this was not the case for The Ring. Starring Naomi Watts, the adaptation perfectly balances suspense with terror. The resulting film showcases an otherworldliness that is surprisingly atmospheric and well-executed. If you're feeling brave, why not give Ringu a go as well?
10. The Exorcist
I'm generally pretty good with blood and gore — zombies don't really bother me and Saw is still one of my favorite horror films. I, however, really can't deal with exorcisms. The first time I ever watched The Exorcist was definitely a struggle. Even if you've never seen it yourself, you're probably aware that this classic 1973 film is revered as one of the most groundbreaking movies of our generation. Completely reinventing the horror genre, William Friedkin's masterpiece was disturbing and shocking in all the right ways. From the iconic staircase scene, to the head-spinning incident that has been quoted in countless pop culture moments since, the images seen in The Exorcist will most likely be burned into your brain forever. After all, there's a reason why Linda Blair has become a legend for her leading role in this movie: because she's scary af.
11. Paranormal Activity
The Blair Witch Project may have been a pioneer for the found footage horror film genre, but Paranormal Activity has without question defined it for the 21st century. After moving into a suburban home, a young couple (Katie and Micah) is haunted by a supernatural presence. In hopes of catching the evidence on film, the two set up cameras around the residence. As the movie unfolds, the eerie occurrences they capture become increasingly disturbing. To make matters worse, the message at the beginning of the movie warns that the following documentary is put together through found footage and that the terrifying events that follow are completely unedited. When the film first came out, part of the unease of Paranormal Activity came from not knowing whether this message is true or not — are we actually looking at an authentic haunting? Real or not, this glitchy feature will definitely make you think twice about turning off the lights at night.
12. The Last Exorcism
Yes, we have another exorcism movie on this list and for whatever self-imposed reason, yes I have also seen this one. One thing about The Last Exorcism is that it seems alarmingly "real" — the movie revolves around a film crew that is producing a documentary film about a disillusioned priest who carries out his last exorcism in order to prove the fraud of his ministry. The outcome is, however, the exact opposite. Completely different from other exorcism films, the portrayal of the possession in The Last Exorcism does not rely on grotesque effects and an excess of thrashing. The most unsettling scenes from the movie are moments in which Nell barely makes a noise. There is an instance where she stares expressionlessly into the house from outside on the yard, extending her arms out as if she were hanging on an invisible cross. Filled with moments such as this, The Last Exorcism does not need flashy effects to deliver the terror — instead, director Daniel Stamm and producer Eli Roth (Grindhouse, Hostel) rely on unnerving tableaux of eerily abnormal behaviour that make the viewer deeply uncomfortable.
13. The Witch
Praised with raving reviews at the 2015 Sundance Film Festival when it first premiered, The Witch is like no other occult movie you've ever seen. As beautifully filmed and atmospheric it may be, this one is just plain disturbing. Prolonged moments of eerie silence and various scenes depicting a particularly unsavory goat don't just make you uncomfortable, your skin straight up crawls. Taking place roughly around the same time as the Salem Witch Trials, this film is set in 17th century New England. On the surface, The Witch may seem like a typical occult film but trust me, nothing can prepare you for the narrative that unfolds. All in all, the film does exactly what it's supposed to: puts you on edge, horrifies you and makes you want to keep watching. If you're not one to get squeamish, this one is definitely worth a watch.
14. The Conjuring
Among all the horror films out there, the ones that perhaps scare me the most are those that are based on a true story. Of course, the Hollywood effect can't help but dramatize the actual events, but it's still slightly unnerving to know that there's some degree of truth to the narrative. Perhaps one of the best versions of these cinematic interpretations is The Conjuring. Based on real-life paranormal investigators and demonologists Ed and Lorraine Warren, the film follows one of their actual cases. Aiding the Perron family in 1971, who are tormented by a supernatural entity in their Rhode Island farmhouse, the haunting becomes increasingly vicious as the film progresses. As one of the most successful horror films of all time, don't expect to experience anything less than sheer terror with this Halloween must-watch.
To see more Halloween movies, don't miss our roundup of the best television and movie-inspired costumes.
Share this article