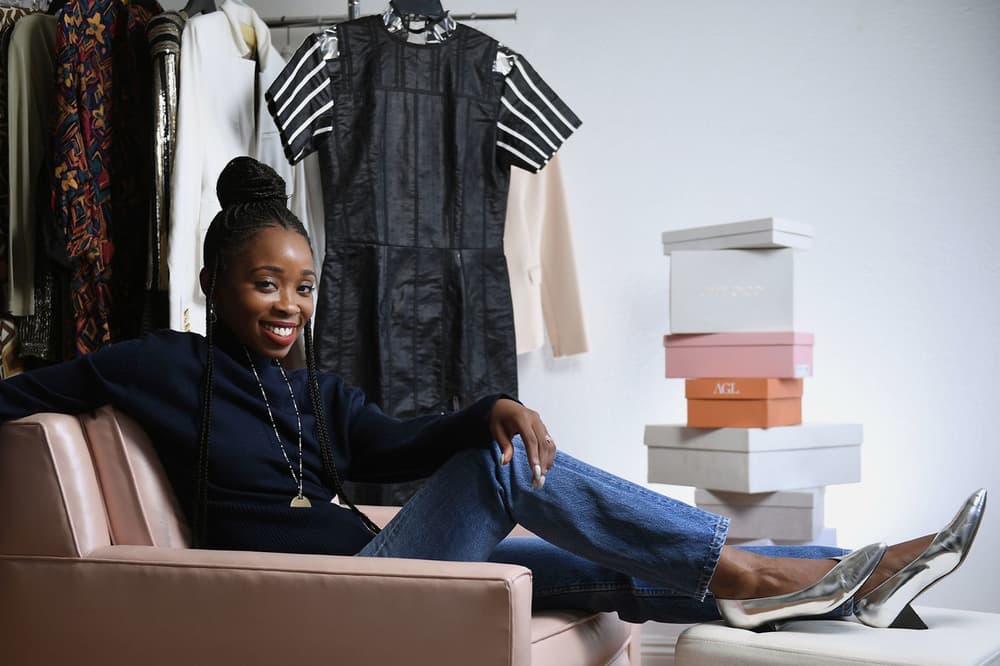 Music
Costume Designer for Jay-Z's "Family Feud" Opens up About Her Inspirations
Styling HBO's 'Insecure' is one of Ayanna James' ongoing projects.
Costume Designer for Jay-Z's "Family Feud" Opens up About Her Inspirations
Styling HBO's 'Insecure' is one of Ayanna James' ongoing projects.
Jay-Z's "Family Feud" music video featuring Beyoncé and their daughter Blue Ivy Carter had the Internet buzzing when it released recently. The short film was directed by powerhouse film director and producer Ava DuVernay. In the futuristic portrayal of America, the clothes take center stage as they appear on screen paired with Jay-Z's intrinsic lyrics.
DuVernay's future America is rightfully multicultural and features a star-studded cast which includes Susan Kelechi Watson, Janet Mock, Michael B. Jordan, Thandie Newton and more. The 4:44 track deserved an in-depth visual as such, the Native American Madame Co-President role played by Irene Bedard in native clothing was a monumental moment. Beyoncé's regal looks throughout the video are notably the highlights alongside the "Founding Mothers" scenes in which a kaleidoscope of colors are showcased.
Additional stars in the film included Rashida Jones, Jessica Chastain, Trevante Rhodes, Constance Wu, Mindy Kaling and more.
Costume designer Ayanna James brought DuVernay's world to life in the music video by collaborating with Beyoncé's longtime stylist Marni Senofonte. The Los Angeles-based costume designer expertly painted a story of America with a diverse array of designers including Theory, Issey Miyake and more according to ABC. We chatted with James about her creative process and how she drew inspiration for Duvernay's first music video. Read our interview below.
How did you originally sign onto this project?
One of the producers that Ava works with reached out to me and didn't really give me much information, and just said there's a small project that Ava's working on and if I'd be interested if I had time. I immediately signed on once I heard her name.
Did you draw inspiration from your styling background at HBO's Insecure?
I knew that for specific themes they had to be stylish, because it's a short film, but it's also somewhat of a music video. Specifically for the "Founding Mothers" scene, I wanted all the women to showcase individual style and so for that scene, it was more styling than I'd say there was costume design.
You worked alongside Beyoncé's longtime stylist, Marni Senofonte in addition to the iconic June Ambrose. What was it like working with these two?
It was great. Marni's been doing this for a really, really long time so we were able to just hop on a phone call and hash out some ideas. I knew the specific direction that Ava wanted to go, so just going back and forth with Marni about what Beyoncé would be comfortable with and making sure that it fell in line with Ava's vision. It was really great, it was a collaborative effort.
We talked about color palette and what direction we were headed in, and June went in and took care of Jay-Z. When it comes to collaborating with women who've been in this industry and who've been kicking butt for so long, it's really easy because we all get it.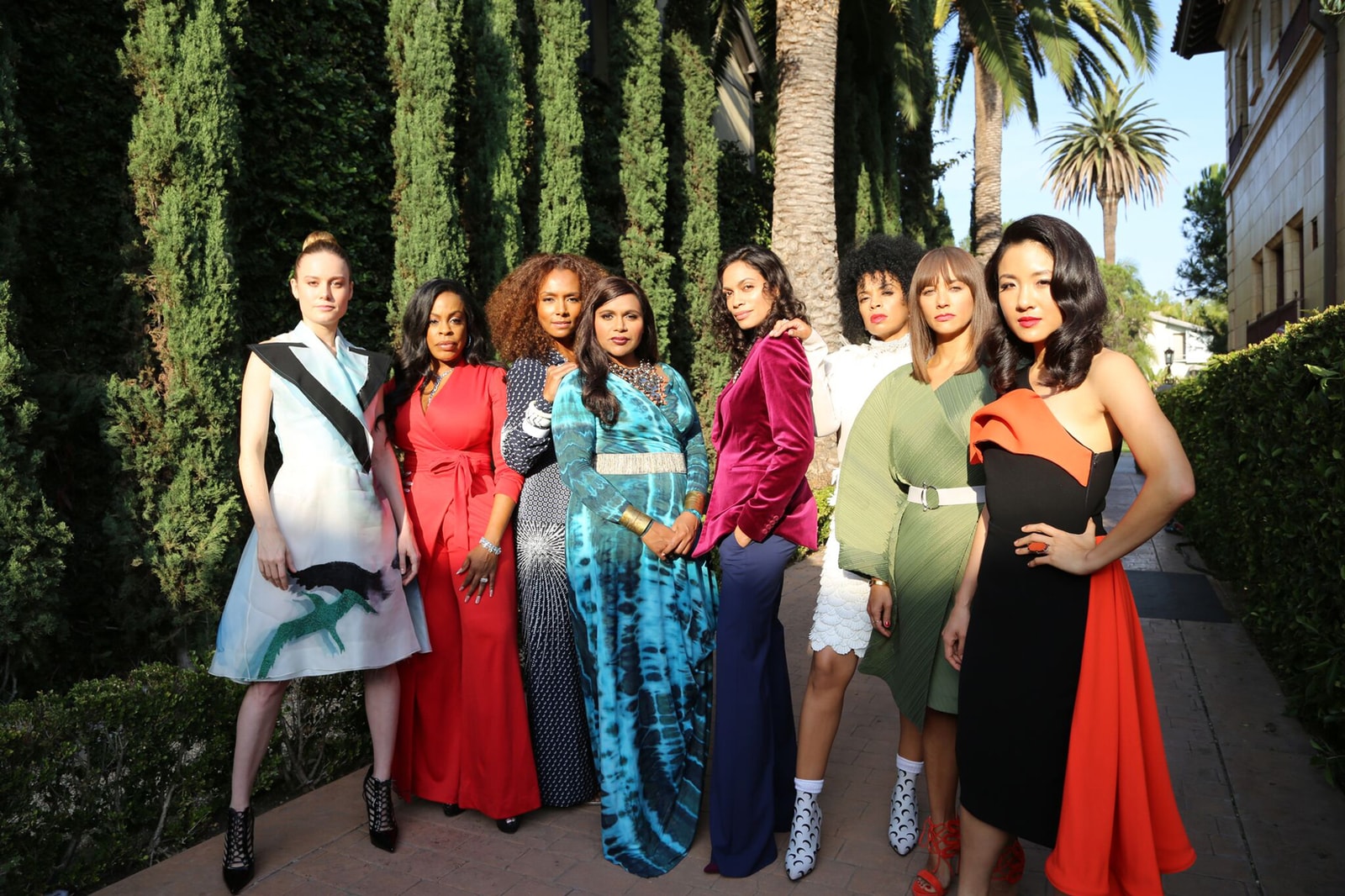 When pin-pointing looks, did you think about the audience and viewers' reactions?
Not specifically with brands. This is less styling for me and more costume designing because there was a script and a treatment. I knew specifically that I wanted the 35-year-old Blue Ivy scene to cut to the end of the "Founding Mothers" [scene when] she says, "it's something like my father used to tell me when I was a little girl: nobody wins when the family feuds." I knew that that's when we'd be introduced to Blue Ivy now. So having Blue and Susan Kelechi Watson dress in similar clothing was definitely intentional and that was the reaction I wanted. I did see that on social media when everyone caught it and they were doing the side by side.
What was the general symbolism behind the looks? Specifically, the colors exemplified at the roundtable of the future Women's Council?
No, we just knew that there were between six and eight women from all different walks of life, all different backgrounds. I imagined that they were all powerhouses and had successful businesses during their time. So all of them should've felt like they had a bit of money or had a bit of wealth, and were women that were very vocal about our issues. Which is why you'll see a lot of pops of color and some prints and patterns. Ideally, everyone should look different and feel as if they're different from the women sitting next to them. But all the women are trying to work together for a better cause so it doesn't conflict, but they all individually shine.
When it comes to collaborating with women who've been in this industry and who've been kicking butt for so long, it's really easy because we all get it.
What was the process behind achieving Beyoncé's modern pope look she wore in the cathedral?
The inspiration came directly from Ava, I believe there was a photo from the '80s or '90s of Iman. I want to say it's like a Vogue shoot she did and she's in this papal gown. We started there because Ava kept saying, "I see this happening." The discussion after that was how do we draw inspiration from this to make it work for the video?
Can you elaborate a little more about Blue Ivy Carter's all-white look and the exact same replication on actress Susan Kelechi Watson?
I knew that I wanted Susan to jump out at the "Founding Mothers" table so putting her in all-white was intentional. But I didn't set out looking for all-white pieces, it was just something that would've been bright and that would've popped on camera and then dressing the other "Founding Mothers" and making sure that it seemed cohesive, but that everyone had an individual style. And so that's how that came about and then once I had that look down, then we spoke with Marni. "This is how 35-year-old Blue Ivy looks, let's go ahead and create a look for actual Blue today in 2018 that is similar to this. So that when the film cuts to the video, we automatically see that this is a time jump for us."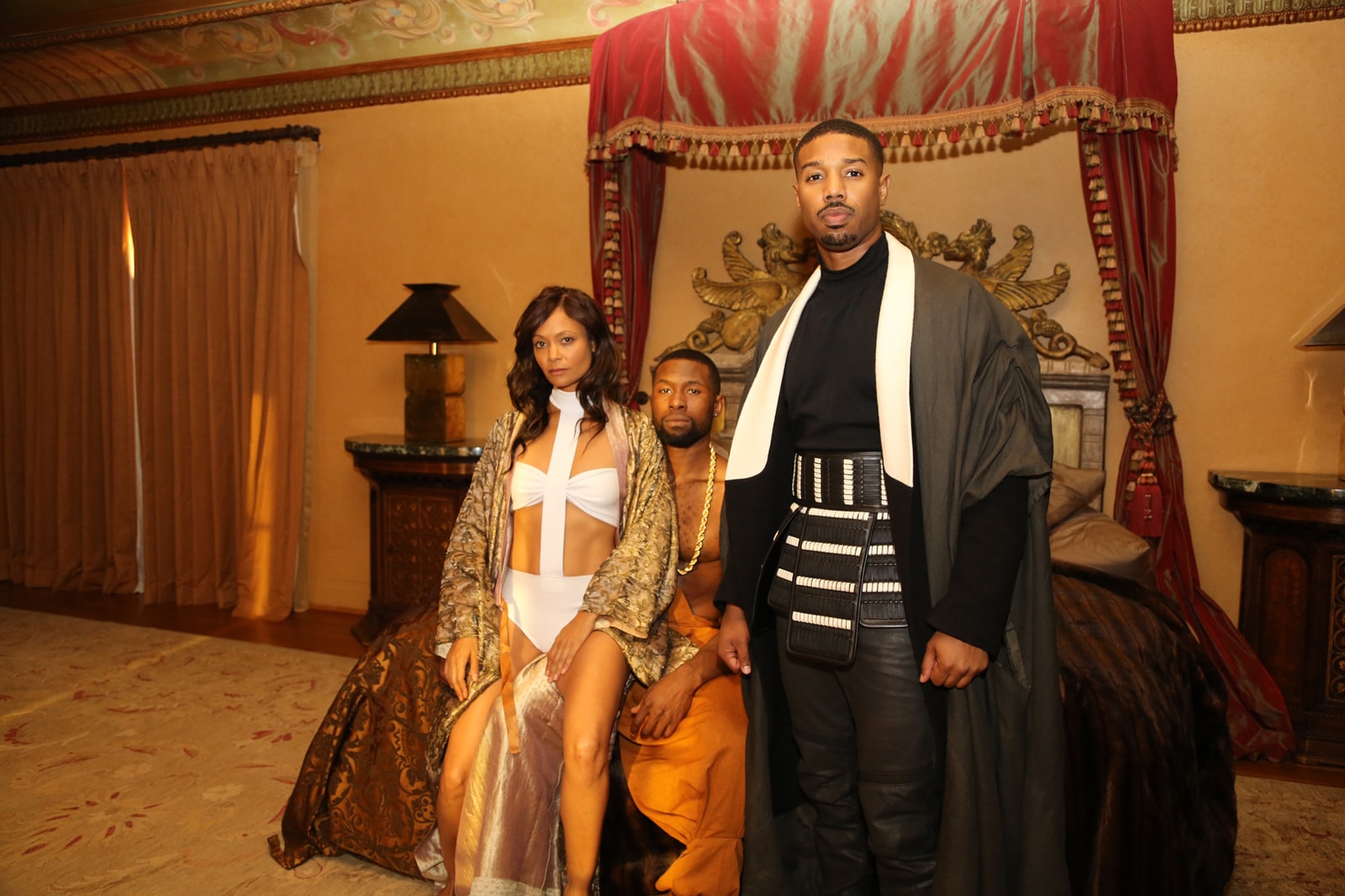 Living in an era of social media where cultural appropriation happens so often, how did you prevent that for Native American actress Irene Bedard?
That was a conversation between Irene and I once she got on set. I went around and I pulled and purchased from Native American stores. We just pulled a selection of jewelry and I had her come down and take a look at them. So I actually got a pretty good lesson in authenticity and in what colors symbolize and what tribe they are particular to. I allowed Irene to talk about what made her comfortable and what she felt her character as Madame Co-President would wear, so that I would not offend anyone. Since she's a spokeswoman for Native Americans, she's very on the forefront and outspoken, I let her take the [lead] on what jewelry she wanted to wear. But the rest of her look is Rick Owens and Toga.
This is supposed to be 444 years in the future so in creating her look, Ava and I had a discussion that as society evolves, because of more and more intelligence, we kind of devolve in our fashion. And that we'll go back to the basics. I wanted her to feel futuristic but to kind of match that with a traditional vibe, so that's why we have her in traditional Native American jewelry, and her hair and makeup, the tribal patterns on her face. It ended up looking very tasteful, which I feel good about.
It's extremely important for costume designers and stylists to really understand the direction and story being told, because ultimately we help further that story and that conversation.
What was your favorite moment on set while working on "Family Feud?"
Working with Ava. I mean there were so many different, talented actors that walked through the door, so I would just credit it to the woman that brought it all together. Once I read the script and the treatment outline I was like: "this is genius." The ideas just started flowing and she's very receptive and open. The conversations were easy to make sure that I fell in line with the direction she wanted.
Why do you believe stylists and costume designers play a role in executing an artist's vision?
Because costumes are prime real estate on television. It's something that every person who crosses on camera has to wear so we have a big influence on the feel that we give the viewers. We set the tone and we work with the other departments to create a world in essence. Whatever message you want out you can communicate that non-verbally instantly. It's extremely important for costume designers and stylists to really understand the direction and story being told, because ultimately we help further that story and that conversation.
Photographer

Ser Baffo/Forward Movement
---
Share this article