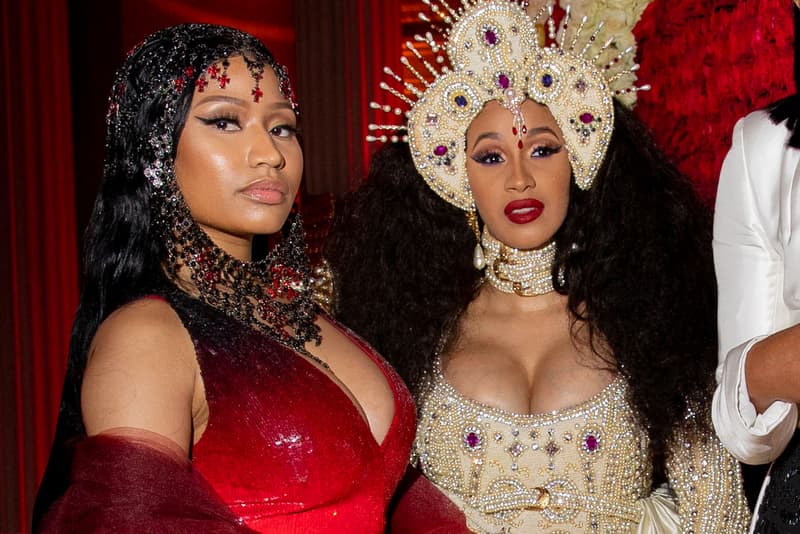 Cardi B and Nicki Minaj Are Feuding All Over Social Media
Why can't we all just get along?
We're nearing the end of 2018, and throughout the year there has been so much beef that it's impossible to keep track. Perhaps one of the biggest ongoing feuds has been between Nicki Minaj and Cardi B, kicking off at the start of this year when the two featured on Migos' track "MotorSport" and has been slowly bubbling up here and there – until today, that is.
We're sure you didn't miss the two rappers' altercation at the Vanity Fair Icon's party during New York Fashion Week, where Cardi B allegedly threw a shoe at Nicki and the whole thing kicked off a feud unlike anything we've seen before. Ever since Cardi B came into the scene with her smash hit "Bodak Yellow," people have been quick to compare her to the "Queen of Rap" Nicki Minaj. If seems as if society has been obsessed with the mentality that there can only be one successful female rapper, and that they always have to be pitted against each other.
Today, the feud kicked off even more after Cardi B posted a series of videos to her Instagram, where she calls out Nicki Minaj for several things – including her verse on "MotorSport" and allegedly leaking Cardi B's number to the public. "You can't control your sister, but you want me to control millions of fans? I've never leaked a number in my life and y'all continue to lie on me to make me look like a bad person," said Nicki on her Queen Radio, addressing the rumor that Cardi started. The two have since been going off at each other on various forms of social media, from Twitter to Instagram, with the two talking a Diesel deal, FashionNova features and more.
It is beyond difficult to keep up with all the jabs and beef, but if you're looking for a breakdown of everything that's going on between the two head over to The Shade Room. It's 2018, and it is more important than ever for women to stand up and support each other – not tearing each other down. There's already enough negativity out there, and so much that we as women face on the daily, that for us to strive, we need to do it together. We hope this Nicki Minaj and Cardi B beef will be over soon, because we've got more than enough room for more than one queen of rap.
---
Share this article